Should I Buy Flood Insurance for My Home?
Water is an essential part of everyone's lives. We need it to be healthy and will suffer without it, but water can also bring a lot of destruction.
If you live near a lake, ocean, river, or another body of water, then the threat of flooding is especially high. Even residential properties that are not near water are at risk of flooding, whether from heavy rainstorms or an internal issue like a pipe burst. Regardless of how the flooding occurred, it can cause a significant amount of water damage.
When excess water and moisture are in a building, porous building materials and furnishings absorb it. This absorption damages the items, and the damage will become even worse with time. For example, drywall that continuously absorbs water will become structurally unsound. This can then cause walls to buckle, threatening the home's overall structural integrity.
Given the amount of harm done, flood damage restoration costs can be expensive. With insurance, these costs can be more manageable. However, standard homeowner's insurance policies typically do not cover flooding. That said, any water damage restoration and repair your home needs due to flooding will need to be paid out of your own pocket. But this is not the case if you purchase flood insurance.
With additional coverage from your insurance provider, you can protect your home from flooding. It is a requirement for some but not all homeowners.
If you are of the latter category, then you may be debating whether flood insurance is worth the cost. It is fair to feel such a way whenever making a decision involving money. So if you are questioning whether to buy flood insurance for your home, then continue reading to learn more about flood insurance, flooding risks, and flood restoration.
What is Flood Insurance?
Flood insurance is a separate insurance policy that you can purchase to protect your residence and personal belongings against flooding. Homeowners will purchase flood insurance because flood damage is often not covered by standard homeowner's insurance. Whether you are required to buy flood insurance, however, depends on where you live.
The Federal Emergency Management Agency (FEMA) determines an area's flood risk, designating certain areas to be flood zones. If you move to a FEMA flood zone and will be getting a mortgage, you will be required by the lender to get a flood insurance policy.
If you will not be living in a FEMA flood zone, then buying flood insurance is your choice. Your home may not be as prone to flooding as other areas, but the risk still remains. The difference is simply that the risk for flooding is lower than in designated flood zones. So while your home may never be affected by flooding, the flood insurance will provide protection in case it does sustain flood damage.
What is Included in Flood Insurance Coverage?
If you are debating whether to get flood insurance for your home, it is helpful to know what kind of coverage you get from the additional policy. Generally speaking, flood insurance can cover the damage to your home's structure and your personal property. This includes drywall and other building materials, your home's HVAC system, electrical systems, damaged furnishings, and more.
However, not all flood insurance policies automatically include coverage for personal property. So if you want personal property coverage/contents coverage, make sure it is included.
When you get flood insurance, you will get a payout to cover the flood damage restoration and repair costs, ensuring you have a way to recover from a disaster. According to FEMA, the average flood insurance claim is $43,000, so the policy can cover a large amount of damage. Furthermore, it might be expensive having to pay for additional insurance coverage, but it can be even costlier to pay for flood restoration on your own.
Should You Buy Flood Insurance for Your Home?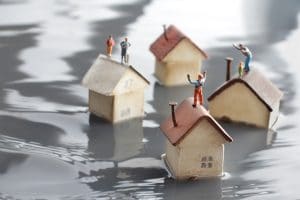 Unless you live in an area where you are required to do so, the decision to purchase flood insurance is your own decision. You need to weigh your home's flooding risks against the costs of your home and contents. Do not just consider major floods either. Even a few inches of water can be disastrous.
If you are considering flood insurance, speak with an insurance agent to get an idea of its costs. In addition, make a home inventory to get an idea of the value for your home and personal contents.
Professional Water Damage Restoration
When your home has been affected by a flood, you need to act immediately. Otherwise, the water will continue to cause damage to your home and personal belongings, getting worse the longer it goes unaddressed.
Contact a professional water damage restoration service to get flood restoration work done right away. No matter the cause of the flooding, professional technicians can handle any case of flood damage restoration. They will extract excess water, thoroughly dry the property, restore or replace damaged items, clean the affected areas, and handle any mold growth. With professional flood restoration help, your home will be a safe living space once again.