At NuEra Restoration and Remodeling, we are proud to assist property owners in Downers Grove, IL, who suffer from water damage. Excess water and moisture, no matter the cause or scale, can lead to significant property damage if it is not properly addressed in a timely manner. Through our water damage restoration services, we utilize advanced equipment and proven procedures to remove water, eliminate excess moisture, and prevent permanent damage from occurring.
Our technicians at NuEra Restoration and Remodeling have undergone a background check as well as extensive training to provide quality water damage restoration. We also offer a price match guarantee in which we will meet or beat competitive proposals that are in line with the IICRC's standard of care.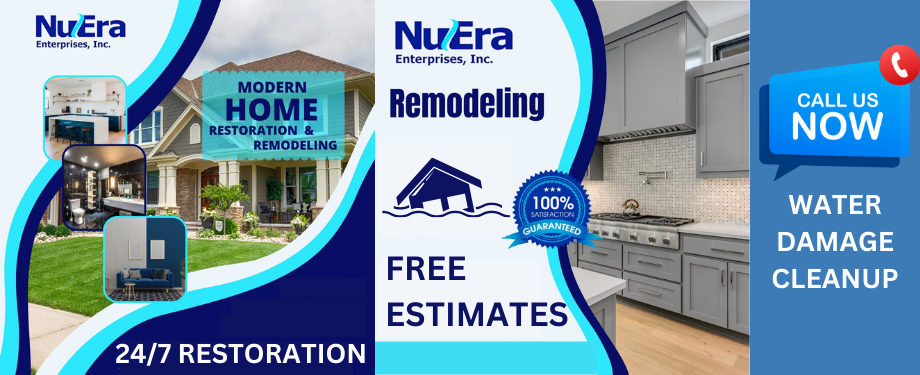 Water Damage Restoration in Downers Grove, IL
Residents of Downers Grove experience a wide range of weather conditions throughout the year, from frigid winters and slushy springs to hot and humid summer nights. This simply means that your property is exposed to a number of risks at any given point in time that can lead to water damage. Frozen and burst pipes can occur during the winter, while leaks and flooding can happen at just about any time. No matter the cause of the water, the dangers to your building and its contents can be severe.
A major problem with uncontrolled water is that it can easily pass through cracks and porous materials to spread to other areas of your building. In the process, it can cause discoloration, warping, corrosion, and other issues. This poses a serious risk to the structural components of your building, as well as your valuable belongings. In some cases, mold can even begin to grow due to the excess moisture.
Water Damage Removal
At NuEra Restoration and Remodeling, we provide 24/7 emergency-response services to those in need of water damage repairs. Once on-site, we utilize professional-grade equipment and procedures to remove water, eliminate excess moisture, and restore your belongings. One time-tested method that we implement to achieve this is called Rapid Structural Drying. This process is an advanced dehumidification procedure that naturally removes water and moisture from affected areas and items. We also utilize moisture meters which helps us locate and address all areas affected by water or moisture.
When water damage occurs, it may be difficult to tell if you should file an insurance claim for the damage. Our technicians will do a thorough inspection of the damage and advise you on whether you should file a claim or not based on our inspection. If you do end up filing a claim, we can bill your insurance company directly for the claim with our direct billing services.
Watch RestorationMaster Video for more information on Water Damage Restoration
What to do when there is water damage:
Water damage scenarios can incite a lot of stress in a hurry. If your property experiences a damaging event due to excess water and moisture, there are simple steps that you can take to remain proactive, and help limit the extent of the damage:
First and foremost, call us for 24-hour water damage restoration services
Shut off your water supply
Before unplugging electrical devices, turn off circuit breakers
Do not attempt to soak up water with a standard vacuum
Put aluminum foil under the legs of affected furniture
Do not walk on wet carpeting
Pick up curtains, upholstery, and drapes from the floor
Do not try to soak up water with newspaper, as this can lead to stains
Move shoes, plants, books, and other items that could cause stains to a dry environment
We can capture any loss in its entirety, including its exact dimensions. Not only does this serve the purpose of thoroughly documenting the condition of the structure, but it also captures the condition of people's personal belongings and a business's inventory. We can easily share the job link with the customer, their adjuster, and the contractor that will be performing the build back. This type of documentation reduces disputes over the severity of the loss and improves efficiency all the way around.
When it comes to insurance claims, it is critical that we have an agreed scope of work with the adjuster. Providing meticulous documentation of the damage helps move the claims process along. If your home or business has suffered a fire or water loss, NuEra Restoration and Remodeling is your beginning-to-end resource.
Water Damage Insurance Claim
In the unfortunate event of a disaster, such as a flood or sewage overflow, rest assured that you have the option to initiate an insurance claim, and our water damage repair professionals will guide you seamlessly through the entire process. With our BBB A+ Accreditation and IICRC Certification, along with being fully licensed, bonded, and insured for both commercial and residential projects, our expert team is equipped to handle every aspect without burdening you with stress. If you currently lack home insurance coverage, NuEra is ready to step in with our zero-interest financing program. Our offer provides substantial benefits and advantages to each of our clients. Our versatile range of financing options is tailored to suit your specific needs, ensuring that we can tackle any project with ease.
Contact Us for Water Damage Restoration for Downers Grove, IL
If you have any questions about our water damage restoration services or would like to take advantage of our 24/7 emergency-response capabilities, contact our representatives at (630) 656-9915. At NuEra Restoration and Remodeling, we are proud to service residential and commercial property owners in Downers Grove, IL.
---
Related Water Damage Repair Services:
Water Extraction in Des Plaines, IL
Water Damage Repair and Mitigation in Mt. Prospect, IL
Flood Damage Cleanup in Schaumburg, IL
Flood Damage Cleanup Team in Elk Grove Village, IL
---
Related Water Damage Restoration Tips and Information
Thankfully, safeguarding your home against water damage caused by plumbing fixtures and appliances is comparatively simpler than protecting it from severe weather or flooding. By consistently inspecting your plumbing fixtures, pipes, and appliances for any indications of damage or leaks, you can proactively prevent extensive water damage that would require costly restoration services. To help you in this endeavor, consider the following tips for preventing such water damage.
The assumption that all floods exclusively stem from natural disasters is worth reconsidering. The sources of flooding can vary based on your geographical location, ranging from coastal or lakeside waters to heavy rainfall. Nevertheless, it's essential to recognize that not every instance of flooding can be attributed to natural causes. With the expanding influence of human activity on the environment, it becomes imperative to broaden our perspective when identifying the root causes of flooding.
When faced with the need for fire restoration, water damage restoration, or mold remediation, it's crucial to engage a reputable restoration company that you can rely on. Speedy completion of the work is essential to facilitate a swift return to normalcy. However, it's important to remain vigilant and not fall prey to unscrupulous restoration companies looking to exploit your vulnerable situation during a crisis. Equip yourself with the knowledge of these warning signs to steer clear of potential pitfalls when selecting a restoration company.
---
Recent Reviews
Review by Kiara Robinson
Rating

"Professionalism, Punctuality, Quality, Responsiveness, Value Clint and his team were AWESOME!!! He was very considerate of my time and space. I was very frustrated when he arrived & when he left I felt happy and relieved that my issue was resolved! He made sure to clean everything with non-toxic chemicals so that my kids would be safe, he explained everything he was doing and executed it perfectly. I had a leak in my ceiling and sewage water everywhere. He put in the time and hard work to disinfect, clean, and dry everything throughly. He was quick, efficient, and respectful! I would definitely recommend his services to anyone who has an issue in their space. Thank you Clint."
---
Review by Sara Ofenloch
Rating

"Our technician Alec came in and re-padded the carpet that had been torn up last week due to water damage. He was so friendly and talkative, and worked very quickly to get the job done! In and out within 30 minutes so that I could get on with my day. Would definitely recommend. Thanks Alec!"
---
Review by Saima I
Rating

"After our apartment flooded on Chirstmas Eve, we were worried about dry wall repairs and patches, and disgusted by the stench. NuEra handled our dry wall replacement and patching and our carpets. We didn't get a business card from the man who worked on our walls and ceilings, but he did so without his partner that day. We are so grateful! After the drywall repairs, our carpets were cleaned so thoroughly and efficiently. Alex treated the carpet and scrubbed it out well before applying the deodorizer and scrubbing that in. He even got out a bright yellow stain from the water that had leaked in. It's such a relief to no longer live in a stinky apartment! Alex and Nick were wonderful! Thank you so much!"
---
See All Reviews