NuEra Restoration and Remodeling is a leading provider of smoke and soot removal services in Downers Grove, IL. While we can also assist with fire damage, this service specifically addresses the damage caused by troublesome smoke and soot. These elements are corrosive and acidic and can cause permanent damage in various materials within 72 hours of exposure. This can occur following an uncontrolled fire, or even during common, controlled events (such as lighting candles or starting a fire in your fire place). Through our services, we will restore affected areas and belongings, and provide complete deodorization services as necessary.
At NuEra Restoration and Remodeling, each of our technicians must pass a background check and complete extensive training. You can trust our technicians to treat your property in a professional manner and provide effective restoration services.
Damage from Smoke and Soot
Not many people fully understand the harm that smoke and soot can cause when they are left to linger on your property. During their origination, smoke and soot often combine with corrosive and acidic elements that develop when certain materials are burned. As a result, your air spaces are filled with potentially damaging substances that can travel throughout your building. When they settle on vulnerable surfaces, discoloration and etching are likely while permanent damage can occur in as little as 72 hours. For this reason, we treat events involving smoke and soot as emergencies, and provide 24/7 availability.
Watch RestorationMaster video for more information on soot removal:
Restoration Services
When you choose to work with our talented technicians, you can expect superb results. At NuEra Restoration and Remodeling, our specialists are IICRC certified and must undergo extensive training before working with clients. Additionally, as a firm, we have a wealth of experience when it comes to responding to fires and similarly devastating scenarios. We truly give your building and belongings the best chance of being fully recovered, regardless of their condition.
No matter the scale of the damage on your property, we will respond swiftly to perform our restoration services. We utilize appropriate cleaning solutions to treat affected materials and surfaces, and then leverage our restoration expertise to repair them. Our goal is to return your property to its original condition.
When faced with smoke and soot damage, it may be difficult to tell for sure if you should file an insurance claim. Our technicians will thoroughly assess the damage and advise you on the best course of action to take with your insurance. If a claim is filed, we can bill your insurance carrier directly for the claim with our direct billing services.
Odor Removal Services
The foul odors that smoke can cause are more commonly recognized than the etching and discoloration it can lead to. We eliminate these unpleasant odors through our deodorization services. Our deodorization methods attack odors at their source and we also implement procedures that prevent the smell from returning in the future. This typically involves the treatment and sealing of porous materials (such as wood, fabrics, drywall, etc.) as well as cleaning of the air space.
NuEra Restoration and Remodeling has received several awards commending our dedication to our clients and the local community including the Better Business Bureau's Prestigious Torch Award, the Annual Award for Business Excellence (AABE) from the Daily Herald, and the Excellence in Leadership Award from the Dwyer Group.  We have also helped with many large local projects including helping a neighboring NuEra Restoration and Remodeling franchise after a large fire caused damage to businesses and apartments in Utica, IL.  With over 100 years of combined experience, our technicians are ready to handle any type of disaster.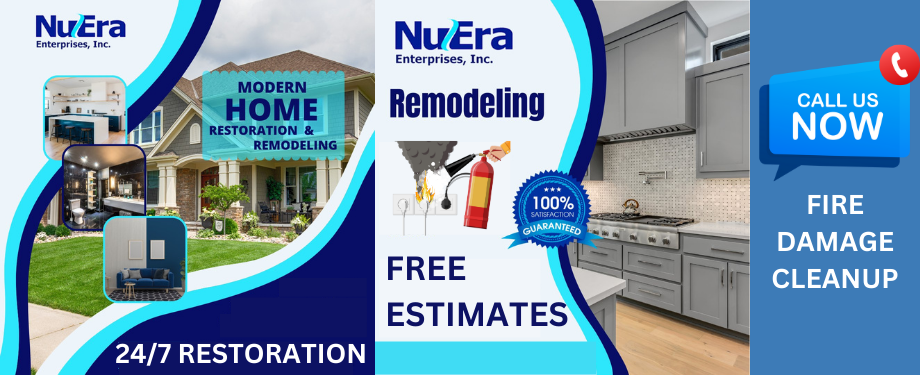 Contact Us for Smoke and Soot Removal for Downers Grove, IL
To take advantage of our comprehensive smoke and soot removal services, contact our NuEra Restoration and Remodeling representatives at (630) 656-9915. We are available 24 hours a day, 7 days a week, to respond to emergencies and we provide a price match guarantee to keep your costs low. We will meet or beat competitive proposals that are also in line with the IICRC's standard of care. We currently provide these services to property owners in the Downers Grove, IL, community.
---
Related Services
Deodorization Services in Des Plaines, IL
Odor Removal and Cleaning Services in Mt. Prospect, IL
---
Recent Reviews
Review by Kiara Robinson
Rating

"Professionalism, Punctuality, Quality, Responsiveness, Value Clint and his team were AWESOME!!! He was very considerate of my time and space. I was very frustrated when he arrived & when he left I felt happy and relieved that my issue was resolved! He made sure to clean everything with non-toxic chemicals so that my kids would be safe, he explained everything he was doing and executed it perfectly. I had a leak in my ceiling and sewage water everywhere. He put in the time and hard work to disinfect, clean, and dry everything throughly. He was quick, efficient, and respectful! I would definitely recommend his services to anyone who has an issue in their space. Thank you Clint."
---
Review by Sara Ofenloch
Rating

"Our technician Alec came in and re-padded the carpet that had been torn up last week due to water damage. He was so friendly and talkative, and worked very quickly to get the job done! In and out within 30 minutes so that I could get on with my day. Would definitely recommend. Thanks Alec!"
---
Review by Saima I
Rating

"After our apartment flooded on Chirstmas Eve, we were worried about dry wall repairs and patches, and disgusted by the stench. NuEra handled our dry wall replacement and patching and our carpets. We didn't get a business card from the man who worked on our walls and ceilings, but he did so without his partner that day. We are so grateful! After the drywall repairs, our carpets were cleaned so thoroughly and efficiently. Alex treated the carpet and scrubbed it out well before applying the deodorizer and scrubbing that in. He even got out a bright yellow stain from the water that had leaked in. It's such a relief to no longer live in a stinky apartment! Alex and Nick were wonderful! Thank you so much!"
---
See All Reviews