Mold growth is notorious for the number of problems it can cause when it appears in residential and commercial settings. It usually appears after extended exposure to moisture from water damage. Not only can it result in significant damage to affected surfaces and structural components of your building, but it can lead to a number of health complications, as well.
At NuEra Restoration and Remodeling, we do everything in our power to prevent this from happening with our mold remediation services in Downers Grove, IL. Our specialists will locate all traces of mold on your property, eliminate them, and restore the property to a safe and sanitary condition.
Each of our technicians at NuEra Restoration and Remodeling has passed a background check and received extensive training to deal with any mold scenario. Once our mold remediation services are complete, we will bring in a third party to provide testing to ensure that the level of mold spores has been significantly reduced. We guarantee that your property will pass this clearance test after our mold remediation services are complete.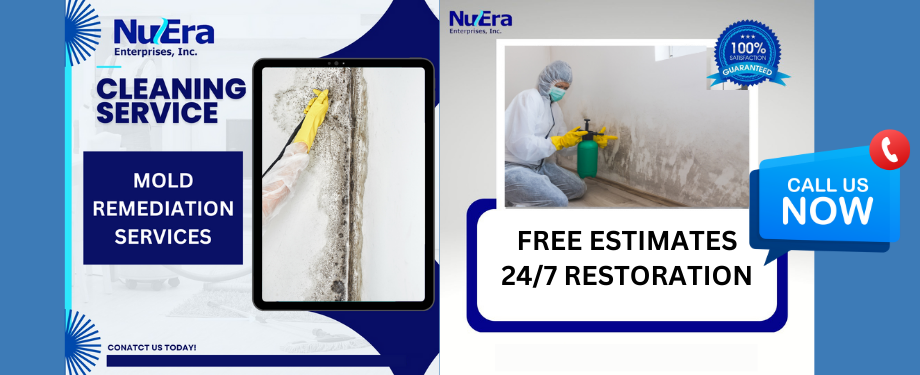 Mold Remediation
One of the biggest issues when it comes to mold is that it can grow in very diverse environments. All it really needs is a little bit of excess moisture which is why you should always check your property for moisture issues and do what you can to control the moisture level. Mold can feed off of common building materials, such as wood and drywall, which is why it is such a serious problem. When mold takes hold, it can lead to deterioration, discoloration, and even permanent damage.
To make matters worse, it can spread with relative ease and affect other areas of your property. It is extremely important to have mold removed by an IICRC certified professional such as NuEra Restoration and Remodeling instead of trying to remove it yourself.
Additionally, mold spores can pollute the air and lead to poor indoor air quality. When individuals are exposed to these environments, various health complications can ensue. Anyone is vulnerable to health complications from mold, but the young and elderly are the most at risk because they have weaker or compromised immune systems. Mold strains that produce mycotoxins can cause the following health problems:
Allergic reactions
Asthma attacks
Respiratory infections
Skin irritation
Breathing difficulty
Similarly troubling conditions
Mold Removal Process
Eliminating mold from your property should be your top priority once you see it begin to take hold. When you contact our technicians, you can expect a rapid response to inspect and contain the damage and create an appropriate remediation plan. For a closer look at what exactly to expect from our complete process, please see below:
We begin with a thorough initial inspection to determine the extent of the damage and identify the source of the moisture. The moisture source must be repaired to prevent the mold growth from getting worse. We will then form a mold remediation plan based on our inspection of the damage.
If mold growth is disturbed in any way, it will disperse its spores which can spread the mold growth to other areas of your property. We contain the mold to prevent it from spreading as we work.
We filter the mold spores from the air using HEPA filtration machines. It is just as important to remove the mold spores from the air as it is to remove the contaminated materials.
Permanently damaged materials and surfaces are removed from the property. Covering up the mold growth will only lead to future problems and attempting to remove it with bleach is ineffective. HEPA vacuuming is done before and after removal to filter the mold spores.
Nonporous surfaces and materials are cleaned and sanitized with antimicrobial sealants and cleaners.
We provide effective drying services and suggest the best ways to manage the moisture level on your property to avoid future mold growth.
We will provide final testing through a third party once the mold remediation is complete to ensure that the mold spores have been reduced to safe levels. We guarantee that your property will pass this test after treatment.
Contact our NuEra Restoration and Remodeling representatives at (630) 656-9915 to learn more about our mold removal services. We are available 24/7 to answer to your needs.
Contact Us for Mold Remediation in Downers Grove, IL
To utilize our mold remediation services, simply contact our NuEra Restoration and Remodeling representatives at (630) 656-9915. We will also help keep out of pocket costs low with our price match guarantee that applies to non-covered claims.  We will match or beat estimates from other professionals that adhere to the IICRC's standard of care. We can also provide direct billing to bill your insurance provider if you have filed a claim. Our experts are among the best in the industry at what they do and are proud to service property owners in Downers Grove, IL.
---
Related Mold Damage Restoration Services
Mold Removal Experts in Elk Grove Village, IL
Mold Remediation Professionals in Mt. Prospect, IL
Black Mold Cleaning in Des Plaines, IL
Mold Cleanup in Schaumburg, IL
---
Water damage-related mold removal Frequently Asked Questions
What permanently kills mold?
Killing mold seems like a simple task. The quick answers we might have in mind are bleach and vinegar, but the truth is one of these options is more effective than the other. The best solution is vinegar. This is because bleach only removes mold spores on the surface but not deeply inside the root of the growth. Vinegar will penetrate porous materials and kill the mold completely. However, these are only good for small areas. If you have a wall, ceiling, house suffering from extensive mold, the right action is to contact a mold remediation technician to professionally clean up mold and restore your property.
Is it safe to clean black mold yourself?
Cleaning mold yourself is never a safe choice. Mold is toxic and can cause numerous harm to your health. Direct exposure to mold can worsen any sickness that you are already experiencing. Therefore, the safest way is to call a professional mold removal expert to handle any mold remediation needs.
What kills mold spores in the air?
It is impossible to guarantee a method of killing mold completely in the air. However, the combination of ventilation, purifier, and tea tree oil can remediate the mold spores floating in your living areas.
What kills black mold on walls?
Vinegar
Tea Tree Oil
Grapefruit Seed Extract
Hydrogen Peroxide
Borax
Bleach
Concrobium
High-Efficiency Particle Absolute (HEPA) Vacuum Machines
Why and How People Choose a Professional Contractor After a Home Disaster?
---
Related Mold Detection and Cleanup Tips
The outdoor environment is bustling with a multitude of mold spores. Classified as a form of fungi, these spores are abundant and widely dispersed in the open air, contributing their essential role in the breakdown of decaying organic materials, such as fallen leaves, within the natural ecosystem. Here are the most common places you can discover mold in your home.
Mold can be a health problem, not only in your home or office but also when you eat foods stored in them. You may experience some common health effects such as allergic reactions such as sneezing and itchy eyes, wheezing or coughing; headaches; dizziness; fatigue; nausea; vomiting; increased risk for cancer in sensitive populations
After heavy rain, the lower level of your home may experience some minor flooding.  In many cases, this will mean nothing more than a few puddles you can take care of with a mop and a box fan.  Even when flooding is minimal, however, your home is still at risk of developing mold, and mold can be harmful to your health because it produces allergens.
---
Recent Reviews
Review by Kiara Robinson
Rating

"Professionalism, Punctuality, Quality, Responsiveness, Value Clint and his team were AWESOME!!! He was very considerate of my time and space. I was very frustrated when he arrived & when he left I felt happy and relieved that my issue was resolved! He made sure to clean everything with non-toxic chemicals so that my kids would be safe, he explained everything he was doing and executed it perfectly. I had a leak in my ceiling and sewage water everywhere. He put in the time and hard work to disinfect, clean, and dry everything throughly. He was quick, efficient, and respectful! I would definitely recommend his services to anyone who has an issue in their space. Thank you Clint."
---
Review by Sara Ofenloch
Rating

"Our technician Alec came in and re-padded the carpet that had been torn up last week due to water damage. He was so friendly and talkative, and worked very quickly to get the job done! In and out within 30 minutes so that I could get on with my day. Would definitely recommend. Thanks Alec!"
---
Review by Saima I
Rating

"After our apartment flooded on Chirstmas Eve, we were worried about dry wall repairs and patches, and disgusted by the stench. NuEra handled our dry wall replacement and patching and our carpets. We didn't get a business card from the man who worked on our walls and ceilings, but he did so without his partner that day. We are so grateful! After the drywall repairs, our carpets were cleaned so thoroughly and efficiently. Alex treated the carpet and scrubbed it out well before applying the deodorizer and scrubbing that in. He even got out a bright yellow stain from the water that had leaked in. It's such a relief to no longer live in a stinky apartment! Alex and Nick were wonderful! Thank you so much!"
---
See All Reviews