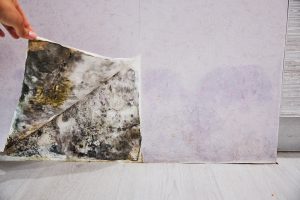 Mold growth is notorious for the number of problems it can cause when it appears in residential and commercial settings. It usually appears after extended exposure to moisture from water damage. Not only can it result in significant damage to affected surfaces and structural components of your building, but it can lead to a number of health complications, as well.
At RestorationMaster, we do everything in our power to prevent this from happening with our mold remediation services in Downers Grove, IL. Our specialists will locate all traces of mold on your property, eliminate them, and restore the property to a safe and sanitary condition.
Each of our technicians at RestorationMaster has passed a background check and received extensive training to deal with any mold scenario. Once our mold remediation services are complete, we will bring in a third party to provide testing to ensure that the level of mold spores has been significantly reduced. We guarantee that your property will pass this clearance test after our mold remediation services are complete.
Mold Remediation
One of the biggest issues when it comes to mold is that it can grow in very diverse environments. All it really needs is a little bit of excess moisture which is why you should always check your property for moisture issues and do what you can to control the moisture level. Mold can feed off of common building materials, such as wood and drywall, which is why it is such a serious problem. When mold takes hold, it can lead to deterioration, discoloration, and even permanent damage.
To make matters worse, it can spread with relative ease and affect other areas of your property. It is extremely important to have mold removed by an IICRC certified professional such as RestorationMaster instead of trying to remove it yourself.
Additionally, mold spores can pollute the air and lead to poor indoor air quality. When individuals are exposed to these environments, various health complications can ensue. Anyone is vulnerable to health complications from mold, but the young and elderly are the most at risk because they have weaker or compromised immune systems. Mold strains that produce mycotoxins can cause the following health problems:
Allergic reactions
Asthma attacks
Respiratory infections
Skin irritation
Breathing difficulty
Similarly troubling conditions
Contact our RestorationMaster representatives at (888) 915-7197 to learn more about our mold removal services. We are available 24/7 to answer to your needs.
Mold Removal Process
Eliminating mold from your property should be your top priority once you see it begin to take hold. When you contact our technicians, you can expect a rapid response to inspect and contain the damage and create an appropriate remediation plan. For a closer look at what exactly to expect from our complete process, please see below:
We begin with a thorough initial inspection to determine the extent of the damage and identify the source of the moisture. The moisture source must be repaired to prevent the mold growth from getting worse. We will then form a mold remediation plan based on our inspection of the damage.
If mold growth is disturbed in any way, it will disperse its spores which can spread the mold growth to other areas of your property. We contain the mold to prevent it from spreading as we work.
We filter the mold spores from the air using HEPA filtration machines. It is just as important to remove the mold spores from the air as it is to remove the contaminated materials.
Permanently damaged materials and surfaces are removed from the property. Covering up the mold growth will only lead to future problems and attempting to remove it with bleach is ineffective. HEPA vacuuming is done before and after removal to filter the mold spores.
Nonporous surfaces and materials are cleaned and sanitized with antimicrobial sealants and cleaners.
We provide effective drying services and suggest the best ways to manage the moisture level on your property to avoid future mold growth.
We will provide final testing through a third party once the mold remediation is complete to ensure that the mold spores have been reduced to safe levels. We guarantee that your property will pass this test after treatment.
Contact Us
To utilize our mold remediation services, simply contact our RestorationMaster representatives at (888) 915-7197. We will also help keep out of pocket costs low with our price match guarantee that applies to non-covered claims.  We will match or beat estimates from other professionals that adhere to the IICRC's standard of care.
We can also provide direct billing to bill your insurance provider if you have filed a claim. Our experts are among the best in the industry at what they do and are proud to service property owners in Downers Grove, IL.
---
Related Mold Damage Restoration Services:
Mold Remediation in Oak Lawn, IL
Mold Damage Restoration in Orland Park, IL
Mold Remediation Company in Hickory Hills, IL
Mold Removal in Tinley Park, IL 
Mold Removal in Berwyn, IL
Mold Remediation in Cicero, IL 
Mold Remediation Burbank, IL
Mold Remediation Services Bridgeview, IL
Mold Remediation Contractors Burr Ridge, IL
Mold Removal Oak Park, IL
Mold Remediation Professionals Oak Brook, IL
Mold Removal Services Darien, IL
Mold Remediation in Lombard, IL