Open Windows can Lead to Water Damage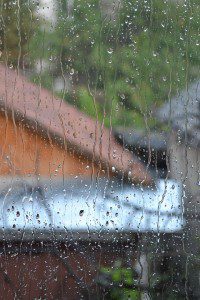 When it comes to water damage within a home, plumbing fixtures and appliances that use water are the typical culprits.  Yet there is something else in your home that can be a source of water damage, the windows.  Homeowners open their windows a lot during the spring, summer, and fall months to let in fresh air and help control the temperature of the home.  People commonly leave their windows open when they leave the home which increases the chance of water damage from a passing storm.  It is also easy to forget that certain windows are open and you may not remember to close them when a storm hits.  You cannot forget about open windows in your home because letting in rain and excess moisture through the windows can cause several issues.
Structural Water Damage
Windows not only let water into the home from rain, but they also experience condensation buildup that can cause water damage.  The water from rain typically only affects the window sill and frame but heavy rain may go beyond that and affect the floor or nearby furniture.  Excess water and moisture gets absorbed into wooden window sills and frames which can lead to rotting and discoloration.  Your flooring and furniture will also soak up rain water which can cause problems such as warping and deterioration.  You must remember to close your windows once it starts raining.
Mold
Where there is water damage, there can also be mold.  Mold spores thrive in environments that provide a moisture and food source and your wet window sill creates an ideal environment for mold.  Once mold growth forms, it can spread very quickly throughout the rest of your home and it can cause severe, even permanent damage to the affected surfaces if it is not removed.  As soon as you notice mold growth on your window sill or window frame, call a mold removal professional immediately to remove the mold growth and restore the damage.
Tips to Prevent Water Damage around your Windows
Water damage around your window can be prevented by taking the following actions:
Close your windows when you leave the home, you never know when it might start raining.
Close your windows as soon as it starts to rain.
Dry your window sill and window frame immediately if it is wet from the rain.
Wipe off condensation from the window pane and frame.
Make sure they are sealed properly, especially before the winter.
Call a mold removal professional if there is mold, do not try to remove it yourself.
There are so many potential causes of water damage throughout your home that can make it challenging to prevent.  However, you can prevent water damage around your windows by following these simple tips.  If your home sustains significant water damage form an open window, call a water damage restoration professional immediately.  They will remove all excess water and moisture from the affected materials and make sure that any resulting damage restored.