Test Your Sump Pump with These Tips
You never know how much you appreciate a sump pump until it stops working. During heavy rains, that little pump is the only thing that keeps your basement from becoming an indoor wading pool. That's why it's a good idea to check it twice a year, in the spring and fall, to make sure it's ready when you need it most. Testing your sump pump isn't hard and only takes a few minutes. Follow these suggestions to test your sump pump and keep it in top shape at all times.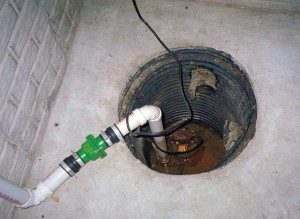 Find the exit pipe that drains the water from the pump outside your home. Make sure it's draining water away from your foundation. Any water that collects around your foundation will weaken it over time. Make sure the pipe isn't clogged with leaves, sticks and other debris.
Locate your sump pump, either in the basement or a crawlspace, near the foundation. Remove the lid, if it has one, and remove any debris that may have accumulated. A clogged pump will eventually ruin the motor and fail at the worst possible time.
If your pump has a pump cord that plugs into the float cord plug, unplug both, and then plug only the pump cord into the outlet. You should hear the motor running. If you do, connect the plugs the way they were and plug the pump back in.
Some pumps have only one plug. In that case, slowly pour about 5 gallons of water into the pump pit until the float begins to rise. The pump should kick on. Make sure all the water gets pumped out and that the pump turns off. Repeat the test to double check.
If you can't pour water into the pit, lift the float manually to make the pump kick on. Don't make the motor run for more than a few seconds to prevent damage.
Have your pump serviced immediately if it malfunctions; you never know when the next heavy rainstorm will occur and you need to be ready for it.
Despite your pump's best efforts, if you have excess water in your home or business, call the water restoration professionals. They will arrive quickly to limit the damage and begin the extraction and drying process before mold can begin to grow.