11 Tips to Handle Flood Damage
Your home, business, or commercial property can suffer water damage from old busted pipes, a faulty water heater or ice maker line and most commonly – a sump pump failure.
In fact, over 90% of the water damage repairs ServiceMaster by Metzle makes are NOT from the rain and stormy weather. Check out these 11 brief tips so if you are struck with flood damage, you're ready to react!
1.    If you can hear the water squish under your feet – call a professional water restoration company that can get to your home within hours. Time is critical to reduce the severity and cost of damage.
2.    In the summertime – turn on the air conditioning to help with the drying process.
3.    If the flood damage has affected multiple floors – stay out of rooms where ceiling fans may be sagging and do not turn on any ceiling lights.
4.    Do not turn on any appliances or electronics – we don't want any additional emergencies!
5.    Do not try to remove water with a household vacuum.
6.    Prevent rust and furniture stains – place aluminum foil with either Styrofoam or unstained wood blocks under any flat surfaces that you cannot remove.
7.    Dry any wood furniture if possible to reduce the chance of swelling and warping of the wood.
8.    Prop up cushions of wet upholstery to help air circulation.
9.    Begin removing any loose and valuable items from the affected areas if possible – furniture, rugs, leathers or furs, artwork, etc.
10.  Also remove colored items, magazines, books, etc., to reduce the chance of staining the wet surfaces.
11.  When a professional water restoration company comes in to repair your damage from water – leave the fans on as long as they have requested 🙂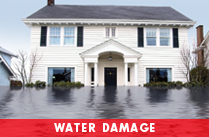 If you've never had water damage repairs you might be wondering about #11. Many of the emergency water repairs we make do not affect an entire property, so families are able to live in their home as it's being dried out. The air movers (that's what us restoration geeks call it) are pretty noisy, and at 8:30 PM when your favorite show comes on – the fans often get turned off. This can significantly extend the drying timeline and most importantly increase the cost of the claim or repairs.
Remember these 11 flood damage tips and call for (224) 585-0580. ServiceMaster by Metzler is your local expert for emergency water restoration. Our water crews are on call 24 hours a day to repair homes and restore lives for the entire Cook County area.
Courtesy of: ServiceMaster by Metzler – Elk Grove, IL