ServiceMaster DAK
Serving Lake County, part of Cook County, IL and the surrounding areas, we can be reached 24/7/365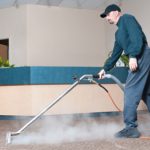 ServiceMaster DAK Enterprises has decades of experience in carpet cleaning and restoration.  Here at ServiceMaster DAK Enterprises, Arlington Heights IL, we can typically schedule a carpet cleaning appointment within a few days of your call while providing a free estimate beforehand.  We pride ourselves in our cleaning methods to make sure your carpet is returned to its original condition. We are capable of cleaning any type of carpet fabric, including wool and Berber.
Residential Carpet Cleaning
Here at ServiceMaster DAK Enterprises, Arlington Heights IL, we have the expertly trained carpet cleaners who are well versed in all carpeting brands, and know how to remove dirt and deep-down soil, especially in high traffic areas.  We realize that improper cleaning procedures can void your carpet warranty, so rest assured our methods are safe.
As part of the residential carpet cleaning we will:
–  Evaluate your carpet and determine the best cleaning method;
–  Pre-treat all spots and stains, especially heavy traffic areas and ground in soil;
–  Extract the carpet using the finest available truck-mounted equipment and our own on board clean hot water, going over tough areas multiple times as needed;
–  If possible, we lift and place the furniture on blocks and pads to protect the damp carpet;
–  All of the soiled water is disposed of properly, offsite at our facility;
–  When finished with the carpet cleaning will groom the carpet to enhance the appearance and allow for more efficient drying.
–  Ask our technician about Scotchgard protection.
Commercial Carpet Cleaning
At ServiceMaster DAK, Arlington Heights IL, we use the latest equipment and methods to leave your carpet looking like new.  Let ServiceMaster DAK take care of the heavy office cleaning, the deep commercial carpet cleaning. We understand the appearance of your office makes a statement to your staff, guests and customers.
Upholstery Cleaning Services
The most effective cleaning method depends on the specific type of upholstery and we are prepared to safely clean any type of upholstery fabric with the best cleaning products, methods, and equipment available in the industry.  Our upholstery cleaning services begin with an on-site evaluation by our estimator to determine the best cleaning method based on the type and condition of the upholstery.  This evaluation is done at no extra charge and helps us ensure that we arrive with the right cleaning products and equipment for the job.  We will then thoroughly clean the upholstery fabric with dry or wet cleaning methods depending on the fabric type as well as treat and remove any stains.  Once the cleaning is done, we can apply fabric protection to help keep the furniture clean.
---
For professional residential or commercial carpet and upholstery cleaning services in Arlington Heights IL, call ServiceMaster DAK Enterprises at (847) 558-6604.
Lake county and other IL locations:
Arlington Heights IL 60004 | Barrington IL | Buffalo Grove IL | Lake Zurich IL
---
Recent Reviews
January 7, 2020
Very thorough clean up! The men were very professional and competent! They arrived on time for 5 days and were very pleasant and respectful of my home always wearing "booties" when entering. The room was left immaculate and debris removed in plastic bags day 1. The fans were checked daily until the room was dry. Very good service! Recommending Brian Brown and Gabriel who did a great job!
---