NuEra Restoration and Remodeling
Serving Lake County, part of Cook County, IL and the surrounding areas, we can be reached 24/7/365
Your local NuEra Restoration and Remodeling partner has decades of experience in carpet cleaning and restoration in Arlington Heights, IL.  We can typically schedule a carpet cleaning appointment within a few days of your call while providing a free estimate beforehand.  We pride ourselves in our cleaning methods to make sure your carpet is returned to its original condition. We are capable of cleaning any type of carpet fabric, including wool and Berber.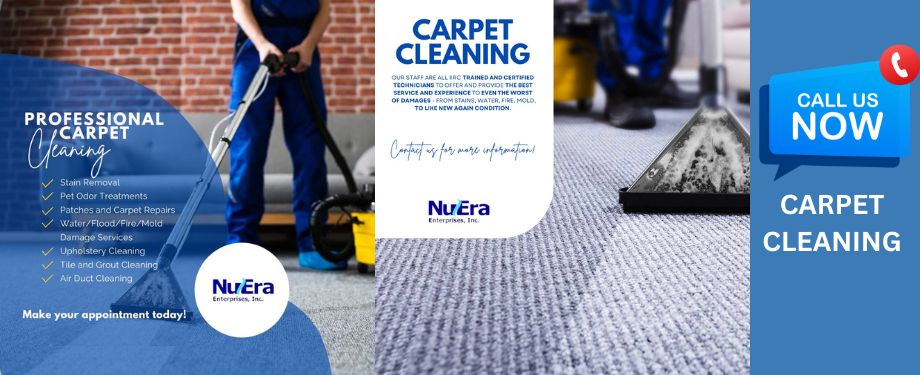 Residential Carpet Cleaning
We have the expertly trained carpet cleaners who are well versed in all carpeting brands, and know how to remove dirt and deep-down soil, especially in high traffic areas.  We realize that improper cleaning procedures can void your carpet warranty, so rest assured our methods are safe.
As part of the residential carpet cleaning we will:
–  Evaluate your carpet and determine the best cleaning method;
–  Pre-treat all spots and stains, especially heavy traffic areas and ground in soil;
–  Extract the carpet using the finest available truck-mounted equipment and our own on board clean hot water, going over tough areas multiple times as needed;
–  If possible, we lift and place the furniture on blocks and pads to protect the damp carpet;
–  All of the soiled water is disposed of properly, offsite at our facility;
–  When finished with the carpet cleaning will groom the carpet to enhance the appearance and allow for more efficient drying.
–  Ask our technician about Scotchgard protection.
Commercial Carpet Cleaning
Your local NuEra Restoration and Remodeling partner in Arlington Heights IL, uses the latest equipment and methods to leave your carpet looking like new.  Let us take care of the heavy office cleaning, the deep commercial carpet cleaning. We understand the appearance of your office makes a statement to your staff, guests and customers.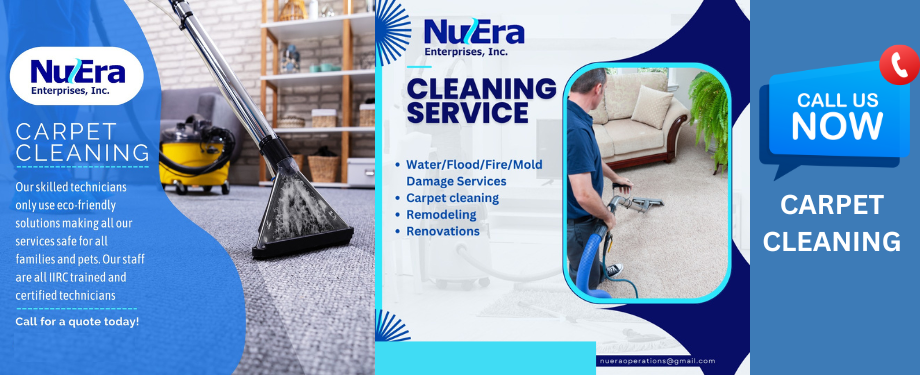 Upholstery Cleaning Services
The most effective cleaning method depends on the specific type of upholstery and we are prepared to safely clean any type of upholstery fabric with the best cleaning products, methods, and equipment available in the industry.  Our upholstery cleaning services begin with an on-site evaluation by our estimator to determine the best cleaning method based on the type and condition of the upholstery.  This evaluation is done at no extra charge and helps us ensure that we arrive with the right cleaning products and equipment for the job.  We will then thoroughly clean the upholstery fabric with dry or wet cleaning methods depending on the fabric type as well as treat and remove any stains.  Once the cleaning is done, we can apply fabric protection to help keep the furniture clean.
For professional residential or commercial carpet and upholstery cleaning services in Arlington Heights IL, call your local NuEra Restoration and Remodeling partner at (630) 656-9915.
---
Related Carpet Cleaning Services
The Best Carpet Cleaners in Des Plaines, IL
Top Rated Carpet Cleaners in Mt. Prospect, IL
Top Best Carpet Cleaning in in Schaumburg, IL
Professional Carpet Cleaning Services in Elk Grove Village, IL
---
Recent Reviews
Review by Kiara Robinson
Rating

"Professionalism, Punctuality, Quality, Responsiveness, Value Clint and his team were AWESOME!!! He was very considerate of my time and space. I was very frustrated when he arrived & when he left I felt happy and relieved that my issue was resolved! He made sure to clean everything with non-toxic chemicals so that my kids would be safe, he explained everything he was doing and executed it perfectly. I had a leak in my ceiling and sewage water everywhere. He put in the time and hard work to disinfect, clean, and dry everything throughly. He was quick, efficient, and respectful! I would definitely recommend his services to anyone who has an issue in their space. Thank you Clint."
---
Review by Sara Ofenloch
Rating

"Our technician Alec came in and re-padded the carpet that had been torn up last week due to water damage. He was so friendly and talkative, and worked very quickly to get the job done! In and out within 30 minutes so that I could get on with my day. Would definitely recommend. Thanks Alec!"
---
Review by Saima I
Rating

"After our apartment flooded on Chirstmas Eve, we were worried about dry wall repairs and patches, and disgusted by the stench. NuEra handled our dry wall replacement and patching and our carpets. We didn't get a business card from the man who worked on our walls and ceilings, but he did so without his partner that day. We are so grateful! After the drywall repairs, our carpets were cleaned so thoroughly and efficiently. Alex treated the carpet and scrubbed it out well before applying the deodorizer and scrubbing that in. He even got out a bright yellow stain from the water that had leaked in. It's such a relief to no longer live in a stinky apartment! Alex and Nick were wonderful! Thank you so much!"
---
See All Reviews