ServiceMaster DAK
Serving Lake County, part of Cook County, IL and the surrounding areas, we can be reached 24/7/365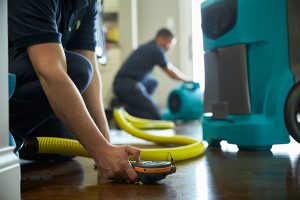 Different amounts of water in a home or building can cause varying degrees of damage but one thing is for sure, all excess water must be dealt with right away to prevent serious structural damage or mold.  Indoor flooding has the potential to cause very serious damage because it gets absorbed quickly into porous building materials and can result in mold growth over a large area.  It is very important to call for professional help as soon as you discover flooding in your home or building.  ServiceMaster DAK provides flood damage restoration services to remove flood water from homes and business in Arlington Heights, IL and clean up the affected areas.  Our trained technicians can handle any case of indoor flooding with our advanced water extraction and dehumidification equipment.
The reason you need to react to indoor flooding immediately is because the flooring, woodwork, drywall, and insulation in your home are porous and will absorb large amounts of water.  This can result in minor damage like warping and discoloration or major structural damage if the water penetrates deeply enough to weaken the materials.  The widespread moisture caused by indoor flooding also puts a large area of the affected home or building at risk for experiencing mold growth.
Our technicians are dedicated to helping homes and business faced with flooding issues by extracting the flood water and restoring the damaged areas to their previous condition.  We start by removing the flood water with our water extraction equipment and then set up dehumidifiers to dry wet materials.  We will then repair any damage caused by the flooding and get the areas cleaned and restored.
The flood damage restoration services from ServiceMaster DAK include these steps:
Emergency Response: We send our technicians to your home or building as soon as possible after receiving your call to contain the flood water. After a thorough evaluation, we will create a restoration plan.
Water Removal and Drying: All flood water is removed with our extraction equipment and we can also extract excess moisture from wet structural elements and furnishings with our dehumidification equipment.
Reinstallation and Cleaning: After removing the flood water, we will clean and disinfect the flooded areas and put furniture and other large objects back that were moved during the cleaning.
Flooding from Burst Pipes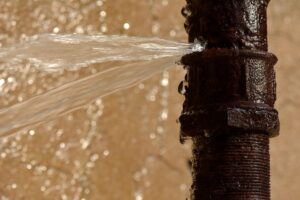 Indoor flooding is particularly dangerous because it can happen unexpectedly due to an internal problem like leaks and burst pipes.  Burst pipes are a common problem in the Chicago area during the winter because cold temperatures can freeze the water in the pipes. The ice will expand until it puts enough pressure on the pipe to burst.  Burst pipes can be a problem during the warmer seasons as well if you have pipes that are old, worn out, or damaged.  Our technicians have experience cleaning up the water damage that occurs from a burst pipe and we will also repair the pipe to stop the leak.  Keeping your pipes warm during the winter and checking for frozen pipes will help prevent a pipe burst.
The effects of indoor flooding can be very severe as extensive structural damage and widespread mold growth are each potential issues.  You must contact a professional as soon as you can to help prevent significant damage from indoor flooding.  The technicians of ServiceMaster DAK have the experience and the equipment to help flooded homes and businesses in Arlington Heights, IL area.  Give us a call anytime, 24 hours a day at (847) 558-6604 to respond to your flood damage emergencies.
---
Flood Cleanup Services in Lake county and other IL locations:
Arlington Heights IL 60004 | Barrington IL | Buffalo Grove IL | Lake Zurich IL
---
Recent Reviews
January 7, 2020
Very thorough clean up! The men were very professional and competent! They arrived on time for 5 days and were very pleasant and respectful of my home always wearing "booties" when entering. The room was left immaculate and debris removed in plastic bags day 1. The fans were checked daily until the room was dry. Very good service! Recommending Brian Brown and Gabriel who did a great job!
---