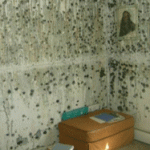 Mold and mildew can easily spread throughout your property if not cleaned properly.  Depending on your home's moisture levels, some homes may be more prone to humidity and mold growth.  Since mold spores travel so easily through the air, they can attach and start to grow on almost any surface. This is why we provide mold removal services to reverse the damages of mold.
Mold and Mildew Cleanup
The key to mold control is moisture control. Our trained technicians utilize the best remediation equipment and can undertake projects of any magnitude. Our emergency response team will reduce your losses and save you money.
The Mold Remediation service includes:
Identifying the source – the initial mold inspection should be performed by an industrial hygienist.  If visible mold is present, is small in size, and the source of the contamination has been determined and corrected an industrial hygienist may not be needed.
Identifying the extent – involves the use of moisture meters, and other specialized equipment. Air quality sampling can also be employed to identify the extent of the contamination.
Containment – involves the use of HEPA filtration, negative air machines and plastic sheeting.
Removal – includes the removal of porous materials such as drywall, upholstered furniture, carpeting, insulation, cabinets, etc.
Decontamination – HEPA vacuuming, wire brushing, sanding and other cleaning techniques are utilized to remove all remaining mold spores from the contaminated area. Often, an antimicrobial solution is applied to the remaining materials as well.
Clearance Testing – upon completion of the mold remediation and removal project a final clearance inspection is performed.
Turn to ServiceMaster DAK Enterprises to make sure your entire mold and mildew remediation needs are met.
For professional mold remediation and mildew removal services in Arlington Heights, IL area, call ServiceMaster DAK Enterprises at (847) 558-6604.
---
Recent Reviews
January 7, 2020
Very thorough clean up! The men were very professional and competent! They arrived on time for 5 days and were very pleasant and respectful of my home always wearing "booties" when entering. The room was left immaculate and debris removed in plastic bags day 1. The fans were checked daily until the room was dry. Very good service! Recommending Brian Brown and Gabriel who did a great job!
---