When indoor flooding occurs, the water can quickly cause damage to the structural elements and furnishings within the home or building by penetrating these absorbent materials. Every home or business is vulnerable to flooding because it can be caused by internal issues like plumbing leaks and burst pipes as well as natural floods and heavy rain. Regardless of the source, you must immediately take action because flood water will only spread further and make mold growth or severe structural damage more likely. ServiceMaster DAK provides flood damage restoration services in Glenview, IL to restore homes and businesses back to their pre-flooding condition. Each of our technicians are trained and equipped to thoroughly remove standing water and excess moisture caused by flooding.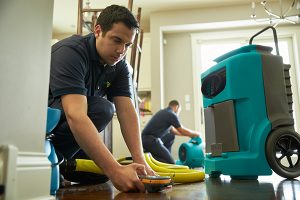 Floods can be especially damaging for homes and businesses because of how quickly they can penetrate furnishings and building materials. Many common building materials like drywall and wood are absorbent and if allowed, they will soak in enough water to sustain significant structural damage or even mold growth. Mold is a common product of water damage and it can cause serious health effects in those that are exposed.
Our licensed and trained technicians can remove all flood water from your home or building and restore the damaged areas to their previous condition. All standing flood water will be removed with our water extraction equipment and we also have a drying process involving strategically placed dehumidifiers to completely dry furnishings and other wet materials. The area is then cleaned and disinfected once all excess water and moisture has been removed.
The following steps are included as part of our flood damage restoration services:
Emergency Response: Our technicians will arrive as soon as possible after your call and immediately stop the spread of the water. We will then evaluate the damage and form an appropriate restoration plan.
Water Removal and Drying: Our water extraction equipment is effective for removing standing flood water and our dehumidifiers can extract moisture from wet furnishings and building materials.
Reinstallation and Cleaning: The flooded area will be cleaned and disinfected to restore its previous condition and we will return furniture and other large items that were moved out of the way.
Flooding from Burst Pipes
Home flooding does not always come from outside the home as burst pipes are often a common source. Pipes can burst once they become damaged or worn out and they are also very likely to burst during the winter when freezing temperatures can cause the water within the pipes to freeze. Frozen water expands against the walls of the pipes until they crack and cause the water to spill out. The technicians of ServiceMaster DAK have dealt with burst pipes before and we will not only clean up the water, but also repair the broken pipe. If you want to prevent frozen pipes in your home, consider pipe insulation or other ways to warm up uninsulated areas of your home that contain pipes.
Indoor flooding creates a messy situation in your home or building and it can lead to serious structural damage by getting absorbed into the building materials. As soon as you notice flooding in your home or business in Glenview, IL, call ServiceMaster DAK to stop the spread of the flooding and create an effective restoration plan. Our phone lines are open 24 hours a day at (847) 983-7400 to provide emergency flood damage restoration services.
---
Recent Reviews
January 7, 2020
Very thorough clean up! The men were very professional and competent! They arrived on time for 5 days and were very pleasant and respectful of my home always wearing "booties" when entering. The room was left immaculate and debris removed in plastic bags day 1. The fans were checked daily until the room was dry. Very good service! Recommending Brian Brown and Gabriel who did a great job!
---