NuEra Restoration and Remodeling
Mold growth is one of the last things you want to appear in your home or building.  It typically appears as a symptom of water damage, and it can spread and cause significant damage to your property.  Exposure to mold can also be detrimental to your health.  You need to address any mold issue you find right away before it spreads or causes more extensive damage.
NuEra Restoration and Remodeling provides mold remediation services in Glenview, IL to remove mold growth from homes and commercial buildings.  Our technicians are certified to remove mold using advanced remediation techniques.  We will uncover all mold growth and ensure that the damaged materials are removed or restored.
Mold Growth
Mold growth in homes is caused by moisture, which can come from several sources, including humidity and condensation. Mold develops where you see it, so the most common places for mold to grow are on walls near windows or appliances that produce a significant amount of moisture, including bathroom vents and exhaust fans; under sinks; behind furniture; and in attics and crawlspaces.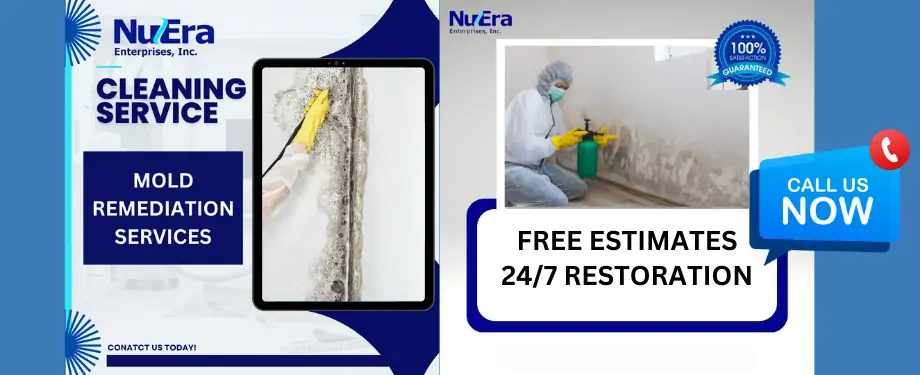 Damage Caused by Mold
Mold often appears in areas affected by water damage or excess moisture because mold spores are drawn to sources of moisture.  When the spores settle, mold colonies appear that eat away at the affected materials.  Surfaces and materials affected by mold will become discolored and weakened and structural elements like walls and ceilings may eventually be in danger of collapse.  Mold colonies can disperse their spores at any time which makes it possible for mold growth to spread to new areas once it appears.
The other major problem with mold is the possible health effects.  Those exposed to mold are vulnerable to allergic reactions such as headaches, nasal congestion, coughing, trouble breathing, skin irritation, and itchy eyes and throat.  Those who are exposed to mold for a longer period of time can develop more serious symptoms like respiratory infections.
Reacting to mold growth quickly helps limit its spread and reduce the risk of negative health effects.
NuEra Restoration and Remodeling Mold Remediation
Our technicians at NuEra Restoration and Remodeling are licensed and equipped to remove mold from homes and businesses.  We start by locating and containing all mold growth to stop its spread and implement a remediation plan to ensure its complete removal.  All damaged materials will be removed or restored, and your property will be returned to safe living conditions. NuEra Restoration and Remodeling is available 24 hours a day  to provide Mold Remediation in Glenview, IL.
Our mold remediation services in Glenview, IL include the following:
Moisture source repair: We must locate and repair the moisture source that caused the mold to prevent the mold from returning after the remediation.
Mold removal:We will remove the mold growth as well as materials that have been contaminated or permanently damaged.
Deodorization, cleaning, and disinfection: Musty odors from mold will be removed with our deodorization process and we will clean and disinfectthe affected areas to prevent future mold growth.
Restoration and rebuild:The damaged areas will be restored and rebuilt to return your property to its original condition.
Mold Removal
In order to make sure that mold is removed from your property, it is advisable to hire restoration experts. Mold can cause extensive damage in your home and can lead to health problems if left unchecked in the right circumstances.  The technicians of NuEra Restoration and Remodeling have the required knowledge and equipment to eradicate mold safely and efficiently. We are available 24/7 to remove mold from your property in Glenview, IL as well as dry and restore the affected areas and materials.
After an inspection, NuEra Restoration and Remodeling will evaluate the extent of mold growth, then propose a plan to begin cleanup activities. This includes environmental engineering controls to maintain safe conditions while work is ongoing; this may include the use of UV lights and/or negative air machines. The firm also proposes measures for restoring dry conditions to damaged property after clean-up; this may involve dehumidifiers, heaters, and air circulation systems. To ensure that no mold spores remain on cleaned surfaces, materials are "pack-out" when drying has been completed. Finally, materials are stored in an environmentally controlled facility until it is determined that contents can be used again safely.
Call NuEra Restoration and Remodeling for Professional Mold Removal in Glenview, IL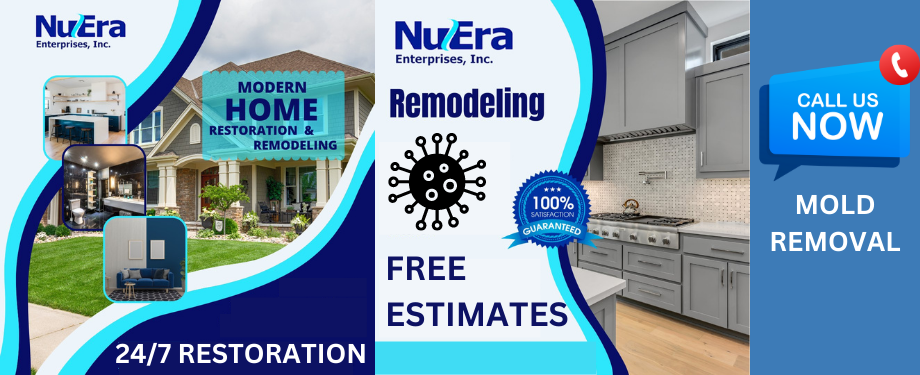 Mold growth needs an immediate response to stop its spread and remove it before it causes major damage or health issues.  Our professionals at NuEra Restoration and Remodeling can effectively remove any level of mold growth from homes and businesses.
Call our professionals at NuEra Restoration and Remodeling at (630) 656-9915 for mold remediation in Glenview, IL.
---
Related Mold Removal Services
Mold damage restoration in Downers Grove, IL
Mold Inspection & Testing in Elk Grove Village, IL
Responsible Mold Remediation in Mt. Prospect, IL
Mold Removal & Remediation in Des Plaines, IL
Mold Removal & Cleanup in Schaumburg, IL
Mold Inspector in Streamwood, IL
Mold remediation, mold removal & mold cleanup in Hoffman Estates, IL
Mold Removal and Deodorization in Oak Park, IL
---
Recent Reviews
Review by Kiara Robinson
Rating

"Professionalism, Punctuality, Quality, Responsiveness, Value Clint and his team were AWESOME!!! He was very considerate of my time and space. I was very frustrated when he arrived & when he left I felt happy and relieved that my issue was resolved! He made sure to clean everything with non-toxic chemicals so that my kids would be safe, he explained everything he was doing and executed it perfectly. I had a leak in my ceiling and sewage water everywhere. He put in the time and hard work to disinfect, clean, and dry everything throughly. He was quick, efficient, and respectful! I would definitely recommend his services to anyone who has an issue in their space. Thank you Clint."
---
Review by Sara Ofenloch
Rating

"Our technician Alec came in and re-padded the carpet that had been torn up last week due to water damage. He was so friendly and talkative, and worked very quickly to get the job done! In and out within 30 minutes so that I could get on with my day. Would definitely recommend. Thanks Alec!"
---
Review by Saima I
Rating

"After our apartment flooded on Chirstmas Eve, we were worried about dry wall repairs and patches, and disgusted by the stench. NuEra handled our dry wall replacement and patching and our carpets. We didn't get a business card from the man who worked on our walls and ceilings, but he did so without his partner that day. We are so grateful! After the drywall repairs, our carpets were cleaned so thoroughly and efficiently. Alex treated the carpet and scrubbed it out well before applying the deodorizer and scrubbing that in. He even got out a bright yellow stain from the water that had leaked in. It's such a relief to no longer live in a stinky apartment! Alex and Nick were wonderful! Thank you so much!"
---
See All Reviews