NuEra Restoration and Remodeling
Mold growth within a home is a major problem because it poses serious health hazards and can lead to corrosion or structural deterioration if it is not removed.
NuEra Restoration and Remodeling provides mold remediation services to Oak Park, IL to remove the mold and reverse the damage.  Our phone lines are open 24 hours a day, 7 days a week so we can respond immediately to mold remediation needs in Oak Park and the surrounding communities.
Issues with Mold
The biggest problems with mold are they are dangerous to your health and your home or building. As it grows, it will spread to other areas and feed off the cellulose within your building materials. As mold spores linger in the air, they trigger allergies and respiratory issues for everyone. One can even develop a respiratory infection over time. But only professional products will be able to remove it at the source as home remedies aren't strong enough to eliminate all mold spores.
Mold Remediation
Homeowners should have mold removed immediately upon discovery because ignoring it can result in dire consequences for your home and family. When our staff arrives on the scene for mold remediation services, they start with an inspection using moisture detection meters to identify all affected areas and develop a remediation plan to remove them at the source. A containment chamber is then set up to prevent the mold from spreading during the removal process.
NuEra Restoration and Remodeling will remove all mold from the property quickly and efficiently using the most effective methods and equipment in the industry. We can also provide water damage restoration services if needed to prevent the mold from returning. Anti-microbials are also provided to deter any future mold growth.
For more information on mold remediation, watch RestorationMaster video:
Following the service, we will conduct a final inspection to ensure all mold growth is removed and won't return again in the future.
Our mold removal services include:
Mold inspection
Drywall/ flooring removal
Clean the surface areas
Contain the affected areas with a containment chamber
Drying the area to reduce moisture
Anti-microbial application
Sealing the affected area
Cleaning all surrounding areas
Odor removal, if necessary
Get a Free Estimate for Mold Remediation in Oak Park, IL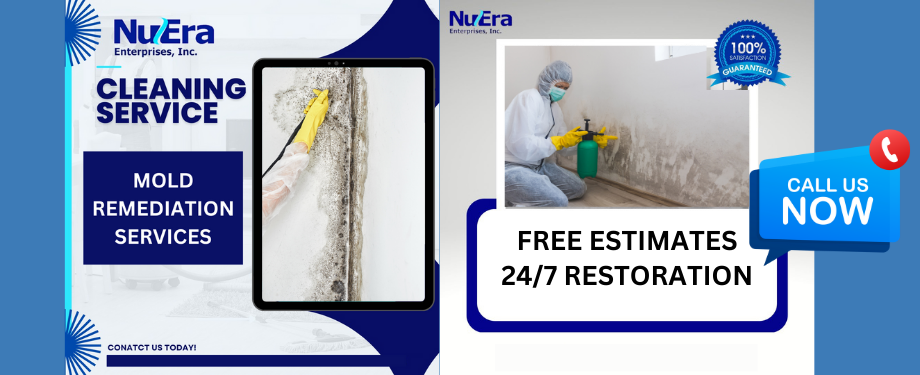 NuEra Restoration and Remodeling can be reached for mold remediation 24 hours a day at (254) 730-4744.
Be sure to contact us immediately if you discover mold on your property for our remediation services in Oak Park, IL.
---
Related Mold Removal Services
Locally Owned & Operated Mold Removal Services in Downers Grove, IL
Mold Removal & Remediation in Elk Grove Village, IL
Mold & Property Damage Restoration Services in Mt. Prospect, IL
Mold Inspection & Testing in Des Plaines, IL
Mold Removal Restoration in Schaumburg, IL
Mold remediation professionals in Streamwood, IL
Water Damage-Related Mold Removal in Hoffman Estates, IL
---
Mold Remediation Frequently Asked Questions
What equipment and materials are needed for mold removal?
1. Air Movers: Air movers help improve air circulation, aiding in drying and reducing moisture levels in affected areas.
2. Dehumidifiers: Dehumidifiers extract excess moisture from the air, preventing further mold growth and promoting a drier environment.
3. Air Scrubbers: Air scrubbers filter and purify the air, removing mold spores and contaminants during the remediation process.
4. Moisture Meters: Moisture meters are used to measure and monitor the moisture content in materials, helping identify areas prone to mold growth.
5. Cleaning Products: Specialized cleaning products and solutions are essential for effectively removing mold from surfaces.
6. Personal Protective Equipment (PPE): PPE, including masks, gloves, and protective clothing, safeguards individuals from exposure to mold spores and harmful chemicals during the removal process.
Should I test for mold before or after removal, and how is it done?
You should test for mold before and after the mold removal. You need mold testing before the mold remediation process because it helps the professionals locate the root of mold growth and the extent of mold damage. You should also have mold testing after the mold removal services to make the your property is mold-free and safe to live in.
Can mold removal be covered by homeowners' insurance?
Whether your insurance covers mold removal fees depends on the reason for mold growth. This makes it even more important to have mold testing. If it is a water damage-related mold growth which means it is a result of flood, burst pipes, roof leak, etc., you may able to file a claim and have the mold remediation expenses covered.
Why and How People Choose a Professional Contractor After a Home Disaster?

---
Recent Reviews
Review by Kiara Robinson
Rating

"Professionalism, Punctuality, Quality, Responsiveness, Value Clint and his team were AWESOME!!! He was very considerate of my time and space. I was very frustrated when he arrived & when he left I felt happy and relieved that my issue was resolved! He made sure to clean everything with non-toxic chemicals so that my kids would be safe, he explained everything he was doing and executed it perfectly. I had a leak in my ceiling and sewage water everywhere. He put in the time and hard work to disinfect, clean, and dry everything throughly. He was quick, efficient, and respectful! I would definitely recommend his services to anyone who has an issue in their space. Thank you Clint."
---
Review by Sara Ofenloch
Rating

"Our technician Alec came in and re-padded the carpet that had been torn up last week due to water damage. He was so friendly and talkative, and worked very quickly to get the job done! In and out within 30 minutes so that I could get on with my day. Would definitely recommend. Thanks Alec!"
---
Review by Saima I
Rating

"After our apartment flooded on Chirstmas Eve, we were worried about dry wall repairs and patches, and disgusted by the stench. NuEra handled our dry wall replacement and patching and our carpets. We didn't get a business card from the man who worked on our walls and ceilings, but he did so without his partner that day. We are so grateful! After the drywall repairs, our carpets were cleaned so thoroughly and efficiently. Alex treated the carpet and scrubbed it out well before applying the deodorizer and scrubbing that in. He even got out a bright yellow stain from the water that had leaked in. It's such a relief to no longer live in a stinky apartment! Alex and Nick were wonderful! Thank you so much!"
---
See All Reviews