You should never hesitate to act if you find yourself dealing with water damage because excess water and moisture will only penetrate deeper into your home and cause serious problems. Rain, flooding, overflows, burst pipes, and leaks can all lead to excess water or moisture that will spread by getting absorbed into the building materials. Absorbent building materials like wood and drywall may sustain serious damage from excess water and water damaged buildings are also at much higher risk for mold growth. ServiceMaster DAK provides water damage restoration services in Glenview, IL to extract water and moisture from affected homes and buildings. We can fully dry affected materials with our advanced drying equipment and we will also repair the damage caused by the water.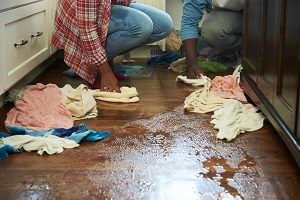 The reason water damage should be treated as an emergency is because it will not stop spreading once it starts. Wood, insulation, drywall, and flooring are all porous materials that absorb water and allow it to penetrate deep where it can cause serious structural damage. These affected materials may become warped and discolored or lose their structural integrity entirely. Water damaged materials are also at a high risk for mold growth if the problem is not addressed. The presence of mold will lead to even worse damage to the affected materials and cause health issues including allergies and infection.
Each of our technicians are IICRC certified to provide water damage restoration and we can effectively remove all water and moisture with the best water extraction and drying equipment of the industry. Our water damage restoration services include these steps:
Inspection and Assessment: We will inspect the entire damaged area of your home or building to determine the scope of the damage. We will save any broken parts that may have contributed to the damage for your insurance company and take pictures of the damage as well. We will then form a restoration plan based on our inspection.
Water Extraction: We completely remove water and excess moisture from your home with our water extraction equipment. This equipment can extract water out of the structural elements, furnishings, and other wet objects. If necessary, we will remove baseboards and carpet padding during the extraction process.
Installation of Drying Equipment: Our technicians will place air movers and dehumidifiers throughout the home or building to help further dry the affected areas. This step is very important for preventing mold growth and it is completed in 2-3 days.
Monitoring of Drying Equipment: Our technicians show up on each day of the drying process to take moisture readings and rearrange the equipment to help speed the drying process.

What to Do After Water Damage
Try to stop the excess water or moisture at its source. If there is a major plumbing leak, shut off the main water supply.
Mop or bot dry to soak up excess water.
Put the bottoms of your drapes or curtains through a coat hanger and put the hanger on the rod so they don't touch the floor.
Remove wet area rugs and non-permanent flooring.
Wipe excess water from your furniture and put aluminum foil between the furniture legs and your carpet.
Put photos, paintings, and other fragile objects in a dry place.
Take pictures of the damage to give to your insurance provider.
What NOT to Do After Water Damage
Do not remove standing water with a regular vacuum cleaner.
Do not run electrical appliances on a wet floor.
Do not walk into a room with standing water until you turn off the electricity.
Do not remove permanent flooring or carpeting without the help of a professional.
Any amount of excess water is a serious threat to cause damage in your home because it can spread through porous building materials. If there are signs of water damage in your home or building in Glenview, IL, do not hesitate to call ServiceMaster DAK for professional water damage restoration. We are available 24 hours a day at (847) 983-7400 to provide emergency water damage restoration services.
Call ServiceMaster of Glenview Golf at (847) 983-7400 for all your water damage restoration and flood cleanup needs.
---
Covered areas by ServiceMaster DAK
---
Recent Reviews
January 7, 2020
Very thorough clean up! The men were very professional and competent! They arrived on time for 5 days and were very pleasant and respectful of my home always wearing "booties" when entering. The room was left immaculate and debris removed in plastic bags day 1. The fans were checked daily until the room was dry. Very good service! Recommending Brian Brown and Gabriel who did a great job!
---