How to Prevent a Leaky Roof
The roof of a property is an integral part of its structure. Roofing keeps you, your property, and your belongings safe and protected from exposure to the weather and other outside forces. If your roof isn't in good condition, then it will become an ineffective method of protection. Even minor roof damage like a missing shingle can result in serious issues, such as a leaking roof.
If your home or building does have a leaking roof, you should get the problem fixed as soon as possible. Such an issue will become even more problematic on days with precipitation, as the leaky roof will allow water to enter your property and cause it damage. The more water that accumulates in your home or business, the worse the damage will be. Because of this, it's important to inspect your roof on a regular basis and to perform general maintenance. By doing so, you will be able to prevent a leaky roof and the problems commonly caused by a roof leak.
Continue reading to learn more about what causes a roof to leak, how to prevent a leaky roof, and what to do if you have a roof leak.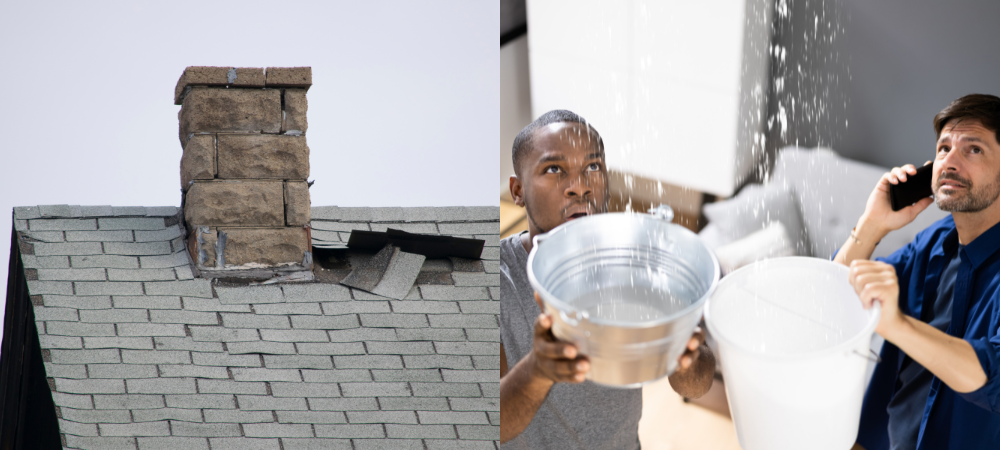 What Causes Roof Leaks?
From shingles to plumbing, roof leaks can be the result of various issues. Regardless of what causes the roof leak, the important thing is to always get the leak repaired to prevent further damage from occurring. But to resolve the roof leak, you need to be able to identify its source. Sometimes, you'll be able to locate the source yourself, but other times, you might have a difficult time figuring out why there's a leak. In such an event — or if you are unwilling or unable to find the source yourself — you should seek help from a professional.
Flashing and Shingles
Even a small issue like a broken or missing shingle can cause a roof to start leaking. Damaged flashing, the material beneath the shingles, can easily cause roof leaks as well. This problem can arise as a result of severe weather events, such as high-speed winds or hail. The forces can be powerful enough to leave cracks in the shingles, break pieces of the shingles off, or completely tear off the shingles. Improper shingle sealing makes the shingles more vulnerable to damage, too. This leaves the roof exposed, allowing water to leak into your home or business.
Fortunately, damaged or missing shingles can be found easily; however, if you go up on your roof to locate the problematic areas, you must be careful and only do it if you're comfortable. Otherwise, it's better to have professionals help you out.
Plumbing Problems
The pipes in your roof may have their own problems that can cause your roof to leak and result in water damage to your property's interior. If you notice cracked or worn out boots (vent covers) or damaged flashing near your roof's vent pipes, then this can indicate plumbing problems in your roof's piping.
Ineffective Installations and Repairs
Sometimes the work done on your roof may have been conducted in an ineffective manner. So while you may think the problem has been fixed, it eventually becomes an issue again. Roof vents and cracks in your chimney might have been sealed improperly, or skylights on your roof may have been installed incorrectly. You can locate such problems by looking for wet spots and small water streams during rainfall.
How Do You Prevent Roof Leaks?
If your building's gutters aren't cleaned on a regular basis, you risk water leaking into the building through its roof or foundation.
Fix Roof Problems Right Away
If you notice that your roof has any problems, like broken or missing shingles, then you should get them fixed right away. The sooner the problems are resolved, the lesser chance there is for your roof to experience other issues, such as leaks. If you cannot get permanent repairs done immediately, you can at least do temporary repairs, such as putting up a tarp, and then conduct permanent repairs later on. If you do make temporary repairs, be sure to do the extra work soon to properly resolve the problem. Otherwise, your roof will become a problem again.
Conduct Regular Maintenance
The more often you check your roof and conduct regular maintenance, the better condition it will be in. As such, you will have fewer problems concerning your roof. For example, if you know that your roof has shingles that are loose and need to be properly secured, take the time and effort to do so.
Get Regular Roof Inspections
Similar to how you should go to your doctor on a regular basis to make sure you are healthy, you should have your roof inspected on a regular basis. This will help you know and understand the condition of your roof. This proactive action can also inform you of any issues before they lead to property damage.
How Do You Fix Roof Leaks and the Resulting Water Damage?
Fixing roof leaks can sometimes be as simple as replacing some missing or damaged shingles, but this isn't always the case. To fix a roof leak, you must fix the source of the leak, which isn't always going to be right where the leak is. That said, you need to be able to figure out what's causing your roof to leak. If you are unable to find the source of the leak, then seek professional help.

If your property suffers water damage because of a roof leak, water damage restoration professionals can help. Professional technicians will not only repair the water damage done to your home or business, but they will also repair the water/moisture source to ensure that further damage does not occur. Your property will be thoroughly dried and cleaned to ensure that it's safe to be in again. Additionally, water damage professionals will take care of any mold growth that has occurred as a result of the water damage.