ServiceMaster by Replacements
Hoarding affects many individuals nationwide and is a very delicate topic. The individual affected by hoarding may be under mental distress, causing the common behaviors that lead to extreme clutter in the home. A professional disaster restoration team will approach the situation with sympathy and encourage the individual during the cleanup process.
ServiceMaster by Replacements offers hoarding cleanup services in Englishtown, NJ. Our technicians are IICRC certified and trained to help individuals with hoarding tendencies. We will dispose of unwanted items and fully clean and restore the home.
The Danger of Hoarding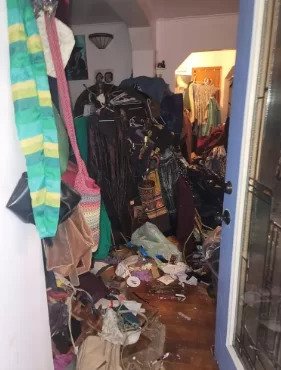 Hoarding habits can be developed as a result of anxiety, depression, and other forms of mental distress. As time passes, hoarded items can create dangerous and unsanitary living conditions. Mold, bacteria, and blocked escape routes can result within the home. If the hoarding issue is not addressed, the situation will only worsen.
The following hazards can often be created in a hoarded home:
Tipping Hazards: As items are piled high, they can easily fall and cause injury to the inhabitants.
Fire Hazards: Hoarded items are usually in areas susceptible to fire hazards such as ovens, candles, appliances, and outlets.
Infectious Bacteria: When garbage accumulates in a hoarder's home, the bacteria, mold, and dust do as well. They can often lead to allergies and other forms of disease.
Blocked Escape Routes: Piles of hoarded items can block pathways and entrances to safety during an emergency.
Hoarding Cleanup in Englishtown, NJ
At ServiceMaster by Replacements, we have been assisting Englishtown, NJ residents with hoarding cleanup for over 30 years. Our technicians are trusted with this delicate subject as we approach each case with compassion and professionalism. We will empower the individual by allowing them to take part in the project and decide what gets thrown away, donated, or recycled.
Our Hoarding Cleanup services consist of the following steps:
Establish a relationship with the individual: The most important part of this project will be to establish trust with the affected individual.
Establish a plan: We will create a plan with the individual and allow them to be in charge of what can be taken to a donation center or recycling facility.
Follow-up: We will follow up with the individual regularly after the project is complete to ensure good habits remain in place.
ServiceMaster by Replacements is available 24 hours a day at (732) 338-0713 for hoarding cleaning services in Englishtown, NJ.
---
Related Hoarder Cleaning Services
Hoarding Cleanup – Manalapan, NJ
Hoarding Cleanup – Long Branch, NJ
Hoarding Cleanup – Matawan, NJ
Hoarding Cleanup – Cranford, NJ
Hoarding Cleanup – Union, NJ
Hoarding Cleanup – Elizabeth, NJ
Hoarding Cleanup – Springfield Township, NJ
Hoarding Cleanup – Manchester, NJ
Hoarding Cleanup – Neptune, NJ
Hoarding Cleanup – Tinton Falls, NJ
Hoarding Cleanup – Marlboro, NJ
Hoarding Cleanup – Jackson Township, NJ
Hoarding Cleanup – Freehold, NJ
Hoarding Cleanup – Wall Township, NJ
Hoarding Cleanup – Lakewood, NJ
Hoarding Cleanup – Red Bank, NJ
Hoarding Cleanup – Holmdel, NJ
May 16, 2017
Walter Biel
OCEAN GROVE, NJ
See All Reviews