ServiceMaster by Replacements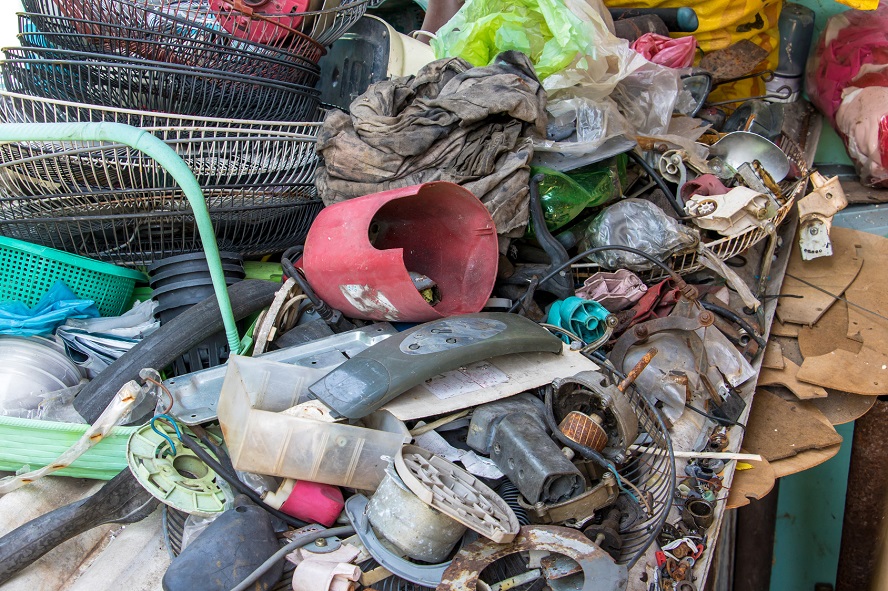 Helping people with a hoarding problem overcome their anxieties and resume a normal lifestyle is a delicate and complicated process that involves several crucial steps – earning the trust of the affected person, providing effective counseling and treatment, restoring the hoarder's home to a healthy and pleasant living environment, and helping the hoarder maintain a neat and safe living space. It is a time-consuming and physically- and emotionally draining process, so you are recommended to seek professional assistance when dealing with a friend or a relative struggling with hoarding issues. Professional hoarding cleaning services offer help and efficient solutions in all the above-mentioned stages to ensure a favorable outcome even in very severe situations.
Hoarders tend to accumulate large amounts of worthless items in their homes and refuse to throw anything away out of fear of losing something important. The resulting piles of junk restrict access within the home, prevent everyday activities such as cleaning and cooking, pose fire hazards, provide shelter to various kinds of pests, and harbor mold or bacteria growth which can have serious health implications.  Quick and efficient measures are required to restore the hoarder's home to safe living conditions, but you need to approach the delicate situation with great patience and compassion in order to achieve satisfactory and sustainable results. Professional help is your best bet under such disquieting circumstances.
ServiceMaster by Replacements provides effective hoarding cleanup services in Red Bank, NJ.  We will not only remove all unwanted items and clean the hoarder's home but will also work with you to find a permanent solution to the problem and help restore the life of the affected person to normal. Our technicians have the experience to sanitize the home of the hoarder and restore it to safe and pleasant living conditions without hurting the feelings of the affected person or triggering anxiety attacks or other negative reactions.  On the contrary – our professionals have adopted a considerate and thoughtful approach that allows them to earn the trust and the respect of the hoarder and to convince him/her to cooperate in the cleaning process and to maintain the good condition of his/her home afterwards.
Our effective hoarding cleaning services include:
Sorting out the items in the hoarder's home and determining what should be kept, what should be thrown away, and what can be recycled
Salvaging jewelry, money, family heirlooms, and other valuables and delivering them to relatives or friends
Disposing of unwanted things and donating useful items
Deep cleaning and sanitizing of the premises (including necessary repair works)
Organizing the home and maintaining the good condition of the property
Arranging for the professional assistance of a therapist if necessary
Taking care of the relevant paperwork from government agencies, attorneys, trusts, etc.
Our Hoarding Approach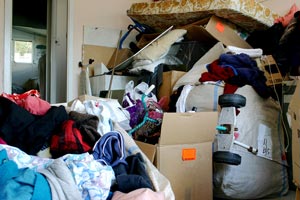 ServiceMaster Restore and Matt Paxton, the host of Hoarders, have recently developed a unique 3-phrase approach to hoarding cleaning that aims at establishing mutual trust and respect with the affected individuals, involving them in the cleaning process, and motivating them for change and improvement. ServiceMaster by Replacements has adopted this innovative approach to hoarding cleaning with its proven efficient results. Our hoarding cleaning services consist of the following 3 phases:
Phase 1: Establishing a Personal Connection
We assess the severity of the problem and decide on the most appropriate measures that will have to be taken in the specific case;
We show respect for the affected people and help them realize how dangerous and unsanitary their living environment has become. We assure them that there is nothing to be embarrassed about and try to earn their trust;
We create a cleaning plan based on the needs and the preferences of the hoarder and his/her family;
We provide additional help from a counseling professional, if necessary.
Phase 2: Implementing an Efficient Cleaning Plan
We sort out the items in the hoarder's home and determine what should be thrown away, recycled, donated, or kept, making sure the affected person has ultimate say;
We dispose of unwanted items and trash and thoroughly clean and disinfect the premises, restoring minor property damage;
We thoroughly clean, sanitize, and restore the salvaged items before returning them to the family or delivering them for donation;
We help reorganize the home and make it convenient and cozy.
Phase 3: Follow Up
We provide an easy-to-follow maintenance plan for the affected person to follow;
We do short term follow ups to make sure that the individual is following the cleaning plan and provide further support, as well as additional cleaning services if needed;
We deal with the required paperwork;
We help the affected person deal with his/her hoarding problem and restore a normal lifestyle.
Contact Us for Hoarding Cleanup in Red Bank, NJ
The sooner you get help for a close friend or family member who struggles with hoarding, the easier it will be to prevent health problems and potential risks. The technicians of ServiceMaster by Replacements have not only the extensive training and appropriate cleaning equipment to restore the homes of hoarders no matter how severe the conditions, but also the considerate approach required for helping the affected people find an efficient solution to their problem and resuming a normal life. You can reach us anytime at (732) 844-6232 for more information about our hoarding cleaning services in Red Bank, NJ.
---
Related Hoarding Cleaning Services:
Hoarding Cleanup – Manalapan, NJ
Hoarding Cleanup – Long Branch, NJ
Hoarding Cleanup – Matawan, NJ
Hoarding Cleanup – Cranford, NJ
Hoarding Cleanup – Union, NJ
Hoarding Cleanup – Elizabeth, NJ
Hoarding Cleanup – Springfield Township, NJ
Hoarding Cleanup – Manchester, NJ
Hoarding Cleanup – Neptune, NJ
Hoarding Cleanup – Tinton Falls, NJ
Hoarding Cleanup – Marlboro, NJ
Hoarding Cleanup – Jackson Township, NJ
Hoarding Cleanup – Freehold, NJ
Hoarding Cleanup – Wall Township, NJ
Hoarding Cleanup – Lakewood, NJ
Hoarding Cleanup – Red Bank, NJ
Hoarding Cleanup – Holmdel, NJ
May 16, 2017
Walter Biel
OCEAN GROVE, NJ
See All Reviews