RestorationMaster
Water damage is a massive deal because it can be difficult to tell if all the moisture has been properly removed. If you experience a leak, pipe burst, or other event of water damage, contact a professional to clean up the mess and avoid rot and mold from any missed moisture. RestorationMaster provides water damage restoration in Marlboro, NJ. Our technicians will quickly respond to extract water and dry the affected areas to restore the property from any water damage.
Fires are frightening in the moment, but their devastation continues long after the flames are extinguished. Soot will destroy walls and ceilings, and smoke damage and ash will spread without proper after fire cleanup. RestorationMaster provides fire damage restoration in Marlboro, NJ. We will remove debris, board up and stabilize the structure, and put a full fire restoration plan in place to restore the property.
It's important not to neglect mold if you discover it on your property. It can spread behind drywall and in subfloors and begin to eat away at these surfaces. Mold can also cause respiratory issues if not dealt with promptly. RestorationMaster provides mold remediation in Marlboro, NJ. Our mold specialists will find all traces of mold, contain the growth, and completely eliminate it from the property.
The scene of crime or major accident can be intimidating and emotionally challenging. Howver, it's important to return the property it occurred on to a safe condition free of hazards such as blood and other bodily fluids. RestorationMaster provides biohazard cleanup in Marlboro, NJ. Our technicians will promptly arrive to the trauma scene to dispose of hazardous materials and disinfect and clean the property.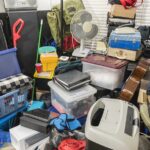 Left unchecked, hoarding as a habit can turn into a dangerous predicament. Stacks of items and clutter will block exits during emergencies, create fire hazards, and lead to mold forming in the living space. Confront the individual and then seek out professional assistance with the hoarding cleaning. RestorationMaster provides hoarding cleanup in Marlboro, NJ. Our technicians will work alongside the affected individual to clean out excess items and donate or recycle them at local facilities.
If someone tests positive at work for coronavirus or even a bad case of the flu, it can shut down the building and cease production. Protect your employees and your business and take the necessary measures to sanitize the facility. RestorationMaster provides disinfection services in Marlboro, NJ. We will fog the building with a wide spectrum biocide and wipe down high touch surfaces with hospital grade disinfectant to ensure harmful pathogens are eliminated.
If you experience a septic backup or sewage overflow on your property, keep clear of the wastewater and raw materials. Instead, contact a professional right away to perform sewage extraction to prevent long term rot and other damage from setting in. RestorationMaster provides sewage cleanup in Marlboro, NJ. Our technicians will arrive quickly to perform sewage removal. Then, we will disinfect and clean any areas affected by the sewage to restore the property.
---
Related Disaster Restoration Services
Property restoration services in Manalapan, NJ
Disaster restoration company in Long Branch, NJ
Property restoration company in Matawan, NJ
Disaster restoration services in Union, NJ
Disaster restoration company in  Elizabeth, NJ
Property restoration services in Springfield Township, NJ
Disaster restoration in Cranford, NJ
Home remediation in Manchester, NJ