Late Fall Tornadoes and Wind Damage
The Unpredictability of Late Fall Tornadoes
In the late fall, parts of the United States can experience tornadoes and major wind damage. When this happens, your home or business can become severely damaged. Tornadoes can be so destructive that they can destroy your home, and even a whole neighborhood. It is crucially important to get any wind damage restored quickly so that it does not spread further and cause costly damage.
Understanding Late Fall Tornadoes
It is important to understand what defines a tornado, and some of its characteristics, what factors contribute to tornadoes, and historic late fall tornado events.
A tornado is a narrow, violently rotating column of air which extends from a thunderstorm to the ground. As wind is not visible, it is difficult to see a tornado unless it creates a condensation funnel which is made of water droplets, dust, and debris. Tornadoes can vary in shape, size, and color. Their funnel shapes depend on a variety of factors such as air pressure conditions, moisture, temperature, dust, and the rate at which the air flows into the vortex and whether the air moves upward or downward in the tornado's core. Tornadoes can be placed among some of the most violent phenomena of all atmospheric storms we experience.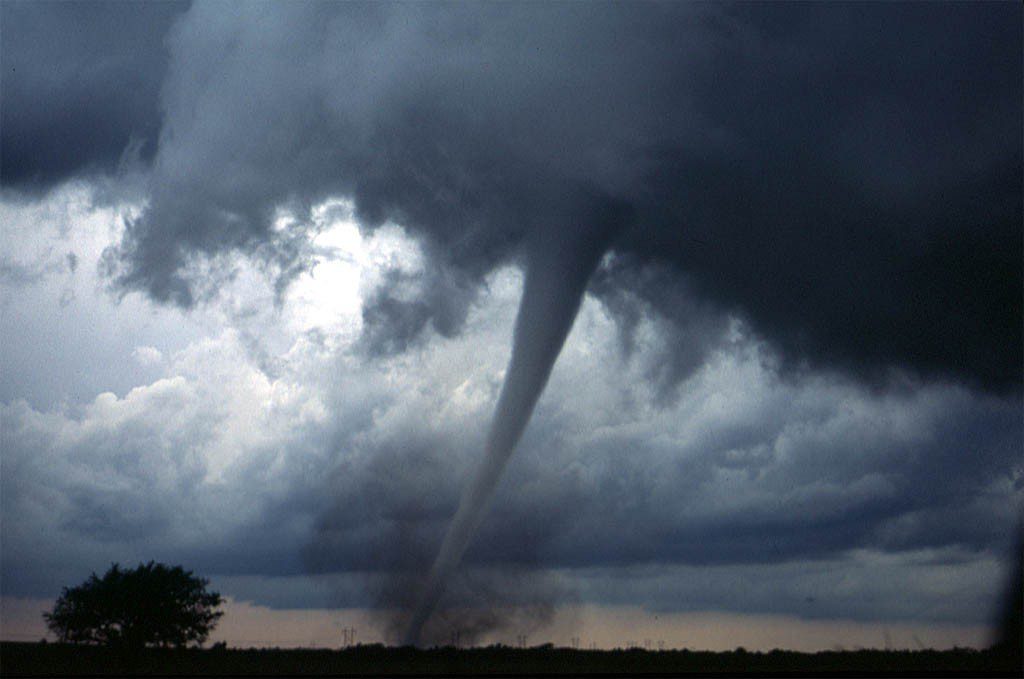 Tornadoes form due to different factors such as atmospheric stability, wind shear patterns, the amount and type of cloud covers, and location of jet streams. A big factor in tornado development is usually the colliding of air masses. They usually form more frequently in areas where there are different air masses available such as, for example, dry and moist or hot and cool air clashes. Many tornadoes also form during supercell thunderstorms. These are large thunderstorms that last for a while and then contain mesocyclone, or vertical movement of air. Before a tornado forms, a more concentrated vortex, or rapidly rotating air current may start to form in the mesocyclone and a downdraft of cool air plunges to the ground. Below the mesocyclone, the upward and downward air current clash and create a warm and stationary boundary, or front. A tornado forms at the interface of the converging airflow.
There have been 21 category five (EF-5) tornadoes, the highest ranking on the Enhanced Fujita scale, since 1980, and eight of those have hit the Tornado Alley. The most damaging tornado since 1980 happened on April 27, 2011, EF-4 twister that injured 1500 in Central Alabama. The same year, there was a tornado that ripped through Joplin, Missouri, killing 158 people, injuring 1150, and causing $2.8 billion in property damage. That was the deadliest tornado since 1950, and the 7th deadliest in U.S. history.
The Impact of Wind Damage
Wind caused by severe storms and tornadoes can create major destruction of buildings and trees, disruption in transportation, power, and communication outages, and even flash flooding. This is due to the wind speeds which can reach up to 100 mph and leave a damaged path that can extend for hundreds of miles. Also, wind can carry debris which can become deadly projectiles during tornadoes and hurricanes. Damage caused by severe thunderstorms is more common than damage from tornadoes.
Types of Wind Damage Caused by Tornadoes
There are various types of damage that can be caused by tornadoes. These storms can damage the structure of your property, flying debris and tree damage can also be severe depending on the speed of the wind, and you can be left with damage to your roof, siding, and other parts of your home or business.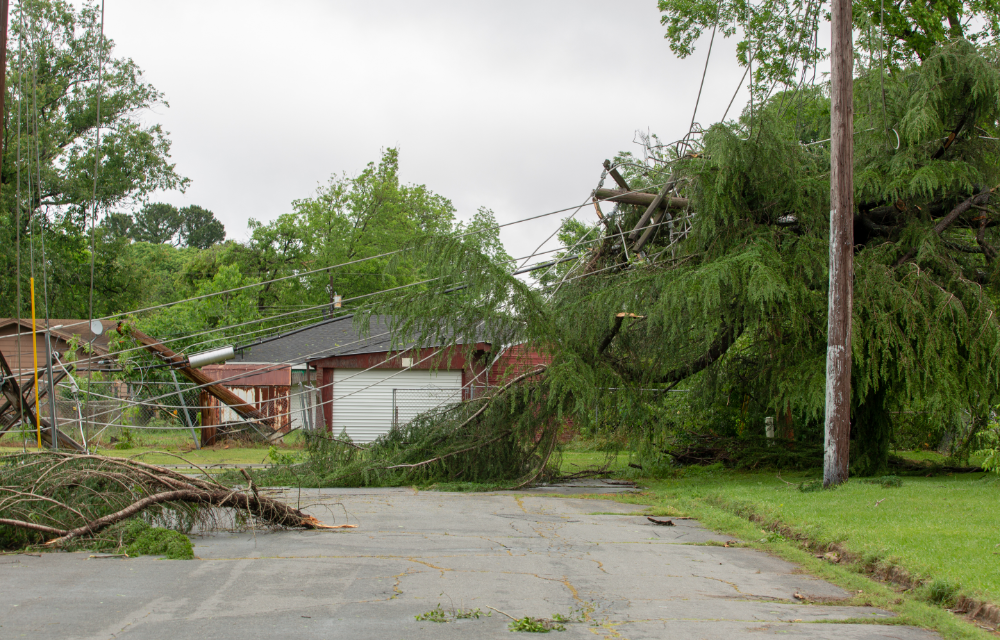 When it comes to structural damage, you could be left with damage to the gutters, siding, and roof if the wind speed of the tornado is 65 to 85 mph. If the speed of the wind increases from 111 to 135 mph, you could end up with a torn roof, demolished walls, and even an entire floor of a home destroyed. If the wind speed gets to above 110 mph, it can upend mobile homes and pick up cars. Finally, if the tornado has a wind speed between 136 to 165 mph, it can cause major damage to commercial buildings, throw heavy cars, and destroy entire floors of homes. When the wind speed gets to between 86 and 110 mph it can cause uprooting of shallow trees and broken tree branches.
Usually after a tornado, there is a lot of scattered debris that can cause injury or damage. This debris can include household garbage, electronics, appliances, vegetative matter, and even construction materials. You should make sure to separate all the debris into different categories and place it in the designated place for local or federal authorities to pick it up. Removal of debris is part of the repair and reconstruction process following a tornado.
Economic and Personal Impacts
Tornadoes can have major effects on the economy and individuals. They can cause devastating direct and indirect losses. Direct loss refers to the losses caused by the destruction of assets which can decrease in value or can cause lost income if they are destroyed. Indirect losses refer to the wider impact, which can mean a loss of production and sales, increased commute times, decreased tourist activity etc. However, tornadoes can also act as an economic stimulus, as there will be rebuilding efforts, inflow of insurance money, and disaster-relief funds and improvements in the labor market.
When it comes to the personal impact of tornadoes, they can not only cause physical and emotional trauma, but also financial loss. It can fully destroy homes, businesses, and other property, leaving individuals and families homeless and in limbo financially.
Challenges in Assessing Wind Damage
Assessing wind damage after a tornado is challenging and complex and can take some time. The whole process depends on the severity of damage, the speed of the wind, and the tornado path.
The NWS meteorologists will estimate the speed of the wind and the path of the tornado based on the damage caused by it. Surveys do take a few days and can be very complex.
The NWS survey team usually must verify whether the damage was caused by the tornado or by the thunderstorm winds, when the tornado touched down and lifted, how wide it was, and how intense. They will also investigate the path of the damage, which may be located hours away from the nearest NWS office. This means the team must crisscross the damage path multiple times to help figure out the start and end points of the tornado. It is also very difficult to measure the wind speed directly on buildings as they would need to be instrumented in advance of the storm and there is not a guarantee that the storm would strike them. Usually, when there is tornado damage, it is chaotic and larger trees are uprooted and crossing each other. Usually, the NWS looks at larger uproots of trees so they can get an idea of where the wind was blowing from. When there is a higher-end damage case, other experts such as engineers can be consulted to help assess all the damage.
Restoration Solutions
As tornadoes can cause major destruction to homes, properties, and infrastructure, the Federal Emergency Management Agency (FEMA) offers resources to help repair, retrofit, and rebuild after a tornado. FEMA building specialists will give information on how to repair, retrofit, and rebuild your home to be safer and stronger before the next disaster happens. There are also mitigation measures available to help improve personal safety and eliminate the risk of future damage to the structure and personal property. Some of things that FEMA usually recommends include reinforcing garage doors, securing double-entry doors, and installing impact-resistant glass to mitigate any beach points. They can also recommend designing wind-resistant roofs, reinforcing gable roof ends, securing sheathing, and properly installing shingles to reduce possible roof damage.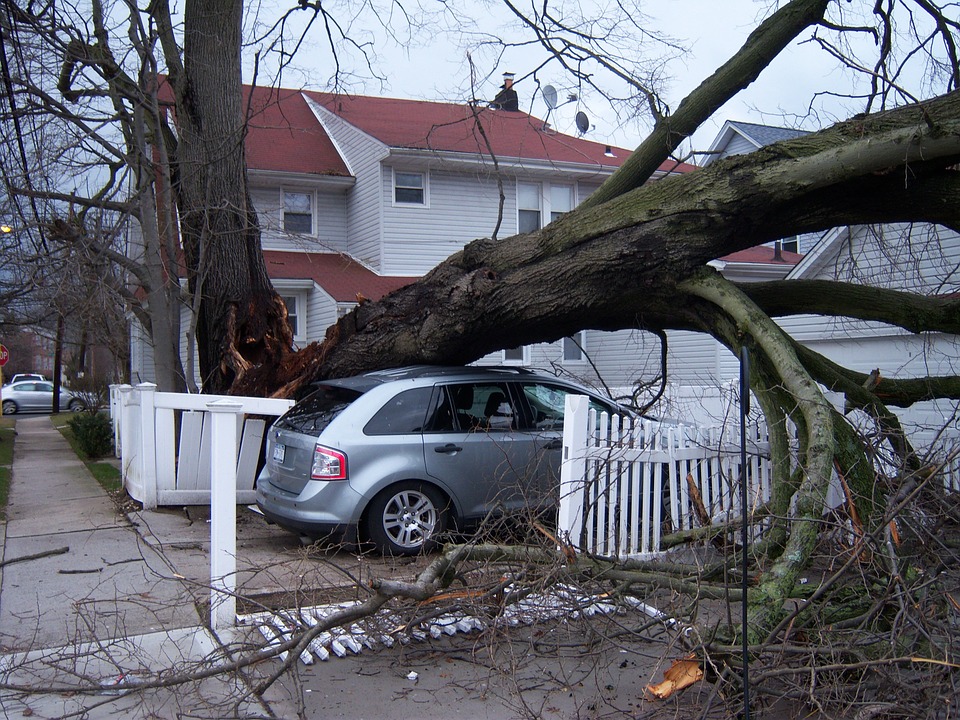 It is always best to consult local building officials before starting repairs or rebuilding because of building codes, permits, inspection requirements, and zoning ordinances. Only licensed restoration professionals should be doing structural repair or mitigation work. Usually, tornado damage includes repairing the structural damage, cleaning and removal of debris, sanitation, odor removal, water damage repairs, and even restoring electrical systems. Some companies may also assist with insurance claims to make the process even easier.
Emergency Response and Safety Measures
After a tornado, there can be many hazards for the workers in the affected area. This is why it is important to prepare prior to an emergency so that employers and the workers have the proper equipment and know where to go and how to keep safe in case of an emergency.
As far as immediate safety concerns during and after a tornado, here are some things to know:
Know the area's tornado risk.
Pay close attention to weather watches and warnings.
Make sure your family is moved to a safe location on the lowest level of a building or home.
You should stay away from windows, outside walls and doors.
Use text messaging or social media for communicating with family and friends after a tornado and save your phone calls for emergencies.
It is also very important to secure any damaged areas after a tornado. There are various things you can do to ensure your safety after a tornado if there is damage to your property and others. Here are some things to do:
Do not enter damaged buildings until authorities have made sure they are safe. Also, make sure to avoid any hazards such as exposed nails and broken glass. If you hear shifting or unusual noises, make sure to leave your home as this may mean that the building will fall.
Check all areas of your home including walls, floors, doors, windows, and staircases for damage. Also, if there are cracks in the foundation or missing support beams, you should relocate to a shelter or another safe location. Check the gas, electrical, and water lines for damage as well.
Protect yourself and your loved ones by making sure you treat all injuries right away. If someone is seriously injured, make sure not to move them unless they are in immediate danger.
Always make sure you stay tuned for information from the emergency management officials. This means you should monitor local radio and TV stations and fully cooperate with public safety officials.
It is crucially important to know what to do in case you need to evacuate your home during a tornado. Here is what you should do:
Stay informed about the weather and listen to local authorities for updates and instructions.
Find a safe place so you can take shelter. The safest place in your home is an interior room on the lowest level of your home that is away from windows, doors, and outside walls.
Put together an emergency plan by sketching a floor plan of your home. Then walk through each room and discuss where and how you can seek shelter.
Make sure to practice your emergency plan with your family so that everyone knows what to do in case of a tornado.
Take proper actions to reduce further hazards in your home. This means secure the items that could fall and cause further injuries such as bookcases or heavy furniture.
Collaborating with Insurance Companies
If you've experienced tornado damage, you should make sure to properly handle the insurance claim process. This means making sure you know the process, how to document the damage, and how to properly file the insurance claim.
Once it is apparent that you've experienced tornado damage to your home or business, you should contact your insurance company so that you know what is covered. Next, you should document the damage by taking videos and pictures. It is beneficial for you to review your policy again so that you know what is covered and what is not. Next, you should fill out the claims sent to you by your insurance company right away. Once this step is done, you can schedule time for an adjustor to visit the property and you can submit the insurance claim.
You should make sure to take very detailed photographs and videos of the damage to your property. This includes inside and outside of your home or business. If there are fallen trees, structural damage, scattered debris, or any other destruction that is visible, make sure to document it. Submit a list of items that were damaged and lost with your insurance claim. It really helps for you to put together a full inventory of your losses when you file an insurance claim so that you can make sure you are compensated for your losses.
Engaging Professional Restoration Services
Although you can probably handle some restoration yourself after a devastating tornado, it is always best to hire a professional restoration company to do the work. It is important that they are experienced, licensed, and insured so that you can be sure you are getting the best service, and your property gets restored in a timely manner.
A tornado can cause major damage to your property, including major structural damage and water damage if there is also rain. This is why it is important to choose the right company to restore it back to its original state. You should choose the restoration company that will work on your home or business based on these criteria:
They have experience in disaster restoration services, specifically storm damage. This way you know that they will be able to fix this type of damage quickly and efficiently.
Make sure they have the proper certifications such as the Inspection Cleaning and Restoration Certification (IICRC). You can also check with your local Better Business Bureau for more info on the company you are thinking of hiring.
Check the review from previous clients and see how satisfied they were with their work.
Ask them for references from most recent clients so that you are aware of how they do their work.
Check that they are available when you need them. They should be available 24/7 so they can help you in case of an emergency.
Get the estimate in writing. This will help avoid any surprises when it comes to the final billing statement.
Make sure that they have liability insurance and workman's compensation insurance.
Ask about the restoration process. You will need to understand what they will be doing and how long the process will take.
Put together a contract so that you and they understand what will be done by when and the full cost.
Take your time researching the company before you decide. They should fit your needs and you should feel comfortable with them.
DIY Restoration Tips and Guidelines
If you've decided to do some of the restoration work yourself after tornado damage to your home or business, you should make sure to do temporary repairs first, and try to save as many of your belongings as possible. If you have damaged belongings that cannot be saved, you should dispose of them properly.
When doing DIY restoration at your home, make sure you wear the proper protective gear during the clean-up process to ensure your safety and avoid injury. It is always best to make a list of all the tasks that need to be completed and prioritize them based on how urgent they are. You should always do work that cannot wait first, such as temporary repairs to your home or business. For example, you should cover holes in the roof or walls first, and then do other tasks. If you are unsure on how to do some parts of the restoration process, make sure to research and educate yourself or hire storm damage professionals. Any personal belongings that can be salvaged should be placed in a dry and safe place to avoid further damage. This includes all items that have not been damaged but could be eventually if they are not moved out of the way of items that are already unsalvageable.
Preventative Measures for Future Wind Damage
Even though you cannot prevent winds, it is important to try and secure your property to minimize damage in case of strong winds. This will prevent serious damage to your property and save you the hassle of having to file insurance claims and haggle with the insurance companies.
Strengthening Your Home Against Wind Damage
There are some things you can do at your property to ensure that strong winds do not damage it inside or outside. It is always best to prevent the damage than to fix it after the storm. Here are some simple ways to secure your home:
Know your homeowner's insurance policy and verify your coverage.
Have a document with all your home contents listed to help with the insurance claims process.
Unplug all appliances until the storm is over and you have power.
Build a safe room.
All windows and glass doors should be protected with storm shutters.
All garage doors and double entry doors should be reinforced.
Get your roof fortified.
Trim or remove any dead, damaged, or rotting trees or limbs.
Any objects outside should be secured to prevent them from flying around and causing further damage.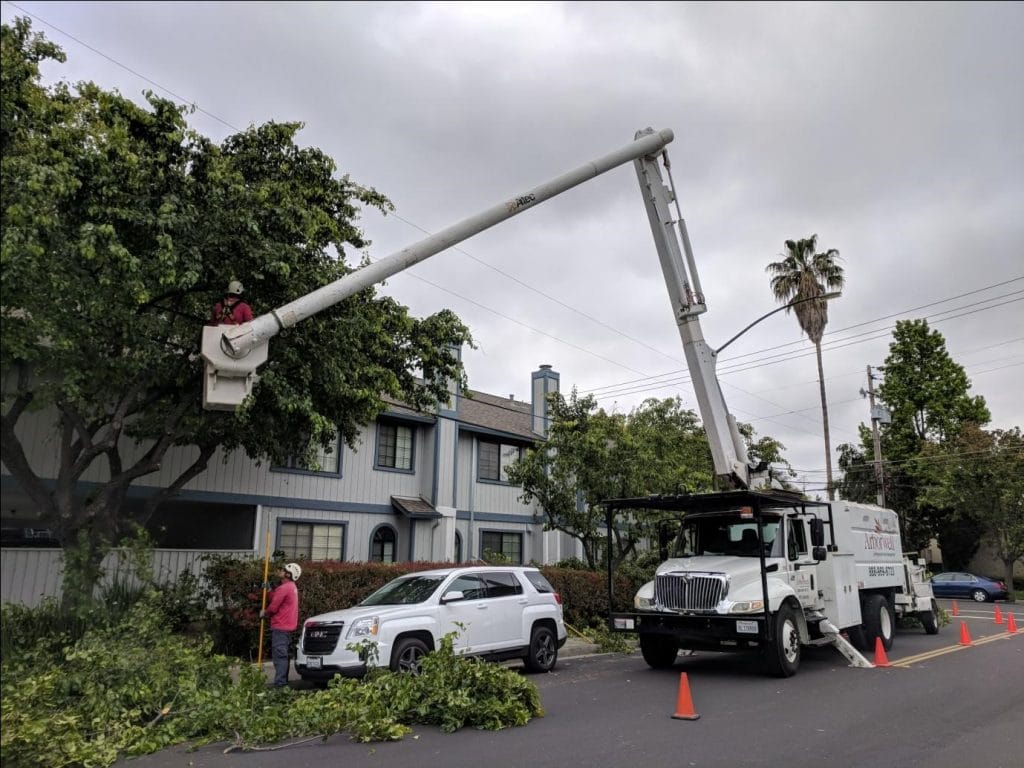 The wind should not be able to get into your home. You should ensure that there are no cracks or small openings where wind can get through and cause further damage. Some things that you can do include reinforcing vulnerable areas so that wind damage can be minimized and installing impact resistant shingles. There should be roof strappings to anchor the roof framing to the wall framing so that wind can't lift the roof off your house. Finally, you should have your utility company trim any tree limbs close to the utility lines and poles.
Early Warning Systems and Preparedness
When there is an emergency such as a tornado evacuation, there is a lot of panic and confusion that can be overwhelming. This is why it is important to be prepared with a tornado emergency kit and stay informed about the weather forecasts.
Staying informed about the local weather forecasts will help you stay aware of any rapid changes that may occur. It will also give you time to get your family ready and evacuated on time if necessary.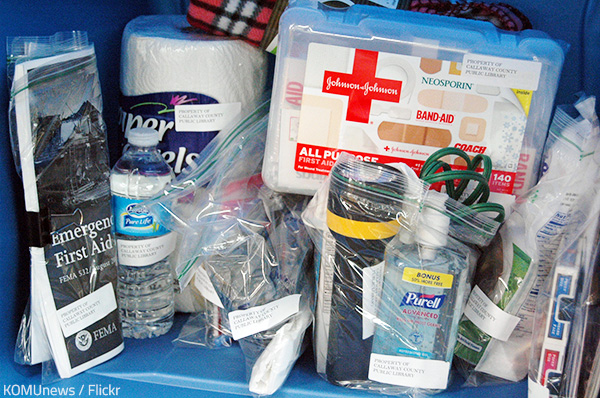 If you live in an area where tornadoes are common or might happen, it is important to have an emergency kit ready. Here are some things to include in it: pack a bug out bag with nutritious, non-perishable freeze-dried or dehydrated emergency food, water, first-aid items including essential prescriptions, flashlights, lanterns and spare batteries, personal sanitation and hygiene products, sleeping bags, blankets and extra warm clothing, important documents, insurance, banking info and personal identification, battery powered NOAA weather radio, formula and diapers if you have an infant in the home, and extra animal food if there are pets in the home.
Community Involvement and Disaster Preparedness
It is essential for the community to get involved when it comes to preparing for a disaster. The local community should work together with federal, state, local, and territorial governments, and non-government partners from all sectors, neighborhood-based community groups, faith groups, youth, children, and daycares. All relevant individuals should be involved at every level. The community should be educated and engaged in emergency preparedness so that people understand vulnerabilities and risks and the benefits of planning ahead of a disaster. Local communities can create a response plan in case of an emergency such as a tornado, so that every neighbor living in that community knows what to do in case of a disaster. This means knowing when and where to go, how to protect themselves and their property, and how they can help other neighbors. This strengthens and builds a community that will help each other during an emergency such as a tornado.
Professional Storm Damage Restoration After a Tornado
During the fall is when tornadoes are the biggest threat. When the weather changes and the colliding of the air masses is present, a tornado can touch the ground and create a disaster. This is why it is important to be prepared for an emergency such as a tornado. Whether that means reinforcing your garage doors or roof, securing outdoor items, or simply cutting dead branches from trees, you should take individual actions to protect your property. Next, you should have an emergency plan that your family can follow and know how to protect your home from tornadoes and high winds that come with it. Your community should also have a proper plan so that you and your neighbors can be safe during the storm. Knowing what to pack in your emergency preparedness kit or simply what to do in case of an emergency, can mean the difference between life or death when it comes to late fall tornadoes.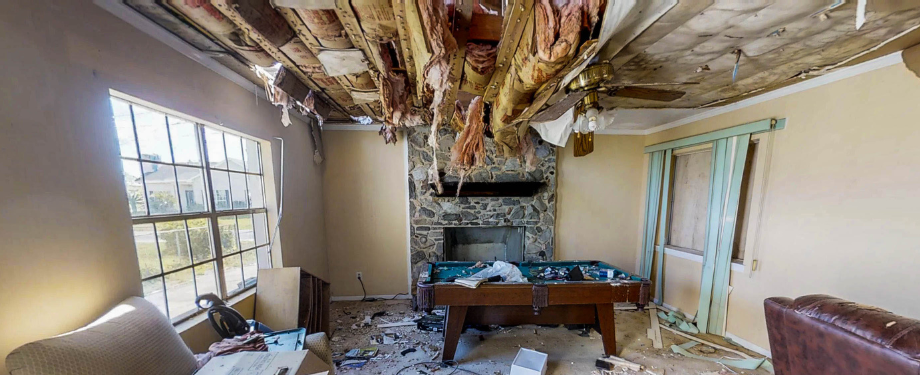 If you've sustained damage from a tornado at your home or business, make sure to reach out to a trusted restoration company. Professional restoration technicians have the experience to provide complete storm damage restoration to get your home or property back to its pre-storm state. They are ready to handle anything needed after a storm from water damage restoration and structural repairs to full reconstruction. If your property is damaged by a tornado or other severe storm, do not hesitate to call a professional to get the restoration process started.