Fall Tree Care to Prevent Storm Related Disaster Restoration
A major part of the charm of the fall season is the changing colors of the leaves painting the landscape.  As the weather gets colder, leaves on the trees become a multitude of different colors before falling off and leaving the trees bare for the winter.
Trees don't just lose their leaves when the fall and winter season arrive, they also go dormant.  When trees are dormant, they are still alive but pause all active growth while slowing down internal functions to avoid losing water and nutrients in the cold weather.  They are also vulnerable to damage from fall and winter storms as they are less protected without foliage.  Strong winds can cause the bare tree branches to break, and the weight of ice and snow can also put stress on tree branches and cause damage.  If the branches break from the tree, they can fall on homes, garages, and vehicles, leading to significant property damage.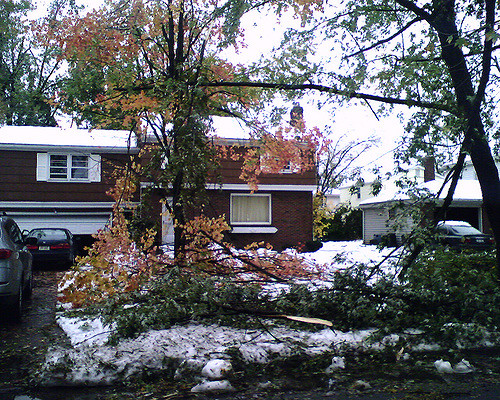 It is important to understand how trees can become damaged due to fall and winter storms so you can provide the tree care necessary to prepare them for the winter.  In this guide, we cover how winter weather can cause damage to your trees and property as well as the tree care you can do in the fall to help protect your trees from winter storm damage.
Understanding Fall Tree Hazards
Trees are susceptible to damage from storms, disease, and pests all year round.  However, they are especially vulnerable to the following issues in the fall season:
Leaf drop: Leaves already fall from the trees naturally in the fall season, but sometimes leaves may drop at a faster rate due to a condition called leaf drop. Leaf drop can cause stress and damage to the tree.
Disease: Many tree diseases are caused by bacteria or fungus that thrive in the cool, wet conditions of the fall. This makes trees more vulnerable to a variety of diseases during this season.
Pests: Many types of trees produce sweet nectar during the fall that can attract pests such as mites, aphids, and scale insects. Once these pests take hold, they can cause major damage to the tree.
Wind damage: Strong winds in the fall and winter can cause damage to tree branches, especially branches that are weakened or dead.
Frost damage: Frost can cause damage to the leaves and branches of a tree and even cause them to die.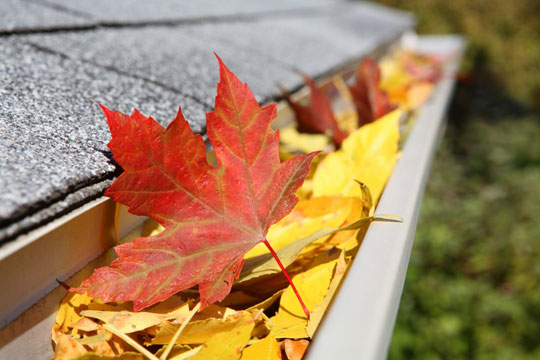 The changing weather and environmental conditions that occur in the fall and winter season are responsible for these hazards.  The wetter weather and production of nectar make them more vulnerable to diseases and pests while wind and frost can damage leaves and branches.  This is why providing the proper tree care in the fall is so important for helping your trees survive the winter.
Tree Inspection
Before the winter season arrives, you should inspect your trees for any signs of damage or other issues that may become worse as the weather changes.  You may carry out the inspection yourself, but it is best done by a professional arborist.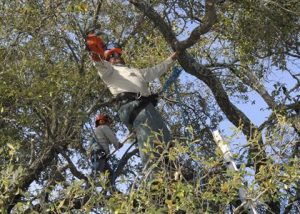 You can check your trees for some types of damage yourself including broken or dead branches and signs of a pest infestation or disease.  However, a tree care professional will not only be able to better diagnose these issues, but also notice problems you may miss such as internal rot or more subtle signs of infestations and disease.  Arborists can also analyze every part of the tree including the foliage, bark, trunk, soil, roots, crown, and more.
During a tree inspection, an arborist will look for the following:
Signs of stress and weakness: Trees may experience general stress and weakness from a number of environmental factors that can result in damage and other issues. An arborist will know how to look for signs of stress.
Signs of diseases: As mentioned above, there is a high risk of tree diseases in the fall from fungi and bacteria. It is important to catch tree diseases before the winter so they can be treated and healthy by the spring.  Arborists will look for signs of leaf rot and discoloration, powdery substances on the leaves, abnormal growths on branches and trunks, and signs of decay or wood rot.
Signs of pest infestations: Any pest infestations should be found and treated before the winter arrives to prevent serious damage to the tree. Signs of a pest infestation include holes or skeletonization of the leaves, silky webs under leaves and branches, entrance and exit holes in the bark from borer insects, loose bark, and damage to the wood under the bark.
Signs of structural damage: Trees can experience structural damage to the limbs and trunk that can lead to further damage and even threaten the integrity of the tree. Signs of structural damage include broken, overgrown, rotted, or dead branches as well as rotting or cracks in the trunk.
Soil and watering requirements: Professional arborists can inspect the soil conditions and make recommendations for fertilization, watering, and mulching. Proper fertilization and mulching in the fall will help your tree come back healthier in the spring.
If you work with a professional arborist to provide fall tree inspections, they will give you a description of the condition of your trees as well as an accurate diagnosis for any problems involving pests or diseases.  They may also recommend that you do the following care and maintenance.
Tree Pruning and Trimming
It is recommended that you prune or trim your trees twice each year, once in the spring and once in the fall.  The purpose of tree pruning is to find and remove dead or damaged branches as well as branches that are overgrown or too close to homes, powerlines, and other structures.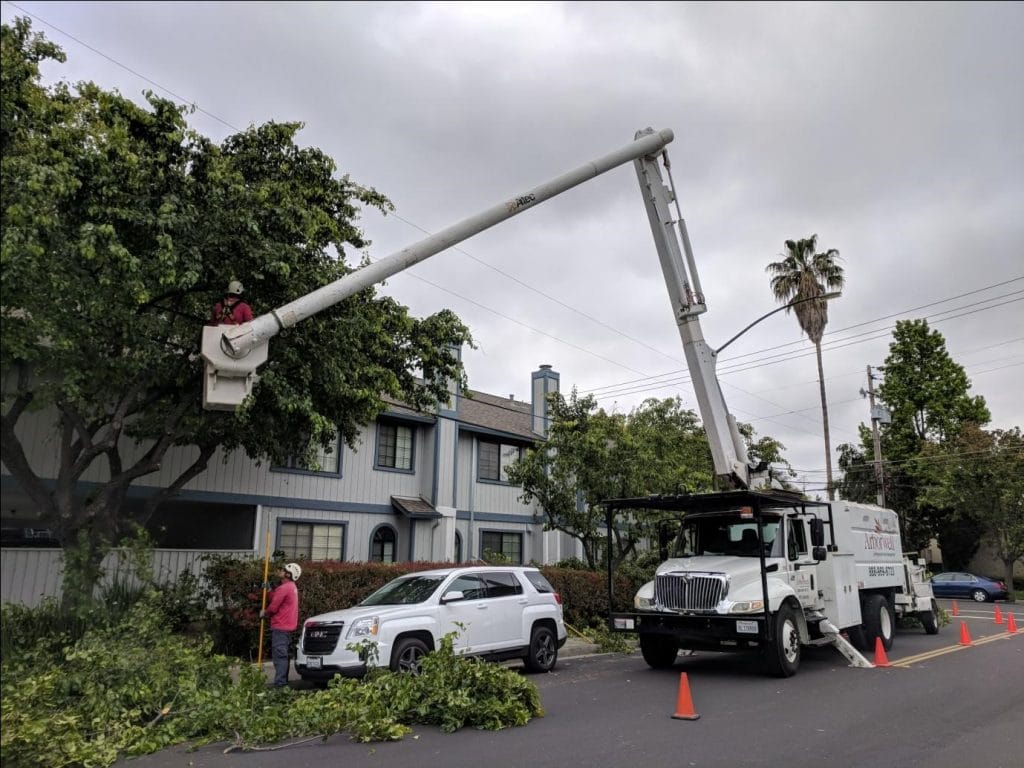 Tree pruning can be dangerous without the proper training and equipment, especially for tall trees and trees with large branches.  Professional arborists use the property safety protocols, tools, and techniques to effectively trim all types of trees.
You should have your trees pruned in the fall for the following reasons:
Branches that are loose, decayed, broken, dead, or diseased are removed
Better wind and storm resistance
Improved structural stability
Improved sunlight for better undergrowth in the spring
Leaves and Debris Management
Clearing fallen leaves, branches, and other debris from the yard is a common fall chore.  It is important to remove all leaves and debris in the fall because leaves on the wet ground can cause mold and other fungi to form.  Leaves and debris must also be removed from gutters and downspouts to prevent clogs that could lead to water damage.
Make sure you do the following to remove leaves and debris:
Rake and dispose of leaves: You should rake the leaves in your yard throughout the fall and ensure that all leaves, sticks, and other debris are completely removed from your yard after the last of the leaves fall. Put the leaves and debris in yard bags and put them on your curb for the city to take away.
Clear debris from gutters and roofs: Make sure the leaves and debris are cleared from your roof and your gutters before the winter. The gutters and downspouts are responsible for draining rainwater and water from melted snow and ice at a safe distance from your home.  If the gutters or downspouts are clogged, water may run over the side of the gutters and pool by your foundation.  Ice dams may also form in the winter as water that is stuck in the gutters may freeze.  Your gutters and downspouts should be completely free of debris.
Prevent leaf pile fires: In some areas, it is legal to burn leaves. If you are choosing to burn your leaves, make sure you do so safely by keeping the fire small and constantly supervising the fire.  Before burning leaves, make sure that it is legal to do so in your area and follow all applicable rules.
Tree Support and Staking
If you have trees in your yard that are weak or leaning, they should be staked before the winter for additional support.  Staking weak or leaning trees helps them better withstand the wind and avoid damage.  If you have a small tree that needs to be staked, this is a job you can do yourself.  To stake larger trees, it is usually best to get an arborist involved.
You should take the following steps to stake your tree:
Depending on the condition of the tree, you can use one wood or metal stake or two parallel stakes on opposite sides of the tree. Drive each stake about one foot into the ground on opposite sides of the tree, just outside of the root system, but preferably still within the mulch.  The stakes should be in line with the prevailing winter winds.
Put your hand low on the trunk and move your hand up the trunk while straightening it out. When you have the tree standing straight, it is time to attach the ties.
Use broad, soft, flexible materials such as canvas, burlap, bicycle inner tubes, or strips of old carpeting to wrap around the tree. These materials should be wrapped as low as possible around the trunk.  You can use ropes, wires, bungee cords, or cables to attach to the wrap around the trunk to the stakes.  You should not use rope, wire, or cables to wrap around the trunk because they can damage the tree.
You can remove the stakes the following spring if the tree is able to stand up by itself without the support.
Staking weak or leaning trees for the winter will have the following benefits:
Enhanced stability and growth
Protection from structural damage
Minimized risk of diseases and pests
Improved appearance of the tree.
Soil Care and Mulching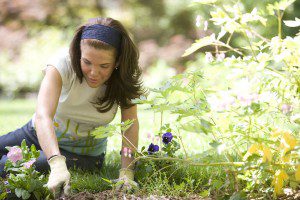 One of the things that many homeowners may not think of when it comes to tree care is the quality of the soil.  Trees need the proper nutrients in the soil and circulation to allow oxygen and water to get to the roots.  Preparing the soil before the winter will help the tree get and retain water and nutrients so that it can come back strong and healthy in the spring.
You should do the following to prepare the soil before the winter:
Loosen the soil: Make sure to loosen the soil around the tree as compacted soil prevents water and nutrients from getting to the roots.
Apply fertilizer: There are fertilizer blends that can be applied in the fall to give the trees the nutrients needed to get through the winter. You can consult with an arborist to determine the best fall fertilizer blends for your type of trees.
Apply mulch: Apply a layer of mulch that spreads out 2-3 feet from the trunk in a circle around the tree. The mulch should only be 2-3 inches deep and flat, do not pile the mulch to create a slope.  You should also make sure that the mulch closest to the trunk does not actually touch the trunk as this can cause the bark to become soggy and soft.  Mulch helps insulate the root system and retain water in the soil around the roots.
Insurance and Documentation
Before the winter sets in, review your homeowner's insurance policy to see how it may cover tree damage.  Most policies will cover damage caused to your home or vehicles by fallen trees or branches if the fallen tree or branch fell due to a covered peril such as a storm or strong wind.  If the tree fell because of a lack of maintenance or negligence on the homeowner's part, the damage will likely not be covered.
When it comes to the damage to the trees themselves, insurance policies typically cover the damage if it was caused by a covered peril such as lightning, fire, explosions, vandalism, or being hit by a car driven by someone other than the homeowner.  Damage to trees is not covered when caused by weather conditions such as wind, rain, ice, snow, and hail.
This means that if winter weather conditions cause trees or branches to fall, your insurance company is likely to cover the damage to your property, but not the trees themselves.  However, this damage will not be covered if they determine that the tree fell due to lack of maintenance or negligence.  If a storm is expected, document the condition of your trees by taking pictures and videos to prove that they are in good condition before the storm.  This documentation can help you prove that the tree or branches did not fall due to poor maintenance or negligence.  If a storm does cause damage to your trees and your property as a result, make sure to notify your insurance provider right away.
Protect Your Trees from Storm Damage this Winter
Your trees are vulnerable to damage from winter storms that can also lead to damage to your property.  Fallen trees and tree branches can smash through roofing and windows, sheds, garages, and vehicles, causing costly damage.  By taking the proactive measures discussed above, you can help protect your trees from damage caused by storms which in turn will protect your property and prevent extensive property damage.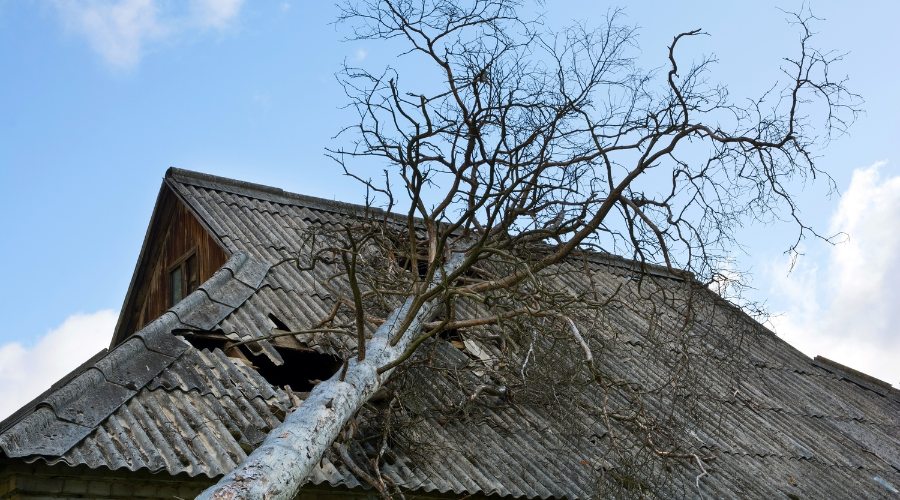 Some of the steps discussed above can be done as a DIY project, but there are certain jobs such as pruning and tree staking that are best done by a tree care professional.  An arborist can give your trees a thorough inspection and provide the care and maintenance needed to help your trees get through the winter and come back healthy the following growing season.
If your home is damaged due to a winter storm, whether the damage was caused by a fallen tree or not, you need to get in touch with a restoration professional that specializes in storm damage restoration.  These professionals can stabilize the structural damage to your home and provide repairs and restoration, including water damage restoration.  You should not hesitate to call the professionals as soon as possible after your home has been damaged by a winter storm.