How Do Ice Dams Cause Damage?
Even though it is a cold and snowy season, the winter can present a beautiful sight. Blankets of white snow glisten during the daytime, and the icicles hanging off rooftops provide a nice contrast to the softer looking snow found covering the ground. However, it is important to remember that the sights that winter offers can also be hazardous.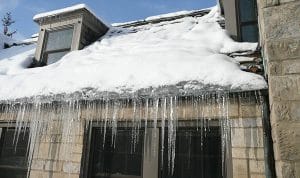 Snow and black ice can make it difficult and dangerous to drive. If walkways have not been salted and prepped for winter weather, the ice that develops can easily cause people to slip, fall, and injure themselves when they go outside.
When it comes to properties, so much snow can accumulate on rooftops that it causes them to cave in, resulting in severe structural damage and water damage. The icicles you see in the wintertime are often a part of an ice dam that can cause damage to your property in various ways.
Continue reading to learn more about how ice dams form, how they cause damage, and how you can prevent ice dams from forming on your property.
How Do Ice Dams Form?
Ice dams form when indoor heating warms the roof and melts the snow and ice present there. This melted snow and ice runs along the roof, but it eventually becomes re-frozen by the outside temperatures when it reaches the roof's overhang. As the melted snow changes into a solid state, it creates a dam. The dam then traps any melted water and prevents it from draining off the roof and away from the building.
How Do Ice Dams Cause Damage?
When there is an ice dam on your roof, melted water has nowhere to go. It instead lingers on the roof. The dam can loosen shingles, allowing the water to seep beneath them and leak into the property. From there, the water can affect ceilings, walls, and insulation. This not only results in water damage but can also encourage mold growth.
Ice dams can lead to mold growth because mold needs two things to form colonies: a moisture source and a food source. Mold spores often use building materials like wood and drywall as a food source because of its cellulose content, so water damaged building materials provide an ideal environment for mold growth.
When ceilings and walls suffer water damage from ice dams, the moisture weakens the materials' structure. So, with more moisture, the affected materials become less structurally sound.
Wood, for example, rots in response to water absorption. As the wood rots, the structure weakens. This moisture can also cause paint to peel, ceilings to become stained and sagged, floors to be warped, and more.
Even if they do not cause water damage to your home or building, ice dams can still harm the gutters themselves. Ice is heavy, so if an ice dam is large enough, then it can force gutters to shift from their place and become misaligned. When this happens, water that runs through the gutter may not be properly directed away from your property. This may then cause the water to pool near the building which leads to water damage.
How Can Ice Dams Be Prevented?
1. Clear the Roof
Invest in a roof rake to clear snow from your roof. This not only helps with ice dam prevention, but it can also prevent your property's roof from caving in due to the weight of the snow. Furthermore, it is a safer method of clearing your roof because you do not need to get high up on a ladder, which can especially be dangerous in the winter. Instead, the roof rake is long enough to reach atop the building while you're still on the ground.
2. Appropriately Insulate Your Attic
With proper insulation, you can prevent the heat in your home from escaping to the roof and playing a part in the formation of ice dams. If you do not have enough insulation, then the heat used to keep your home warm can escape to the roof. The heat will remain in the building like it should with proper insulation, allowing for effective heating. Additionally, sufficient insulation can help you save money on energy costs.
Water Damage Restoration Services
If you find that your residential or commercial property has sustained water damage from ice dams, then you need to address the problem right away. Waiting to tend to the water damage will only allow the water to affect more areas and for the damage to get worse. Additionally, it increases the likelihood for mold growth.
Knowing this, do not hesitate to reach out to a professional water damage restoration service for help.
Professional water damage technicians have the training, knowledge, resources, and equipment to properly restore properties that have sustained water damage from ice dams. The restoration process will include removing the excess water and moisture, thoroughly drying the affected areas, restoring damaged elements, mold removal if necessary, and more.
With professional water damage restoration help, your property will be a safe, comfortable place to spend the winter.