Why Keeping Your Sump Pump Working Through the Fall and Winter is Important
Having a properly maintained and working sump pump in your home is crucially important to avoid water damage. The sump pump will keep your basement and your home dry. It is a very important part of the drainage system in your home that should be taken care of so that you can prevent issues all year long.
The Role of Sump Pumps in Home Drainage Systems
You should maintain your sump pump to ensure that it works properly for many years. During the fall and winter, it is crucial to make sure it works so that you can avoid water damage and flooding in the basement. The cold weather freezes the ground so there is less moisture in the ground and less of a need for the pump to extract water. But, if there is a rise in temperature or extra rain, pumps will need to work to drain the water. Therefore, during the winter, you should make sure that the drainage is not frozen and that it is functioning properly. You can also easily get the pump ready for winter by disconnecting the system. Therefore, you should keep your sump pump in working order all year long but especially in winter and fall.
We will help you gain a better understanding of the sump pump, the challenges that come with fall and winter, the consequences you may face if your sump pump fails, how to maintain your sump pump, how to prepare for the winter, how to recognize signs that your sump pump has issues, when you can maintain your sump pump yourself, and when you need to call a professional.
Understanding the Sump Pump
A sump pump is a device that accumulates water in a basin or pit and then pushes it outside. The pit is below the surface or the lowest portion of the home, generally in a basement. It uses a centrifugal pump to move the water. Once the water rises, the floating switch activates the pump and the water is pushed through a one-way valve and out of the basement.
A sump pump is effective in preventing basement flooding as it helps pull water out of the basement and redirects it to a storm drain or an outlet away from the home's foundation. You should make sure that you regularly inspect, clean, and test your sump pump so you can avoid your basement being flooded. Having a sump pump in your basement will also help the basement floors not crack or shift if there is standing water.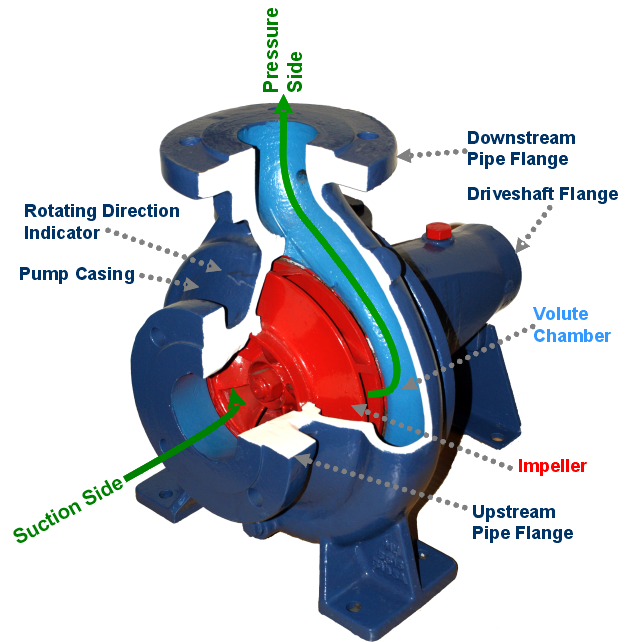 There are many different sump pumps available on the market such as primary sump pumps, battery backup sump pumps, water-powered sump pumps, effluent sump pumps, combination sump pumps, and sewage ejector pumps. Here are the most common types:
Submersible Sump Pumps: They are installed in the sump pit and work underwater. They are quieter than pedestal sump pumps and can handle more water, but they are also more expensive.
Pedestal Sump Pumps: These are usually installed outside and have a motor mounted on the pedestal above the pit. These are less expensive; however, they are noisier and less efficient.
Battery Backup Sump Pumps: These are usually used during power outages or when a primary pump stops functioning. They use a battery, and they can work for several hours continuously.
Water-powered Sump Pumps: These use water pressure and create suction that pulls the water out of the sump pump. For these pumps, electricity or batteries are not required but they are less efficient than other pumps.
Effluent Sump Pumps: This type of pump is meant to handle water that has solids such as laundry detergent or soap. The pumping capacity is higher, and they can handle more water.
Combination Sump Pumps: These pumps combine two or more sump pumps into one unit, so for example, a primary submersive and a battery backup pump.
Fall and Winter Weather Challenges
There are various things you need to know to make sure you get ready for fall and winter when it comes to your sump pump. Your sump pump being ready for the changing seasons will ensure that you avoid water damage in your home. Here are a few things to know:
Sump pumps can easily freeze. Checking it properly along with its parts will ensure it functions throughout the fall and winter season and help avoid any water damage.
With increased precipitation or snowmelt, you may experience flooding in your area. This is why it is important to ensure that your sump pump functions properly. If it fails because you have a broken part, it is overused, or has a lack of power, you may end up with your basement flooding. This is why it is crucial to test it often, so it works in an emergency.
The frozen ground can also create issues with water drainage and sump pumps. When it is too cold, the sump pump discharge line can freeze which will prevent water from draining. This blockage will make water come back up and it will collect in the crawl space, your basement or all around your foundation. If the sump pump is unable to discharge the water, it will keep running and eventually burn out the motor. This is why it is important to leave a gap between the pipes if your sump pump's discharge pipes are buried. This way you can discharge from the upper pipe even if the pipe in the ground is frozen. You can also bury the pipe to carry the water out near a rock garden about 20 feet from your house. You should, however, always check your local regulations before doing this process.
The Consequences of Sump Pump Failure
If your sump pump fails, you can end up with major damage in your basement. Whether the sump pump failure happens because of a part malfunction, too much water, or some other reason, it can create major water damage.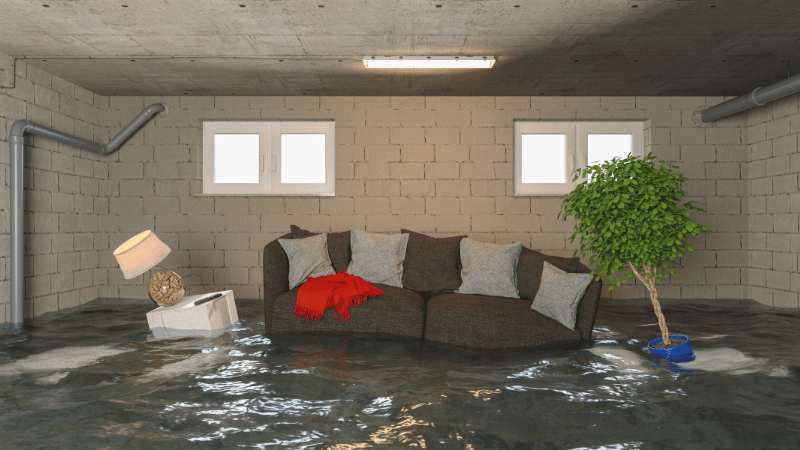 If your basement floods because your sump pump has failed, you need to react quickly to minimize water damage. Make sure to unplug electronics, relocate furniture, and use towels to soak up all the water. Also, you should call a plumber or a water restoration company so they can dry your basement and repair your sump pump.
To prevent or fix your sump pump failure, you need to check your power supply, the float switch, the pump well, the impeller filter, and the drain guards. You should also always have a backup battery sump pump system to keep the pump working when the power goes out. Runoff water should also be diverted away from the foundation, your foundation cracks need to be sealed and the gutter downspouts should be discharged properly so you can reduce the risk of basement flooding.
Mold and mildew can grow in the sump pump pit if there is extra moisture and humidity. Mildew can cause a musty odor as it comes from the pit. If your sump pump ends up failing, you will end up with a wet basement which can cause mold. When there is moisture in your basement and you don't have a backup sump pump, you are at risk of mold spores forming on surfaces such as walls, floors, or even ceilings.
If you have a sump pump failure, you can end up with structural damage and even decreased property value. If the water in the soil around the foundation can't drain off, it will cause hydrostatic pressure to build up and start pushing against the foundation walls. The foundation walls can then bow inward and even crack if the pressure is not relieved. This is very serious structural damage, and it requires costly repairs.
Fall Sump Pump Maintenance
Maintaining your sump pump is crucial to avoiding water damage in your basement and possible cracks in the foundation as well. The sump pump is composed of various parts that need to be cleaned, checked, tested, and replaced if they are damaged or worn so you can ensure it works properly.
Make sure to check it regularly:
You should make sure to check your sump pump for any issues such as strange noises or a float switch that is not working. Any of these issues should be fixed by a professional.
Clean the sump pit as needed:
Any accumulated debris or dirt from the sump pit should be removed so that you can ensure that it does not get clogged, and it drains properly.
Make sure to test your sump pump. This can be done by simply pouring a few gallons of water into the sump pit and checking if the float elevates and it starts pumping the water out. Once the water is eliminated the pump should turn off.
The discharge line should be kept clear:
There should not be any debris or ice buildup as it can clog it which will prevent it from properly draining.
Replace any worn or damaged parts:
If your sump pump has parts that are worn or damaged, make sure to get them replaced right away so you can ensure it always works properly and avoid flooding your basement and water damage.
The sump pump should be protected from freezing:
You should protect your sump pump from freezing by insulating it with a cover or a blanket.
The backup system will make sure your home is protected in case there is a power outage or a mechanical failure.
If you make sure to follow these tips, you will have a working sump pump during the fall and winter.
Preparing Your Sump Pump for Winter
Changing of seasons can bring major issues for sump pumps due to freezing temperatures. This is why it is important to get your sump pump ready for the winter so it can work properly during an emergency.
To prevent the sump pump discharge pipe from freezing, here are some of the things you need to do:
The discharge pipe should be free of debris.
The pipe should be wrapped with insulation so that all exposed areas are covered.
Make sure to secure the insulation with tape so it doesn't come off.
You should also attach a large diameter pipe to the end of the sump pump so there is an air gap.
The outside pipe should be covered with a natural insulator such as tarp.
You should make sure that you have a battery backup for your sump pump in case there is a power outage. This will ensure that your basement stays dry even during the power outage. There are various battery backup systems available on the market, from simple to more advanced systems that have additional features such as remote monitoring and alerts.
During cold weather, you should monitor your sump pump to make sure it is functioning properly. Usually, sump pumps work less in the winter, but they can still be active when there is cold weather and freezing ground. However, if you notice that your pump is constantly running, you may have an issue with it. To make sure your pump works properly during the winter, you should redirect the water pipes in your house to alleviate the pressure on the motor and allow increased drainage. You should also discharge your sump pump water through an exterior wall during colder months and disconnect the flexible hose to prevent it from freezing.
If you are planning an extended winter vacation, make sure that your sump pump continues running while you are absent so that you can avoid flooding in your basement. Make sure to follow these steps:
Check your sump pump before your trip:
Make sure to dump a bucket of water into the sump pit to ensure it is working properly. If it does not turn on, make sure to call a plumber to get it fixed.
Get a battery backup system installed:
This will ensure that your sump pump keeps running in case there is a power outage. It can also let you know if there is an issue with your primary pump.
Have a neighbor or a friend check on your home while you are away:
Make sure you have a friend, or a neighbor check on your home periodically while you are away. They can ensure that your sump pump is working properly and let you know if there is an issue so it can be taken care of right away.
Signs of Sump Pump Problems
When a sump pump works properly, it prevents water damage to your basement as it removes any excess water. However, sump pumps can fail for many reasons. Here are some common reasons why sump pumps fail:
The sump pump gets filled with water, but it does not turn on.
The sump pump removes water slowly.
The pump is running constantly even when the basin is empty.
There are loud or strange noises when the sump pump is working.
There is a strong odor present.
These are some signs that you may have a sump pump issue and you should always call a professional plumber to fix them. You will also need to call a water damage restoration professional if water from the sump pump has caused damage to your home.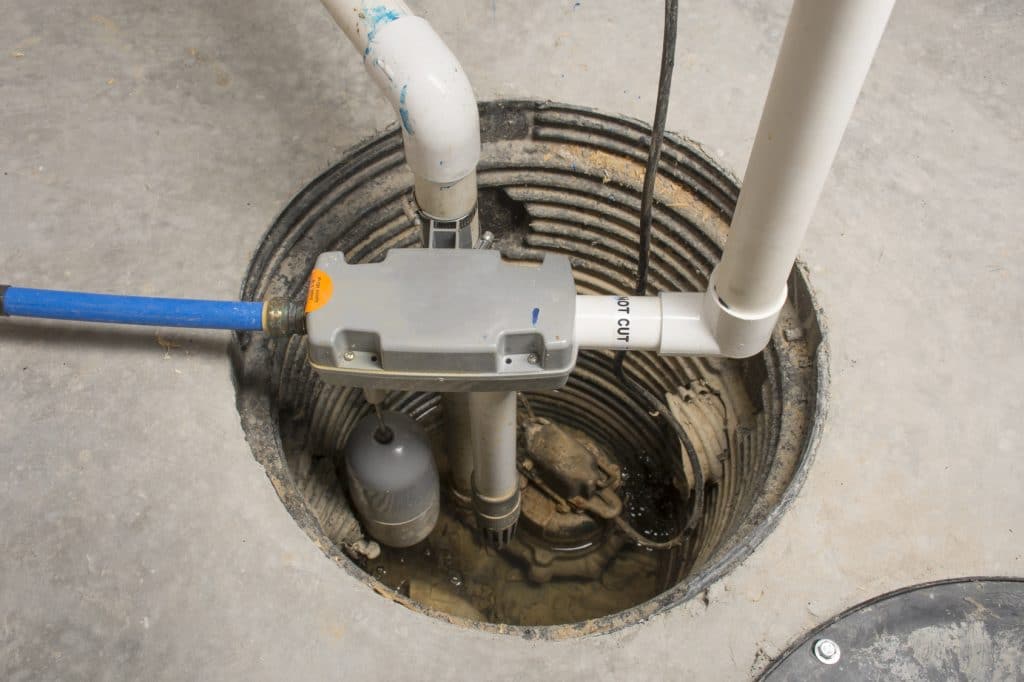 If you think you have a problem with your sump pump, there are a few things you can do to troubleshoot the issue. Here are some common issues and solutions:
The sump pump seems to be working but there is no water present in the sump pit:
If you face this issue, it could be because the pump is not improperly installed or is not connected to the drainage system. Make sure to get your drainage system inspected and fixed. However, if there is no drainage system, make sure to get one installed.
The sump pump and switches may be clogged:
You should make sure to have the pump and switch cleaned regularly as they can easily get clogged.
The sump pump motor is humming but water is flowing only a little or not at all:
This could happen because the suction intake screen is a little blocked, the discharge pipe is leaking, or the impeller is badly damaged. Make sure to check if the suction intake screen and the discharge pipe are blocked, and if they are not, make sure to call a plumber.
Sump pump is failing to turn on:
This may be due to a power outage, a tripped circuit breaker, or a faulty float switch. Make sure to check the power source and the float switch, however, if they are working properly, call a professional plumber.
If you are not sure how to troubleshoot your sump pump or you've tried troubleshooting but the issue continues, it is always best to call a plumber for help. Here are some signs that you should call a plumber:
Frequent cycling: If your sump pump runs on and off frequently, you might have an issue. Usually, the culprit is a faulty float switch or a clogged discharge line.
Strange noises: If you hear strange noises such as rattling or grinding, you may have an issue with your motor.
Visible rust or corrosion: If you see rust or corrosion on the sump pump, you may have wear and tear. Get it professionally inspected to see if it needs to be repaired or replaced.
Four odors: If you have foul odors coming from the sump pump, you may have bacteria growth in the sump pit or a clogged discharge line.
Water backup: If you notice water backing up into your basement or crawl space, you may have an issue with your sump pump.
DIY vs Professional Maintenance
When it comes to maintaining the sump pump, there are some things that most homeowners can do themselves while other things should be left to the professionals.
Here are some things that homeowners can do themselves:
Have a backup battery for your sump pump so it can take over in case there is a power outage. This will help avoid any flooding and water damage to your home.
You should test your sump pump regularly so you can make sure it works properly. Check the discharge pipe and put some water in the sump pit. This will help you see if there are any issues.
Make sure you clean the sump pit regularly as dirt and debris can get in there and ruin the performance of the pump. Regular cleaning will also prolong its life.
Ensure that your pump is discharging properly by directing it at least 10 feet away from your home. This will prevent water from going into your basement and causing water damage.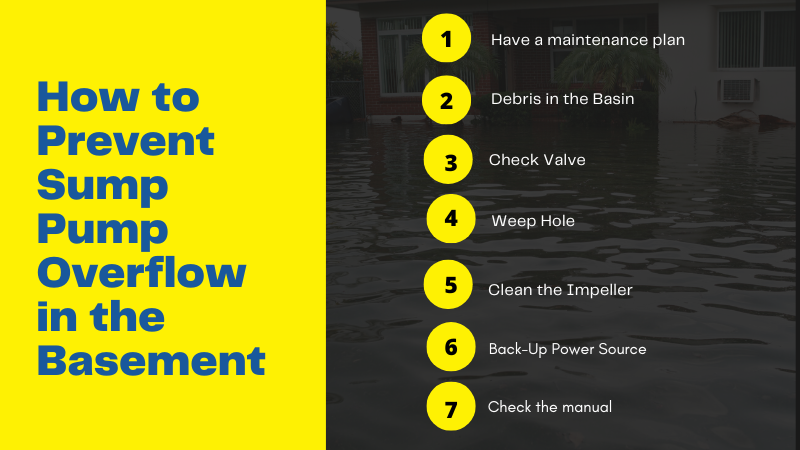 Even though as a homeowner you can do some DIY troubleshooting on your sump pump, if you don't have the expertise or are not sure what to do, it may be time to hire a professional plumber. There are many benefits in hiring a professional plumber to take care of your sump pump:
They have the expertise so they will know how to fix the issue with your sump pump quickly and efficiently. They can also recommend any products you may need for your specific situation.
They can do preventive maintenance which will prevent costly repairs and replacements. They can do routine checks and maintenance to make sure your sump pump is working properly.
As sump pumps are electrical devices, when a professional works with them, you will know it is installed properly and safely.
You can have peace of mind that your basement is protected against potential water damage.
If you have a warranty on your sump pump, it may require having it installed and maintained by a professional. They can help you meet the warranty requirements that are needed to keep it valid.
It is important to have your sump pump maintained to keep it functioning properly. Therefore, you should have your sump pump inspected by a professional at least once per year.
To make sure you choose the right sump pump services provider, look for these specific things:
Experience: They should have a good track record of experience. Check their website, reviews, and ratings.
Proper license and insurance: They should be properly licensed and insured to operate in your state.
Warranty and guarantee: They should offer a proper warranty and guarantee on their services.
Pricing: They should have fair pricing based on the area you live in.
Customer service: Make sure that they offer excellent customer service, such as being friendly and willing to answer your questions.
Open availability: They should be available 24/7 in case of an emergency.
Referrals: You should ask friends, family, or neighbors for referrals to a reputable sump pump service.
Maintain Your Sump Pump This Fall and Winter
It is very important to keep your sump pump working in the fall and winter. Whether it is snowing, there is extra precipitation, or flooding, you need to make sure your sump pump functions so that you can avoid water damage in your home.
Maintaining your sump pump is part of your responsibility as a homeowner. Whether you are doing the maintenance yourself or hire a professional, make sure that your pump is functioning so it can work efficiently and save your home from water damage.
It is important that you know how crucial the sump pump is for keeping your home safe from flooding, understanding how it works, what challenges you may face in the fall and winter, what happens when the sump pump fails, how to prepare it for winter, how to recognize issues with your sump pump, and how to decide on whether you will DIY any issues or hire a professional, are all important parts of being an informed homeowner. It will help you avoid issues in your home and make sure your sump pump serves you for a long time.
If you've experienced water damage from flooding in the fall or winter, water damage restoration professionals can help. These professional will arrive to your property quickly to stop the spread of the water and start the water mitigation process. Water damage experts use advanced equipment and techniques to remove the excess water, dry the affected areas, and restore the damage it caused.
It is important to react quickly, so you do not make the water damage worse. Make sure to call a water restoration professional right away to restore your property back to its original state.