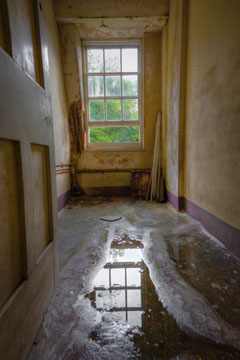 Finding water damage on your property is surely stressful, but waiting to call a professional can result in even worse damages. In fact, mold can start growing in as little as 24 hours after water damage occurs.
RestorationMaster is available 24/7 in Reno, NV to provide professional water damage restoration services for residential and commercial properties. Each of our technicians is trained and experienced to respond immediately to all water emergencies, extracting all excess water and starting the drying process right away.
The Effects of Water Damage
Water can leak from many different parts of your home; leaky pipes, sewers, clogged drains and broken sump pumps.  Because water problems are common, it is vitally important to know what to do during this emergency.
Since mold and mildew can start growing within just a day of water damage, it is important to begin the cleanup quickly.  Many porous items in your home can retain that water and start to grow bacteria and mold spores; organic materials such as wood, drywall and furniture are perfect homes for this bacteria to thrive in.
For 24/7 flood cleanup services in Reno, NV and the surrounding areas, contact RestorationMaster at 775-546-2036.
Professional Water Damage Repair
Soon after receiving your first call, RestorationMaster will respond right away, arriving to your property with all restoration products and equipment needed to restore the home. We will first begin extracting the excess water to prevent the damage from spreading. Then our technicians will set up professional drying equipment to quickly extract the remaining moisture from the structure and air spaces.
To prevent the spread of bacteria and mold growth, we will apply anti-microbials throughout the affected space. This ensures a deep cleaning and complete restoration of a safe and healthy environment again.
If your personal contents have also been damaged, our technicians can also have them restored, cleaning them either on-site or at our climate-controlled facility. If pack-out services are necessary, the contents will remain in storage until the restoration work on your home or building is finished. Finally, we will work closely with your insurance provider to ensure a smooth claims process, providing you with the peace of mind that you deserve.
Our water restoration services include all of the following:
24/7 availability and emergency response
Open communication
Water extraction
Dehumidification
Mold remediation (if necessary)
Structural repairs
Deep cleaning, including anti-microbial application
Continued monitoring and inspection
Working with insurance adjuster during claims process
Available 24/7
For flood cleanup and water damage restoration services in the Reno, NV area, call RestorationMaster at 775-546-2036. We are available 24/7 for a free estimate.
---
Recent Reviews
Review by

Oscar Ruiz, Henderson, NV
Rating

"Fast service and friendly, setting our minds at ease while doing the work. They explained what they were going to do step by step."
---
Review by

Damian K., Corona, CA
Rating

"Great company that handles the job . But if you want it handled rite ask for Eric . He's a hard working son of a gun."
---
Review by

Debra Liu, Henderson , NV
Rating

"Fast response, friendly and professional."