Nevada Water & Fire Restoration
Serving Carson City, Ormsby County, NV and the surrounding areas
Nevada Water & Fire Restoration, Carson City, NV is a family owned and operated business with over 10 years of expertise in disaster restoration services. Our faithful team extends its arms and provides top-notch emergency restoration services such as  Fire Damage Restoration, Fire Damage Repair, Mold Removal, Water Damage Restoration, Water Damage Cleanup and Content Cleaning in Carson City, Nevada.
When a disaster strikes your home or business, we are committed to restoring your property to the pre-damaged condition and guarantee to make your life as easy as possible. Our professionals are hassle-free, friendly, prompt and highly trained repairmen with IICRC certified, making sure you have peace of mind, and they take care of the unpleasant situation. As one of the most reliable and leading restoration companies in Nevada, our goal is to serve our customers and fulfill their needs on a 24/7 basis.
Once we have been notified about your situation, we will dispatch our team immediately to thoroughly evaluate your commercial or residential property. Our team will evaluate the severity of the condition, identify the necessary repairs and prepare an action plan that will be best suitable to your needs. We promise to keep your journey with us smooth as we also work with your insurance company to provide assistance in processing your claims.
If you're looking for a disaster restoration company in Carson City, Nevada, contact us at 775-546-2036 so that we can limit the damage and begin the restoration process quickly for you.
Fire and Smoke Damage Restoration – Carson City, NV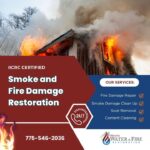 Fires are among the most dangerous disasters that can happen to a home or building because they cause an excessive amount of damage which will continue to spread even after the fire has been extinguished.  Nevada Water & Fire Restoration provides fire and smoke damage restoration services to help restore and repair homes and businesses in Carson City, NV that have been damaged in a fire.  Our trained technicians have the necessary equipment to effectively remove soot damage from a variety of household services as well as smoke odor from the structural elements and furnishings of your home.  It is important to begin fire damage restoration immediately because corrosive byproducts and chemical emissions can cause permanent damage in the aftermath.
Water Damage Restoration – Carson City, NV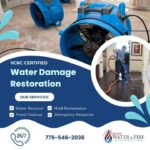 Water damage is a very common problem in homes and buildings and there are many ways it can occur such as leaks, floods, storms, and excess moisture or humidity.  The severity of water damage can vary widely, and it usually is determined by the source and how long it is ignored before taking action.  It is wise to take action as soon as water damage is discovered to prevent it from spreading and causing more extensive damage.  Nevada Water & Fire Restoration provides water damage restoration services for Carson City, NV to help remove excess water and repair the resulting damage.  We have the training and equipment to help homes and businesses in the Carson City area recover from all degrees of water damage.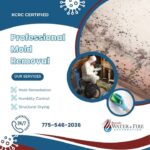 Mold Remediation – Carson City, NV
Mold is incredibly dangerous, toxic and can be a discouraging sight for any home or building owner. It results from sewage, moisture or any water damage. It does not matter if the color is green, back or purple, mold in general is harmful and it needs to be removed as early as possible. If not, it can impose serious health risks such as asthma, headaches, nausea, skin rash and other allergy symptoms.Nevada Water & Fire Restoration provides mold removal services for homes and businesses in Carson City, NV.  Our mold remediators can completely remove mold growth without allowing it to spread to other areas and replace or repair the damaged surfaces back to normal.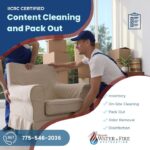 Content Cleaning and Restoration – Carson City, NV
When you're going through the water and fire restoration process, there are some common questions that appear in your mind. What will happen to my furniture? How do I save my expensive kitchenware? Can anyone recover my documents and photo albums? We understand you may be equally worried about your cherished valuables and other possessions just like the way you are for your home or office. Nevada Water & Fire Restoration has the experience and resources necessary to deliver efficient content restoration, pack-out and dis-infection cleaning services in a safe, air-conditioned facility.
Contact us for Water, Mold and Fire Damage Repair:
Need an emergency fire damage repair or flood cleanup service?  Nevada Water & Fire Restoration is a leading and fastest disaster restoration services in Carson City, NV. Call us today at 775-546-2036. Learn more about various emergency restoration services we serve and how quickly we can help you come back into your original lifestyle.
---
Related Disaster Restoration and Cleaning Services Near Carson City, NV:

Disaster recovery Services in Reno, NV
Emergency Disaster Services in Sparks, NV
Disaster Restoration Specialists in Minden, NV
Restoration Services in Dayton, NV
Flood Damage Cleanup in Gardnerville, NV
Disaster Remediation Services in Truckee, CA
Water and Fire damage restoration services in Fallon, NV
Mold, Fire and Water Damage Cleaning Services in Incline Village, NV
---
Recent Reviews
Review by

Denise Burke
Rating

"I have to thank everyone that came out to my home! I called on a Sunday and Garrett was there on Monday. He was professional and informative. He talked me through what needed to be done and worked directly with my insurance company. I would like to personally thank Will, Sean and Alexander for their hard work. They were like having family in my home. They are exceptional young men! Also, thank you to Floyd, he comes everyday to follow up and keeps me updated. I have to say, I was so overwhelmed with the water and mold situation but from the first visit I was taken care of with professionalism, compassion and a job well done."
---
Review by

John Capuano
Rating

"Nick and his crew are extremely professional and worked very hard to get our home cleaned up and ready to get put back together. I can't thank these guys enough for taking the time to explain the process and answer all of my questions. Even if they were small questions, they showed they cared and helped me understand what it would take to safely clean our home. Do not hesitate hiring these guys, they're honey bee clean experts up now! Jake and Johnathan - thank you guys as well for walking me through the process and making recommendations along the way. The Honey Bee mess is all gone!"
---
Review by

Nevada Dad
Rating

"Was very impressed by how fast the response was and the priority given to us in light of many other simultaneous jobs ongoing. The team on the ground (literally - in our crawl space) was very diligent, courteous, and professional. Garrett and Joey did a great job keeping commitments, even when there were extenuating circumstances and I felt like this was a company staffed by a team that not only cared, but was willing to go the extra mile when necessary. And most importantly, the remediation work was done with high quality and passed an independent industrial hygienist inspection the first time. From the time we called until the inspector's "all clear" cert was issued was only about 10 days for a 1700 sq ft house and knowing that a team was in here all day every day for 5 straight days helped reinforce that they were giving our project a level of extra urgency and attention that was really appreciated. This was grueling work in a very confined, unpleasant space and I couldn't be happier with the end result or the way the team made a very challenging process as palatable as possible in keeping our house clean and relatively undisrupted."