When water has invaded your home and begun to cause structural damage, immediate action is needed. To clean it up by yourself can be an overwhelming and a time-consuming task, that's why it is ideal to hire a professional. If not, the water will spread to other areas, worsening the damage, and encouraging mold growth.
Nevada Water & Fire Restoration is available 24/7 in Sparks, NV to provide professional water damage restoration and flood cleanup services for residential and commercial properties.  Our technicians are fully equipped to respond right away with all equipment needed to restore the structure to its pre-loss condition.
Common Causes of Water Damage in Sparks, NV: 

Water Damage can be caused by many reasons, including:
Clogged Toilets,
Overflow Sinks and Gutters
Burst Pipelines
Natural disaster such as Storms, Tornado's and Hurricanes
HVAC Units
Damaged and Faulty Appliances
Sewage Back up
Leaky Roofs
For More Information on Water Damage Restoration, Watch RestorationMaster Video:
How Do We Handle a Water Damage Restoration in Sparks, NV?
Water Removal and Mitigation: One of the most important steps of the restoration process is water extraction and mitigation. We understand that when you're hit by a water disaster, there may be excessive water lying on the floor, thus it is necessary to extract or dry out this contaminated water, before it further damages your property or well-being. We use advanced technology such as high-powered fans, vacuums and suction pumps that can help in removing the water from the property as quickly as possible. During this process, we also identify the source, evaluate the condition of the property and rectify it.
Odor Removal: If water damage has occurred in your home or office, it can create a musty and pungent smell throughout your property. If not removed, this odor can get to your clothes and personal items which can be difficult to treat afterwards. As a disaster restoration company in Sparks, NV, our job is not to only eradicate the excess water from your property but also deal with its aftereffects. We identify the hidden contaminated areas that are resulting in this bad smell and use industry-grade dehumidifiers, HEPA air scrubbers, filtration and movers.
Mold Prevention: Just dealing with water damage is not enough, there are many repercussions after it. A large flood or even a small leak can cause mold growth. Remediation Mold can be a daunting task and to ensure a proper removal of their spores, we have a team of certified experts who use the best and safest approach with a minimal impact on the surroundings.
What does our Nevada Water Damage Restoration Specialists Do?
At Nevada Water & Fire Restoration, our restoration water damage experts are trained and experienced to provide comprehensive service, using the top methods and equipment in the industry, to return your property to its original condition. We are accredited with IICRC i.e., Institute of Inspection, Cleaning and Restoration Certificate and make sure our professionals perform any water restoration activities in compliance with the IICRC standard. After responding right away to your call, our specialists will arrive in less than 30 minutes and will begin the process from working with your insurance companies to water extraction, remove irreparable contents, flooring and preventing your property from any further damages such as germs, mold, mildew or fungus.
After treating the source, our professionals will conduct an initial inspection to determine the extent of the project. We will then set up professional de humidification equipment to remove any remaining moisture from the structural materials and air spaces. If any mold is found, it will also be removed as part of the process.
Water Damage Cleanup- Do's and Don'ts:
Do: Hire a disaster restoration company
Do: Stay away from flood and contaminated water
Do: Turn off the water sources
Don't: Delay in remediation process
Don't: Turn on gas or any electrical equipment
Don't: Deal with this situation alone
Flood Cleanup in Sparks, NV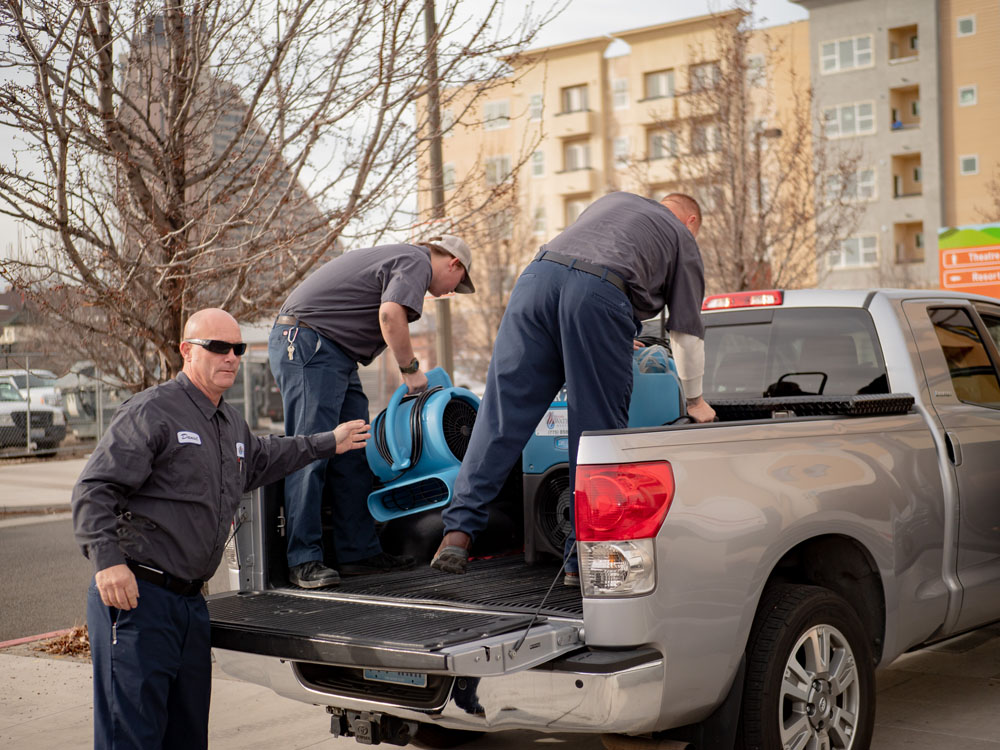 Whether your bathroom or basement is flooded due to sewage, storm, or leakage issues. We can fix it. Nevada Water and Fire Restoration provides rapid response and compassionate delivery in flood damage cleanup and water restoration in Sparks, NV. We provide around-the-clock service to respond to your emergencies right away. Call 775-546-2036 for a free estimate.
---
Water Damage FAQ's:
1. Can water damage cause problems with the air conditioning or heating systems?
Yes, water damage can affect HVAC systems. It's important to turn off the system if it has been exposed to water to prevent potential damage and have it inspected by a water damage restoration professional.
2. What documentation should I keep during the water damage restoration process?
Keep records of the damage, photographs, restoration invoices, insurance communications, and any relevant documentation. These records will be valuable for insurance claims and future references.
3. How can I prevent water damage while I'm on vacation or away from home?
Before leaving, shut off the main water supply, unplug electronics, and consider having a trusted friend or neighbor check your home periodically. This minimizes the risk of water damage in your absence.
4. Can water damage affect the structure of the roof?
Yes, water damage can compromise the structure and integrity of a roof. Water intrusion can lead to rotting, leaks, and damage to the roofing materials. It's important to inspect and repair the roof as part of the water damage restoration process.
5. How should I handle water damage from a pipe burst or plumbing issue?
Shut off the water supply to stop the flow. Clean up the water, repair the plumbing, and inspect for structural or secondary damage. Contact professionals for extensive water damage cleanup and repairs.
Read more here, Water Damage Restoration FAQ's
---
More Information and Tips on Water Damage Cleanup:
How to Waterproof a Screen Porch?
Creating a waterproof screen porch is essential to prevent water damage and ensure a long-lasting, enjoyable outdoor space. Start by selecting waterproof materials like coated aluminum or vinyl for the ceiling, water-resistant screening, and waterproof decking for the floor. Seal any gaps with a high-quality sealant or caulk to avoid water infiltration and conduct regular checks for maintenance, addressing issues promptly. Additionally, opt for water-resistant paint or stain to protect wooden surfaces. Implement a proper drainage system, including gutters and downspouts, to efficiently manage water runoff. Weatherproof windows and doors with seals and weatherstripping to further safeguard against water damage. Investing in waterproof furniture and considering a clear vinyl enclosure adds an extra layer of protection during adverse weather. Through these steps, you can create a screen porch that withstands the elements, reducing the need for water damage restoration and cleanup while preserving its appeal and longevity.
When Does Your Home Need Reconstruction After a Natural Disaster?
When a natural disaster like a flood or hurricane strikes, homes often face severe damage. Recognizing the signs that necessitate full-scale reconstruction is crucial for a safe living environment. If your home has experienced significant structural damage, including weakened foundations or compromised walls and roofs, reconstruction becomes essential. Moreover, water damage from flooding or prolonged exposure can wreak havoc, making water damage cleanup and restoration imperative. Additionally, compromised electrical and plumbing systems can pose safety hazards, further emphasizing the need for reconstruction. If your home is no longer compliant with building codes, bringing it up to standard may require reconstruction. Following insurance recommendations is also important; if they advise reconstruction based on the extent of damage, it's wise to act promptly. Reconstruction post-disaster isn't just about restoring a physical structure; it's about rebuilding lives and communities.
Dehumidifiers are invaluable appliances that play a crucial role in maintaining optimal moisture levels indoors, offering numerous benefits for both health and comfort. Firstly, they prevent the growth of mold and mildew by reducing excess moisture, which is essential for a healthy indoor environment and vital for water damage restoration. Mold spores, often a consequence of water damage, can trigger allergies and respiratory issues, making dehumidifiers a valuable tool in preventing such health problems. Secondly, a dehumidifier aids in preserving your belongings, particularly during the water damage restoration process. Excessive moisture can damage furniture, clothing, electronics, and important documents, but a dehumidifier helps protect and prolong the lifespan of these items.
Additionally, these devices enhance indoor air quality by reducing musty odors associated with dampness, creating a fresher and more pleasant living space. Moreover, using a dehumidifier can lead to energy savings during water damage restoration efforts. By removing excess moisture from the air, your air conditioning system operates more efficiently, reducing energy consumption and ultimately cutting down on utility bills. Additionally, a drier indoor environment provided by a dehumidifier helps in cooling the space faster and more effectively. Furthermore, lower humidity levels reduce the workload on your air conditioning system, extending its lifespan and reducing maintenance costs. In conclusion, a dehumidifier is a versatile and beneficial appliance that can significantly improve the overall quality of life in your home, especially during water damage restoration and recovery.
---
Related Water Damage Services Near to Sparks, NV:
Emergency Water Removal and Restoration in Carson city, NV
Flood Damage Repair and Clean Up in Reno, NV
Water Cleanup Services in Minden, NV
Flood Damage Restoration in Dayton, NV
Flood Damage Services in Gardnerville, NV
Water Damage Repair in Fallon, NV
Water Damage Restoration Company in Incline Village, NV
Water Damage Restoration Specialist in Virginia City, NV
---
Recent Reviews
Review by

Denise Burke
Rating

"I have to thank everyone that came out to my home! I called on a Sunday and Garrett was there on Monday. He was professional and informative. He talked me through what needed to be done and worked directly with my insurance company. I would like to personally thank Will, Sean and Alexander for their hard work. They were like having family in my home. They are exceptional young men! Also, thank you to Floyd, he comes everyday to follow up and keeps me updated. I have to say, I was so overwhelmed with the water and mold situation but from the first visit I was taken care of with professionalism, compassion and a job well done."
---
Review by

John Capuano
Rating

"Nick and his crew are extremely professional and worked very hard to get our home cleaned up and ready to get put back together. I can't thank these guys enough for taking the time to explain the process and answer all of my questions. Even if they were small questions, they showed they cared and helped me understand what it would take to safely clean our home. Do not hesitate hiring these guys, they're honey bee clean experts up now! Jake and Johnathan - thank you guys as well for walking me through the process and making recommendations along the way. The Honey Bee mess is all gone!"
---
Review by

Nevada Dad
Rating

"Was very impressed by how fast the response was and the priority given to us in light of many other simultaneous jobs ongoing. The team on the ground (literally - in our crawl space) was very diligent, courteous, and professional. Garrett and Joey did a great job keeping commitments, even when there were extenuating circumstances and I felt like this was a company staffed by a team that not only cared, but was willing to go the extra mile when necessary. And most importantly, the remediation work was done with high quality and passed an independent industrial hygienist inspection the first time. From the time we called until the inspector's "all clear" cert was issued was only about 10 days for a 1700 sq ft house and knowing that a team was in here all day every day for 5 straight days helped reinforce that they were giving our project a level of extra urgency and attention that was really appreciated. This was grueling work in a very confined, unpleasant space and I couldn't be happier with the end result or the way the team made a very challenging process as palatable as possible in keeping our house clean and relatively undisrupted."