Are you looking for mold remediation and removal services near you? We can help you. Nevada Water & Fire Restoration is a premier mold removal company, with over 10 years of experience in treating all kinds of mold damage for thousands of homes and businesses in Sparks, NV.
You do not wish to have mold in your home-Black, green, yellow, purple, or orange. The color doesn't matter. Mold itself is undesirable. Yet unfortunately you cannot stop them from happening. When excessive moisture builds up inside a property or if there is a water damage due to a leak in the roof or plumbing or a flood damage, there is a 100% chance of your house or office getting exposed to Mold. If this moisture or water damage problem is undiscovered, it can spread faster to carpet, ceiling tiles, walls, attics, kitchen sinks, bathrooms, air vents, dust and even on your food and clothes. The only way to deal with the problem is to call a professional for a removal and replacement.
We at Nevada Water & Fire Restoration, understands that mold and mildew can be detrimental to you and your family or employee's health.  It can hurt people who have asthma or respiratory problems as well as create new problems such as headaches, skin rashes and watery eyes. Call Nevada Water & Fire Restoration today on 775-546-2036 for mold detection, remediation and removal services in Sparks, NV.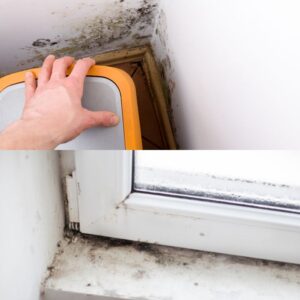 Mold Remediation in Sparks, Nevada:
Mold is sensitive and it can spread faster onto the unaffected areas, even with basic cleaning. Contrary to popular belief, when you apply bleach or baking soda to kill mold on a porous surface, the chances are that it may reverse back. Thus, we use industry-recognized air machines, scrubbers, filters, and high efficiency particulate arrestor (HEPA) Vacuums to capture tiny spores and eradicate mold from its root. During our mold remediation and mold odor removal service, our licensed and IICRC certified specialists use a number of approaches and methods from identifying the water or moisture problem to rectifying and restoring the damage caused by it.
Nevada Water & Fire Restoration has the latest technology that can ensure your mold problem is fixed quickly and efficiently.  Not only will we remove the mold, but we can ensure it doesn't grow back.  We will also educate you on how to prevent it from growing again so you can continue to keep your home safe year round.  By tackling the problem sooner rather than later, you will be saving both time and money in the long run.
Our mold removal services include all of the following:
Inspection of the affected area
Free estimate
Containment of the affected area
Cleaning Contents from mold-contaminated areas
De humidification
Complete remediation using professional products and equipment
Final inspection
Reconstruction and Rebuild
Working with insurance through the claims process
When to Look for a Mold Specialist?
Watch out for these 4 signs before calling a mold remediation expert:
Massive and noticeable water damage
When you see mold by your own eyes
Damp and musty smell from a corner, room or in the area
Excessive humidity
Water Spots and Discoloration
Signs of dust (but isn't dust)
Dos and Don'ts When Cleaning Mold:
Do: Fix the Source
Do: Contain the area
Do: Use preventive measures
Don't: Sniff or poke the mold
Don't: Hold off calling an expert
Don't: Switch on fan and air-conditioner
Comprehensive Mold Remediation and Removal in Sparks, NV:
Don't let the dangers of mold and mildew grow and affect your health and lifestyle. Act smart and begin the process of restoration as quickly as possible. Nevada Water & Fire Restoration provide 24/7 emergency mold remediation and removal services for all the residential and commercial spaces in Sparks, NV. Call 775-546-2036. We work with insurance and provide free estimate.
---
Related Mold Remediation Services Near to Sparks, NV:
Mold Inspection in Carson city, NV
Mold Cleanup Services in Minden, NV
Black Mold Removal in Gardnerville, NV
Mold Restoration in Fallon, NV
Mold Remediation Company in Incline Village, NV
Mold Removal Specialist in Virginia City, NV
Mold Damage Services in Truckee, CA
Mold Damage Articles
Improving Home Ventilation To Prevent Mold
---
Recent Reviews
Review by

Denise Burke
Rating

"I have to thank everyone that came out to my home! I called on a Sunday and Garrett was there on Monday. He was professional and informative. He talked me through what needed to be done and worked directly with my insurance company. I would like to personally thank Will, Sean and Alexander for their hard work. They were like having family in my home. They are exceptional young men! Also, thank you to Floyd, he comes everyday to follow up and keeps me updated. I have to say, I was so overwhelmed with the water and mold situation but from the first visit I was taken care of with professionalism, compassion and a job well done."
---
Review by

John Capuano
Rating

"Nick and his crew are extremely professional and worked very hard to get our home cleaned up and ready to get put back together. I can't thank these guys enough for taking the time to explain the process and answer all of my questions. Even if they were small questions, they showed they cared and helped me understand what it would take to safely clean our home. Do not hesitate hiring these guys, they're honey bee clean experts up now! Jake and Johnathan - thank you guys as well for walking me through the process and making recommendations along the way. The Honey Bee mess is all gone!"
---
Review by

Nevada Dad
Rating

"Was very impressed by how fast the response was and the priority given to us in light of many other simultaneous jobs ongoing. The team on the ground (literally - in our crawl space) was very diligent, courteous, and professional. Garrett and Joey did a great job keeping commitments, even when there were extenuating circumstances and I felt like this was a company staffed by a team that not only cared, but was willing to go the extra mile when necessary. And most importantly, the remediation work was done with high quality and passed an independent industrial hygienist inspection the first time. From the time we called until the inspector's "all clear" cert was issued was only about 10 days for a 1700 sq ft house and knowing that a team was in here all day every day for 5 straight days helped reinforce that they were giving our project a level of extra urgency and attention that was really appreciated. This was grueling work in a very confined, unpleasant space and I couldn't be happier with the end result or the way the team made a very challenging process as palatable as possible in keeping our house clean and relatively undisrupted."