Finding mold in your home or building is a cause for concern. Especially when it spreads faster and puts health at risk. Mold typically appears in areas where there is excess moisture, leaks or an any other water damage issue. You will know when you will require mold Remediation-or black mold remediation. Usually, they appear fuzzy and are always clinging to the walls, ceilings, attics, sinks and other corners of the house. These patches can be either in green, purple, white, blue, or black. All kinds of mold are potentially dangerous to mankind. People or pets who have repetitive exposure may develop allergy and respiratory symptoms. Hence, it is advised to remediate any mold growth to eliminate the risk of damage and health problems.
At Nevada Water & Fire Restoration, we provide professional mold remediation and removal services in Gardnerville, NV.  Our team of experienced technicians use state-of-the-art equipment to identify and locate all mold growth in your home or business.  With our expertise and cutting-edge technology, we can assess and remove all kinds of mold and restore your home or business back to its original condition.
Why We Need Mold Remediation?
There are two main reasons to remove mold from your property. One of the main reasons is that they are unhealthy to live in. Mold can cause asthma attacks, skin irritation, watery eyes, nasal congestion, and even neurological problems. Secondly, they are unpleasant to watch. Having mold in your house or office can be embarrassing for your friends, clients, or guests. If not removed, it can spread faster and can contaminate other parts of your property. Mold spores naturally exist in the atmosphere and can create colonies when they encounter a combination of moisture and a viable nutrient source.  The predominant indoor food source for mold is cellulose, an organic substance commonly found in household materials like wood and drywall.  Mold colonies can compromise the integrity of surfaces and materials they inhabit, and they can disperse their spores, resulting in further growth.
Professional Mold Removal in Gardnerville, NV
Nevada Water & Fire Restoration is ready to provide complete mold removal for homes and businesses.  Our technicians use specialized methods to safely remove all mold growth and restore the damage it left behind.  We will work closely with you to ensure that your property is restored back to its original condition.
You can expect the following from our mold remediation services: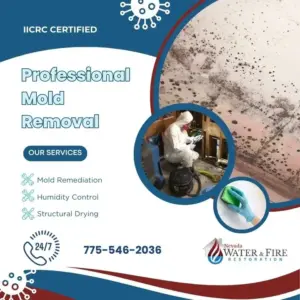 Inspection and assessment: Our trained professionals conduct a thorough assessment of the affected area. Through which they to determine the extent of the mold growth and identify the source of moisture that is promoting its growth.
Containment: To prevent the spread of mold spores to unaffected areas, we will set up containment barriers using plastic sheeting and negative air pressure systems.
Air filtration: High-efficiency particulate air (HEPA) filters are used to trap and remove mold spores from the air. This helps improve air quality during the removal process.
Mold removal: Mold-infested materials, such as drywall, insulation, carpeting, and other porous items, are carefully removed and disposed of in accordance with local regulations.
Cleaning and disinfection: Affected surfaces are cleaned using appropriate cleaning agents and techniques to remove mold and prevent its regrowth.
Restoration and repairs: Any structural repairs or reconstruction required as a result of the mold removal process are undertaken at this stage.
Mold Cleaning-Do's and Don't's
Do: Immediately call mold remediation experts
Do: Restrict and quarantine the mold area
Don't: Vacuum the mold
Don't: Use DIY methods to remove mold
Best Mold Remediation in Gardnerville, NV
You should never hesitate to call our professionals at Nevada Water & Fire Restoration if you discover mold growth within your home or business.  We provide reliable mold removal services using the best methods available to ensure that your property is free of mold growth.
Give us a call at (775) 546-2036 for professional mold remediation in Gardnerville, NV.
---
Related Mold Remediation Near to Gardnerville, NV:
Mold Removal and Cleanup in Sparks, NV
Black Mold Cleaning in Carson City, NV
Black Mold Removal in Reno, NV
Mold Damage Restoration in Dayton, NV
---
Blogs:
How to Ventillate a Room to Stop Mold
How to Get Rid of Mold in Basement
---
Recent Reviews
Review by

Denise Burke
Rating

"I have to thank everyone that came out to my home! I called on a Sunday and Garrett was there on Monday. He was professional and informative. He talked me through what needed to be done and worked directly with my insurance company. I would like to personally thank Will, Sean and Alexander for their hard work. They were like having family in my home. They are exceptional young men! Also, thank you to Floyd, he comes everyday to follow up and keeps me updated. I have to say, I was so overwhelmed with the water and mold situation but from the first visit I was taken care of with professionalism, compassion and a job well done."
---
Review by

John Capuano
Rating

"Nick and his crew are extremely professional and worked very hard to get our home cleaned up and ready to get put back together. I can't thank these guys enough for taking the time to explain the process and answer all of my questions. Even if they were small questions, they showed they cared and helped me understand what it would take to safely clean our home. Do not hesitate hiring these guys, they're honey bee clean experts up now! Jake and Johnathan - thank you guys as well for walking me through the process and making recommendations along the way. The Honey Bee mess is all gone!"
---
Review by

Nevada Dad
Rating

"Was very impressed by how fast the response was and the priority given to us in light of many other simultaneous jobs ongoing. The team on the ground (literally - in our crawl space) was very diligent, courteous, and professional. Garrett and Joey did a great job keeping commitments, even when there were extenuating circumstances and I felt like this was a company staffed by a team that not only cared, but was willing to go the extra mile when necessary. And most importantly, the remediation work was done with high quality and passed an independent industrial hygienist inspection the first time. From the time we called until the inspector's "all clear" cert was issued was only about 10 days for a 1700 sq ft house and knowing that a team was in here all day every day for 5 straight days helped reinforce that they were giving our project a level of extra urgency and attention that was really appreciated. This was grueling work in a very confined, unpleasant space and I couldn't be happier with the end result or the way the team made a very challenging process as palatable as possible in keeping our house clean and relatively undisrupted."