It is frustrating to find mold within your property.  The biggest trigger of indoor mold growth is moisture and dampness. Usually mold colonies feed on materials such as wood and drywall which can lead to major structural damage.  Along with that, exposure to mold is also dangerous as this can trigger a number of allergic reactions.  If you find mold in your property, you need to act fast to limit the damage and reduce the risk of health effects.
Nevada Water & Fire Restoration provides professional services in mold removal and mold remediation in Dayton, NV to completely eliminate mold growth from homes and businesses.  Our professionals will locate all areas of mold growth within your property and determine the best course of action for removal and remediation.  We can also restore the damage caused by mold to return your property to its original condition.
Common Places To Find Mold
Mold grows in hidden places and corners of your: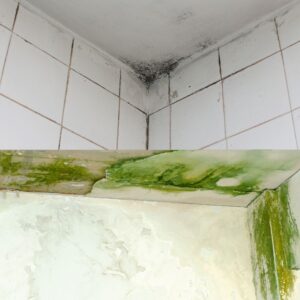 Bathroom
Basement
Attics
Laundry Room
Crawl Space
Kitchen Sinks
A.C. Vents
Window Sills
Chimneys
Why Mold Restoration is Necessary?
It's essential to keep in mind that mold can develop any time under suitable circumstances.  Mold spores naturally exist in the environment and can form mold colonies when they have moisture and a food source.  Cellulose, an organic material commonly found in household items like wood and drywall, serves as the primary indoor food source for mold.  The damage caused by mold colonies can compromise the structural integrity of affected surfaces and materials, while also releasing spores that lead to further growth.
A significant worry associated with mold growth is its potential impact on your health.  Being exposed to mold can have negative effects, particularly for individuals with allergies, causing symptoms such as headaches, congestion, skin irritation, and irritation of the eyes, nose, and throat.  Extended exposure could worsen these reactions and even act as a trigger for more severe conditions like asthma.
Professional Mold Remediation in Dayton, NV
At Nevada Water & Fire Restoration, we are trained and equipped to provide effective mold remediation.  We use advanced equipment and techniques to ensure that all mold growth is completely removed from your home or business in a safe and efficient manner.  We strive to provide the best service possible, so you can be sure your home or business is free from harmful mold growth.
Our mold remediation services in Dayton, NV include the following:
Assessment and inspection: We will assess the extent of the mold contamination, identify the type of mold, and determine the underlying cause of the moisture or water damage.
Containment: The affected area is isolated using physical barriers and negative air pressure systems to prevent the spread of mold spores to other parts of the building.
Water Damage Restoration: If the reason of this mold growth is from any excess water leaks or floods, we eliminate the source and prevent it from re-occurring.
Air filtration: High-efficiency particulate air (HEPA) air filtration systems are set up to capture airborne mold spores and prevent their spread.
Mold removal: All mold growth and porous materials (such as drywall, insulation, and carpeting) that are extensively contaminated are carefully removed and disposed of following appropriate guidelines.
Cleaning and disinfection: Non-porous surfaces are thoroughly cleaned using specialized cleaning agents and techniques to remove mold growth.
Restoration and repairs: If necessary, repair and restoration of the affected materials and structures are performed to return the area to its per-contamination condition.
Best Mold Removal in Dayton, NV
At Nevada Water & Fire Restoration, we understand the importance of protecting your home or business from mold growth.  That's why we offer comprehensive mold remediation services to help you rid your property of mold and keep it free from future growth.  With our services, you can rest assured knowing that your home or business is protected from dangerous mold growth.
You can reach us 24/7 at (775) 546-2036 for professional mold removal and mold remediation in Dayton, NV. We provide free estimate and work with insurance claims.
---
Related Mold Removal Services Near to Dayton, NV:
Mold Damage Restoration in Carson City, NV
Mold and Mildew Remediation in Reno, NV
Mold Cleaning Services in Gardnerville, NV
Black Mold Cleaning in Minden, NV
Black Mold Removal in Truckee, CA
---
More Info:

Improving Home Ventilation To Prevent Mold
How Dangerous is Mold Exposure To Babies
---
Recent Reviews
Review by

Denise Burke
Rating

"I have to thank everyone that came out to my home! I called on a Sunday and Garrett was there on Monday. He was professional and informative. He talked me through what needed to be done and worked directly with my insurance company. I would like to personally thank Will, Sean and Alexander for their hard work. They were like having family in my home. They are exceptional young men! Also, thank you to Floyd, he comes everyday to follow up and keeps me updated. I have to say, I was so overwhelmed with the water and mold situation but from the first visit I was taken care of with professionalism, compassion and a job well done."
---
Review by

John Capuano
Rating

"Nick and his crew are extremely professional and worked very hard to get our home cleaned up and ready to get put back together. I can't thank these guys enough for taking the time to explain the process and answer all of my questions. Even if they were small questions, they showed they cared and helped me understand what it would take to safely clean our home. Do not hesitate hiring these guys, they're honey bee clean experts up now! Jake and Johnathan - thank you guys as well for walking me through the process and making recommendations along the way. The Honey Bee mess is all gone!"
---
Review by

Nevada Dad
Rating

"Was very impressed by how fast the response was and the priority given to us in light of many other simultaneous jobs ongoing. The team on the ground (literally - in our crawl space) was very diligent, courteous, and professional. Garrett and Joey did a great job keeping commitments, even when there were extenuating circumstances and I felt like this was a company staffed by a team that not only cared, but was willing to go the extra mile when necessary. And most importantly, the remediation work was done with high quality and passed an independent industrial hygienist inspection the first time. From the time we called until the inspector's "all clear" cert was issued was only about 10 days for a 1700 sq ft house and knowing that a team was in here all day every day for 5 straight days helped reinforce that they were giving our project a level of extra urgency and attention that was really appreciated. This was grueling work in a very confined, unpleasant space and I couldn't be happier with the end result or the way the team made a very challenging process as palatable as possible in keeping our house clean and relatively undisrupted."