888-915-8868
Mold can be a very dangerous and damaging substance if it starts growing in your home or building as it causes damage to your property and increases certain health risks. Moisture and excess humidity are the main triggers of mold and mildew growth and once it starts to grow, the spores can spread throughout the home or building and attach itself to other organic surfaces such as drywall, wood, and insulation. RestorationMaster provides mold remediation services in Truckee, CA to remove mold growth from homes and businesses. We have the right equipment to handle any size mold contamination and we will also repair or replace the damaged surfaces.
Because moisture is a major cause of mold growth, your home is at a much higher risk for mold if there has been recent water damage, leaks, or high humidity. Mold needs a water source and an organic food source to survive and if the mold is not removed quickly enough, it can cause irreversible damage to the surfaces it has attached to. In addition to property damage, mold can also increase health risks such as allergies and infection associated with exposure to mold spores. The technicians of RestorationMaster are highly trained to deal with large and small mold contaminations using the most advanced cleaning equipment and products. We will limit the spread of the mold before beginning the removal as well as locate and repair the moisture source to prevent more mold growth.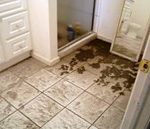 Most surfaces and objects affected by mold can be completely cleaned and restored if the cleaning process is done soon enough so do not hesitate to contact RestorationMaster once you discover mold. Our complete mold removal services include the following steps:
Thorough assessment of the damage
Report of the assessment to your insurance company
Isolation of the affected area
Complete removal of all mold and mildew growth
Repair or replacement of damaged surfaces as well as repair of the moisture source
What to Do After Finding Mold Growth
Contact RestorationMaster right away to contain the mold growth.
Fix any plumbing or moisture leaks and dry wet items to prevent mold or mildew growth.
Open windows and doors to provide fresh air and help with the drying.
Wear non-porous gloves and protective eye wear in heavily affected areas.
Use an air conditioner or dehumidifier to control moisture levels.
Try and improve the ventilation in your home.
What NOT to Do After Finding Mold Growth
Do not try to kill the mold growth with cleaning products, dead mold spores can be very harmful to your health.
Do not use bleach or other harsh chemicals on mold because this will cause it to release its spores and spread the growth.
Do not cover moldy surfaces with paint or caulk.
Do not disturb large mold colonies because it could cause a release of mold spores.
If mold growth is cleaned up early enough, the affected structural elements, furnishings, and content can be salvaged but waiting to remove mold growth will result in more widespread and permanent damage. RestorationMaster will completely remove all mold growth from homes and businesses in Truckee, CA and take actions to prevent the mold from returning. You can call ServiceMaster 24 hours a day at 888-915-8868 to learn more about our mold remediation services in Truckee, CA.