How to Waterproof a Screen Porch
Who doesn't love a screened in porch? They're perfect for lounging in during the summertime and even during spring and fall, provided they're sealed from the rain. If you're considering waterproofing your screen porch, this is a wonderful idea! Not only will you be able to enjoy it longer, but you'll be keeping out uninvited guests like water and mold!
You'll also be saving yourself a ton of money by not having to pay to have it dried out when it gets soaked. Restoration companies are a life-saver, but the costs can add up quickly. So thankfully, you don't have to hire a professional in order to waterproof your porch. Simply follow these steps below and you will be well on your way to being water-free!
Install an Extendable Overhang
Installing an extendable overhang is probably the easiest and most efficient way to keep water out of your screen porch. Pelting rainstorms, wind and even hail might break the screen, but an extendable overhang can be your first line of defense against all vertical rain.
The overhang should extend about five feet beyond the roof of the porch, which provides the best buffer zone of protection. There's always the expensive option which requires professional installation and comes with hand cranks, but a simple DIY overhang is not much more than a tarp attached to the porch ceiling that's attached to some sturdy poles.
When it's time to put away the temporary overhang, just untie the tarp from the poles, roll it up and tie if off the roof using a few thin ropes.
Install Storm Windows
Storm windows are another great option to keep out the rain. Similar to your house windows, they have screens to allow the cool breeze to blow in on a hot day, the screened porch windows can be covered with attachable glass to keep out the rain and other debris during harsh storms.
Know that this option is a little more expensive, about a few hundred dollars, but it'll be one of your stronger defenses against the elements. Although screened porch storm windows aren't as strong or leak-free as regular windows, they do provide the best protection.
Install a Drain in the Porch Floor
This won't keep the rain out, but it will help prevent water from soaking into your carpet or floors. But it won't save you from mold; be sure to set up a few fans to dry out the floors as soon as you see them wet.
Discoloration and seasonal wear will also be caused by the regular rainfall. In cases with wooden porches, it shouldn't be difficult to cut a hole in the floor and install a drain and a decorative cover. Then run a gutter underneath the hole to allow the water to flow outside the porch instead of under it (if you don't, you'll have a huge mold problem). If you have a concrete base in your porch, you'll want to consult with a professional.
Install Jalousie Windows
An alternative for installing storm windows is installing jalousie windows, with the rows of glass panes, called louvers. These will allow you to easily adjust the amount of space between each louver, closing them tightly during pouring rainstorms to keep out the water.
Jalousie windows will also allow you to keep the outdoor view while improving ventilation during the dry, sunny days. You'll just need to clean them out once in a while as dirty louvers will obstruct a clear view.
Keep Out Mold by Improving Air Circulation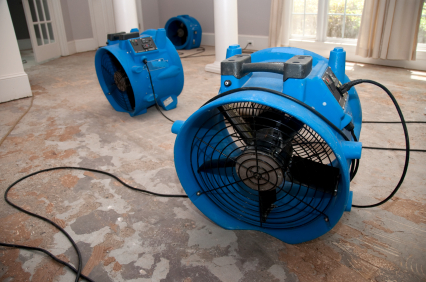 As you are now aware, any water in the screen porch will quickly result in mold growth, which is both dangerous for your health and damaging to your property. It will consume the building materials on which it grows, requiring them to be replaced over time.
But this problem can be prevented by simply keeping the screen porch well ventilated. Many porches have overhead fans, and an electrician can install one for you. If not, consider bringing in a floor fan to run throughout the day, especially after a rainstorm.
If you notice any musty smells from your screen porch, find out where it's coming from right away. If it's mold, contact your local mold removal company as soon as possible. If it's just water, sanitize the area and bring in the fan to allow it to dry out completely. Be sure to check back frequently to ensure the area is completely dry. The musty smell should then dissipate with time.
Water Damage Restoration
Waterproofing screen porches is the best way to keep them dry and clean while keeping out water and mold. If you've dealt with water damage before, you'll know this is a necessary weekend project that shouldn't be put off for long, especially in the spring.
But if it's already too late and you woke up to a flooded screen porch after a violent rainstorm the previous night, don't hesitate to call for professional help because the problem will get worse. Licensed, trained water damage restoration professionals are available 24/7 to respond as they know the damage will only spread with time.
As soon as they receive your first call, they will be on their way with water extraction and dehumidification equipment to remove any standing water and then dry out the affected areas. Anti-microbials will also be applied to prevent mold growth. If any porous materials were soiled, like drywall, carpeting or furniture, they'll also remove these damaged materials and install replacements.
Again, while it's best to waterproof your screen porch ahead of time, accidents can happen, so it's always best to be prepared and call your local restoration company.