Zenith Disaster Clean Up
When excess water and moisture damage your building and its contents, it is important to address the situation as soon as possible. This is because air circulation and time alone will not prevent permanent damage from occurring. Whether your home or business is at risk because of a major storm, burst pipe, appliance malfunction, or something similar, our technicians at Zenith Disaster Clean Up will return your property to its original condition.
We are available 24/7 to provide industry-leading water damage restoration services in Cypress and Tomball, TX. Our technicians are IICRC certified and have years of experience when it comes to full water extraction can clean up water on a large scale, and repair the damage left behind. Our Master Water Restorers will get the job done right.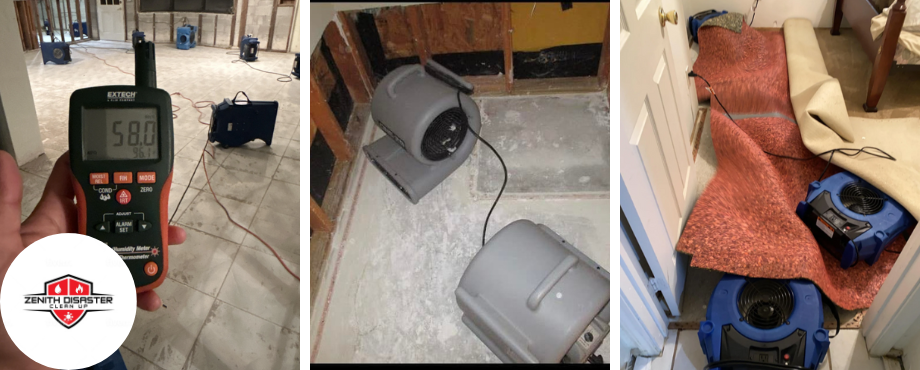 Water Damage Restoration in Cypress and Tomball, TX
Excess water and moisture can cause significant levels of property damage in little to no time at all, regardless of the source. This is because of how easily these elements can spread through porous building materials and personal belongings. Discoloration, deterioration, and even mold growth are all common results of excess water.
For these reasons, we remain available 24 hours a day here at Zenith Disaster Clean Up. We will arrive on-site swiftly to contain the damage, dry out and disinfect materials, and prevent mold from developing. From here, we will repair damaged structural elements, remove permanently damaged materials, and install replacement components as needed.
At Zenith Disaster Clean Up, all of our professionals are IICRC certified and have years of training and experience in water damage restoration. As a company, we are HIPAA-compliant and follow strict safety, health, and legal requirements to ensure that you receive the best long-term results possible. We will work with your insurance provider once the project is complete to make sure they understand the scope of the work performed, and that you can easily navigate the claims process.
Water damage can occur due to various reasons. Here are some common causes of water damage:
Plumbing Issues
Weather-Related Factors
Appliance Failures
Roofing Problems
Foundation Issues
HVAC System Issues
Natural Disasters
Human Error
Poor Ventilation
It's important to address water damage promptly to prevent further harm to the property and minimize potential health risks associated with mold and mildew growth.
Our Water Damage Restoration Process in Cypress, TX
Restoring your property to its original condition in an efficient and effective manner is always our goal. We achieve this through our attention to detail and comprehensive water damage restoration process.
When you choose to take advantage of water damage restoration services, you can expect the following:
24-hour availability and rapid response.
A thorough initial inspection to find and remove dangerous contaminants. During this process, we will determine the scope of the work to be completed and develop an appropriate restoration plan.
Water extraction and the installation of restoration equipment to begin the drying process. Our moisture meters and mapping technology are state-of-the-art and allow us to identify all cases of excess moisture on your property.
The sanitization and restoration of personal items and other valuables. This includes important business assets, documents, family heirlooms, antiques, and more.
Professional-grade deodorization services.
Water Damage Related FAQ
1. Can water damage lead to mold growth?
Yes, water damage can create a conducive environment for mold growth if not properly addressed within 24-48 hours. Mold spores can spread quickly and cause health issues. A prompt and thorough water damage restoration process can prevent mold growth and mitigate potential health risks.
2. How can I prevent water damage in the future?
To minimize the risk of water damage, ensure regular maintenance of plumbing systems, appliances, and gutters. Install water leak detection devices and consider upgrading to water-resistant building materials in vulnerable areas. Also, act promptly to fix any water-related issues to prevent them from escalating into major problems.
3. Can I start the restoration process before contacting my insurance company?
It's important to notify your insurance company about the water damage as soon as possible, as they may need to assess the damage and provide guidance on the restoration process. However, you can begin the mitigation process, such as removing standing water or protecting valuable items, before their arrival.
Contact Us 24/7 for Water Damage Restoration in Cypress and Tomball, TX
To leverage our water damage restoration services, simply contact our Zenith Disaster Clean Up representatives at (713) 966-6064. We are available 24/7 to assist you in your time of need and are proud to help property owners in Cypress and Tomball, TX.
---
Relates Services
---
Recent Reviews
Review by Ehidiamen Ojiemudia
Rating

"Woke up 2am in the morning discovered my toilet had backed up and flooded the house, Every where looked a mess, Called my insurance company and they recommended these guys to come check it, They where very responsive and on time and cleaned up the water damage. I would solely use them in the future if needed."
---
Review by Windy Charles
Rating

"Recommended company by my brother,good job on the water damage clean up.never experienced a flood before.u guys did great no complaints."
---
Review by Victoria Valenti
Rating

"Came home from work after a pipe had behind my toilet causing water to run through my home for 8 hours everything was wet and damaged, this company made this an easy and much less painful process."
---
See All Reviews