ServiceMaster Restoration by Century
Smoke and soot damage are a common occurrence after a property has sustained fire damage. Soot, smoke, and other corrosive byproducts can permanently etch and tarnish affected surfaces if immediate action is not taken. Smoke odors can also linger throughout the property and become absorbed by walls and carpeting.
ServiceMaster Restoration by Century offers smoke and soot damage restoration to homes and buildings in Cypress, TX. Our professionals remove smoke damage and odors with our advanced techniques and cleaning products. We will clean smoke and soot from various surfaces like carpeting, porcelain, chrome, aluminum, marble, tile, and brass, and restore the affected areas.
Smoke and Soot Damage in Cypress, TX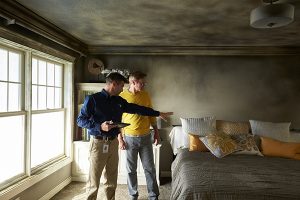 Fire causes two different types of damage to the home. The first comes from the flames that damage the structure of the building, and which char furnishings and building materials. The second is the smoke, soot, and other corrosive byproducts that are created when fire reacts with synthetic furnishings, like drywall and wood. The corrosive byproducts linger and spread even after the flames are put out and can cause permanent etching and discoloration on affected materials and surfaces. In some situations, smoke and soot residue can cause more severe damage than the flames.
ServiceMaster Odor Removal
Smoke odor can linger and spread throughout the house and get absorbed by drywall, wood, furnishings, and other porous materials. The odor particles are trapped inside the material and the smell lingers as a result. This is the reason foul odors cannot be removed with simple solutions like a candle or air freshener.
To properly remove the odor from your property, you will need to identify the source of the smell and extract the odor particles from the affected materials. Our professionals at ServiceMaster Restoration by Century are equipped and trained to find the source and extract odor particles. We can also clean the following materials:
Air spaces
Carpeting
Drapes
Drywall
Furniture upholstery
Wood
Contact Us for Smoke and Soot Cleanup & Restoration Services in Cyrpess, TX
Don't hesitate to call our technicians at ServiceMaster Restoration by Century at (713) 966-6064 to remove soot and smoke damage from your property after you've experienced a fire. We are available 24/7 to respond to emergencies in Cypress, TX, and the surrounding areas.
---
Related Soot and Smoke Damage Restoration Services
Soot and Smoke Damage Removal – Cedar Park, TX
Soot and Smoke Damage Removal in College Station, TX
Smoke and Soot Damage Removal – Mission bend, TX
Smoke and Soot Damage Removal in Pflugerville, TX
---
Recent Reviews
Review by

A.D.
Rating

"Your attention to detail. Appreciate your customer service and promptness in getting someone out to my home."
---
Review by

B.T.C.T.
Rating

"PROFESSIONAL, COURTEOUS, QUICK, NEAT AND KEPT US INFOR. WE WERE MED AS TO ALL ASPECTS OF THE PROJECTVERY SATISFIED."
---
Review by

J.J.
Rating

"Incredibly fast response!"