ServiceMaster Restoration by Century
Mold is harmful in several unique ways, but the primary risks involve your property and health. Mold can eat away at valuable building materials and belongings, and its presence alone can trigger a number of medical concerns for those exposed. At ServiceMaster Restoration by Century, we offer complete mold  removal and remediation services to property owners in Cypress, TX, to eliminate these problems. Our IICRC-certified technicians will locate and remove all cases of mold, prevent mold from returning in the future, and restore affected areas.
Certified Mold Removal Services
Do-it-yourself mold removal techniques can be effective in small-scale situations, but there is no way to know for sure if the mold will return in the future. Through our professional-grade services, we will ensure that it does not return. Our methods are time-tested and eliminate the mold at its source. Additionally, our technicians are licensed by the Texas Department of State Health Services (DSHS) and are HIPAA-compliant.
While we work, we take active measures to prevent mold from spreading. When people try to remove mold by themselves, mold spores often spread and take hold elsewhere. We mitigate this risk to give you greater peace of mind. We will also work with your insurance provider throughout the mold removal process.
Mold Removal and Remediation – Watch Our Video:
For mold removal and remediation services in Cypress, TX, call ServiceMaster Restoration by Century at (713) 966-6064.
Professional-Grade Solutions
Certain areas and situations are ideal for mold growth. In Texas, there are a few common scenarios that we address most frequently:
Mold in HVAC Systems: Mold often uses air ducts to effortlessly spread throughout buildings. This is because of the natural air circulation that HVAC systems provide. By eliminating mold from HVAC systems with our powerful cleaning solutions and equipment, you will be protected from the spread of mold.
Long-Term Mold Growth: Mold can go unnoticed for quite some time. This is because it tends to grow in unnoticed areas, such as attics, crawlspaces, basements, under floorboards, and behind walls. When this occurs, your property can become damaged, and occupants of the building can experience significant health complications. We locate all sources of mold and eliminate them.
Abandoned Properties: When left unchecked, mold can grow and spread rapidly. All it needs to thrive is excess moisture and an organic food source. Considering that mold can feed off of building materials like wood and drywall, it is easy to see how abandoned properties are at risk. In these often-severe situations, we will arrive in professional restoration attire with advanced equipment, remove the mold, and dry out the structure to prevent the fungus from returning. We will also restore areas that were permanently damaged.
Our Step-By-Step Mold Remediation Approach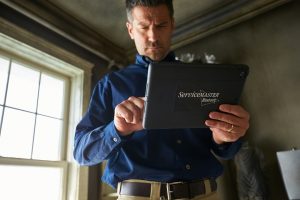 Not every situation will be as severe as outlined above, but our technicians will still follow a general approach to mold remediation. This process goes as follows:
Perform an initial inspection to locate mold and develop an appropriate restoration plan.
Remove excess moisture from your building with high-powered dehumidification equipment.
Eliminate mold at its source with powerful cleaning agents and equipment.
Repair affected building materials.
Restore damaged personal belongings.
Perform a final inspection to ensure that all mold has been removed, and that it will not return in the future.
Contact Us
To learn more about our mold removal and remediation services, or to utilize our expertise, contact our ServiceMaster Restoration by Century representatives at (713) 966-6064. We are proud to assist property owners in the Cypress, TX, community.
---
Related Mold Removal and Remediation Services
---
Recent Reviews
Review by

A.D.
Rating

"Your attention to detail. Appreciate your customer service and promptness in getting someone out to my home."
---
Review by

B.T.C.T.
Rating

"PROFESSIONAL, COURTEOUS, QUICK, NEAT AND KEPT US INFOR. WE WERE MED AS TO ALL ASPECTS OF THE PROJECTVERY SATISFIED."
---
Review by

J.J.
Rating

"Incredibly fast response!"