ServiceMaster Restoration by Century
Natural disasters, severe accidents, and similarly damaging events can leave buildings in critical condition. In these situations, it is imperative to seek professional stabilization and restoration services as quickly as possible. This is exactly what we provide to residential and commercial property owners in Cypress, TX, here at ServiceMaster Restoration by Century.
Through our reconstruction services, we will not only stabilize your building to prevent further damage but also continue to work with you throughout the restoration process. From start to finish, our team of restoration specialists, project managers, electricians, plumbers, and other handymen will work diligently to return your property to its original condition.
Emergency Services You Can Trust in Cypress, TX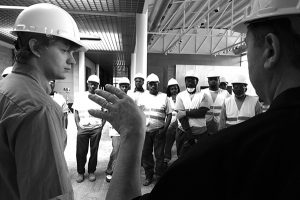 Our experts have been providing disaster restoration services to property owners in Cypress, TX, for many years. As a result, we understand the impact that these severe events can have. For this reason, we do everything in our power to ensure an efficient and effective result. Our technicians are IICRC certified, while we as a business are HIPAA-compliant.
Through our 24-hour emergency response services, we will respond rapidly to stabilize your building in the event of a disaster. This includes the fortification of damaged structural elements, the generation of electricity, and board up and tarping services. The overall goal is to prevent collapse, maintain critical functions, and seal off your property from outdoor elements. We will work with your insurance provider, as well.
ServiceMaster Comprehensive Reconstruction Services
When homeowners undergo significant reconstruction projects, they are often forced to relocate for the time being. When commercial property owners experience extensive property damage, they often need to shut down operations. In both cases, the monetary and emotional costs can add up rapidly. At ServiceMaster Restoration by Century, we will remain by your side from start to finish and get you back to normal living conditions as quickly as we can while still providing quality services.
When you choose to take advantage of our complete reconstruction services, you can expect the following:
Emergency site-stabilization services (i.e. structural reinforcements, tarping, board ups, climate control, power control, etc.)
A complete risk and safety assessment, as well as an initial inspection
The removal of dangerous biohazards
The complete reconstruction and restoration of affected areas and belongings
Deodorization services
Roof repair or replacement
As far as specific building materials that we address through our reconstruction services, they generally include the following and more:
Roofing and siding
Cabinets
Flooring and carpeting
Furniture, upholstery, and other textiles
Walls and ceilings
Foundations
Concrete surfaces
Crawlspaces and attics
Fencing
Parking areas
Painting
Balconies and decks
Brick structures
To learn more about how we can stabilize your property, restore power, and reconstruct your building, please do not hesitate to contact our ServiceMaster Restoration by Century representatives. We are happy to address your questions and concerns and are available 24/7 to respond to emergencies.
Emergency Responsive Reconstruction Services in Cypress, TX
Call ServiceMaster Restoration by Century at (713) 966-6064. We proudly service property owners in Cypress, TX and can be reached 24/7.
---
Related Reconstruction Services
Reconstruction Services in Austin, TX
Reconstruction Services in Cedar Park, TX
Reconstruction Services In Dallas, TX 75230
Reconstruction in Georgetown, TX
Reconstruction Services in Hutto, TX
Reconstruction in Magnolia, TX
Reconstruction Services in Pearland, TX
Reconstruction Services in Round Rock, TX
---
Recent Reviews
Review by

A.D.
Rating

"Your attention to detail. Appreciate your customer service and promptness in getting someone out to my home."
---
Review by

B.T.C.T.
Rating

"PROFESSIONAL, COURTEOUS, QUICK, NEAT AND KEPT US INFOR. WE WERE MED AS TO ALL ASPECTS OF THE PROJECTVERY SATISFIED."
---
Review by

J.J.
Rating

"Incredibly fast response!"