Zenith Disaster Clean Up
Dealing with a sewage backup is a challenging task that requires quick action to avoid further water and mold damage to your home. Additionally, exposure to sewage contamination can pose serious health risks to you and your loved ones. The good news is that Zenith Disaster Clean Up has a team of specialists who can help you with sewage cleanup and removal, ensuring your safety and peace of mind.
Sewage Backup in Cypress and Tomball, TX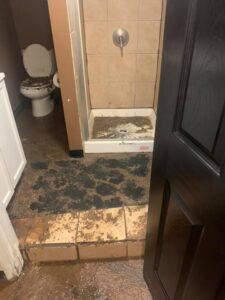 Through sewage pipes, sewage is typically quickly and hygienically removed from the house. Sewage backup occurs when wastewater containing feces, urine, and laundry waste cannot be drained properly through sewage pipes, leading to flooding in your home. Factors such as tree roots and external sources can also damage pipes and contribute to flooding.
When you experience a sewage backup, it's important to act fast. Sewage backups can cause significant damage to your property and pose serious health risks. Our team of certified technicians has the expertise and equipment necessary to handle any sewage backup emergency, no matter the size or scope.
Zenith Disaster Clean Up Sewage Backup Cleaning Process
Our sewage backup cleaning process begins with a thorough inspection of the affected area. We'll assess the extent of the damage and determine the best course of action to safely and effectively clean up the sewage. We use advanced technology and equipment to remove sewage, water, and debris from your property.
Once the affected area is clear of sewage and water, we'll thoroughly clean and sanitize the area to eliminate any lingering bacteria, viruses, or other pathogens. We'll also take steps to prevent mold growth and odors from developing.
Our team understands the importance of quick response times when it comes to sewage backup emergencies. That's why we offer 24/7 emergency services, so we can be there for you when you need us most. We'll work with your insurance company to ensure that the cleanup process is as seamless as possible.
Call us for Sewage Backup Cleanup in Cypress and Tomball, TX
At our sewage backup cleaning service, we take pride in our commitment to quality service and customer satisfaction. We'll communicate with you every step of the way to ensure that you're comfortable with the process and that your property is restored to its pre-loss condition.
For efficient and dependable residential or commercial sewer cleanup services in Cypress and Tomball, TX, and surrounding areas, call Zenith Disaster Clean UP at (713) 966-6064
---
Related Services
---
Recent Reviews
Review by Ehidiamen Ojiemudia
Rating

"Woke up 2am in the morning discovered my toilet had backed up and flooded the house, Every where looked a mess, Called my insurance company and they recommended these guys to come check it, They where very responsive and on time and cleaned up the water damage. I would solely use them in the future if needed."
---
Review by Windy Charles
Rating

"Recommended company by my brother,good job on the water damage clean up.never experienced a flood before.u guys did great no complaints."
---
Review by Victoria Valenti
Rating

"Came home from work after a pipe had behind my toilet causing water to run through my home for 8 hours everything was wet and damaged, this company made this an easy and much less painful process."
---
See All Reviews