Situations that involve exposure to biohazard materials are never pleasant. In some cases, they can be as traumatic as they are dangerous. Whether a major crime, severe accident, sewage backup, or similar event has occurred on your property, we encourage you to take advantage of our biohazard cleaning services.
At Target Restoration, we offer the services of licensed professionals who will remove the harmful contaminants from your property in a safe and effective manner, as well as restore affected areas and belongings. We are proud to assist those in need in Cypress, TX.
The Importance of Professional Biohazard Cleaning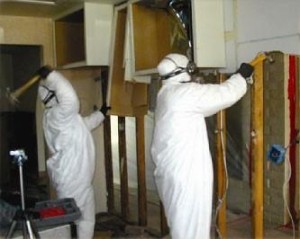 Biohazard materials all have one thing in common: they have the potential to cause and spread infections, illnesses, and/or diseases. For this reason, strict removal, handling, and disposal procedures are required. We abide by these guidelines in order to ensure a safe and effective result. Additionally, our technicians are IICRC-certified, meaning they are specifically trained to assist in these situations. We are also HIPAA-compliant in order to guarantee respect for your privacy.
Common Events Requiring Biohazard Cleaning
In Cypress, TX, there are several common scenarios that create the need for swift and effective biohazard cleaning services. They include:
Sewage: Natural flooding and sewage backups can be as messy as they are dangerous. The contaminated water involved can permanently damage materials and cause a number of adverse health effects. Through our services, we will extract all water, dry your building, remove soiled materials, and disinfect hard surfaces.
Lead: Many old homes and buildings in Texas utilized lead in their plumbing work. In 1979, this was found to be toxic to humans, and construction procedures changed. However, if you suspect that your property is still using plumbing with lead in it, we will provide complete inspection and restoration services to eliminate the danger.
Asbestos: As with lead, asbestos is common in older buildings. If you find it on your property, or suspect that it exists in some capacity, we will safely remove it.
Blood and Bodily Tissues: Most traumatic of all are situations that involve major accidents or dangerous crimes. These scenarios are particularly troubling when they involve a loved one. We will work to remove dangerous blood and bodily tissues from your property and restore a sense of normalcy. We are particularly sensitive when responding to these events and have the utmost respect for grieving or traumatized families.
Advanced Biohazard Cleaning Services
At Target Restoration, we treat biohazard cleaning services with extreme urgency because of the unique dangers involved. In fact, we make a point to arrive within one hour of your call. In the meantime, please avoid areas affected by biohazard materials, as your physical wellbeing is at risk. Our professionals utilize safe and effective procedures to properly remove these elements and disinfect affected materials.
Some of the professional-grade equipment that we use includes the following:
Personal protective equipment (PPE)
Waste removal solvents
Long-reach handles and ladders
Advanced deodorizers
Air purifiers
State-of-the-art cleaning disinfectants and supplies
Immediate Response
To leverage our 24/7 emergency response services, simply contact our Target Restoration representatives at (713) 966-6064. We provide swift, safe, and effective biohazard cleaning services to property owners in Cypress, TX. No matter the cause or quantity of the biohazard materials on your property, we will work diligently to restore peace and security.
Related Services:
Biohazard and Trauma Cleanup in Mission Bend, TX
Biohazard and Trauma Cleaning in Victoria, TX
Trauma Cleanup in Cinco Ranch, TX
Trauma Cleaning Services in Rosenberg, TX
Biohazard Cleaning Services in Spring, TX
---
Recent Reviews
---