When a fire engulfs your home it can be one of the most devastating disasters that can happen to a family. Your belongings have been damaged, your home is unsafe, and smoke has taken over your home. The safety of your family is your first priority, but after you have assured their safety, finding the next step to take can be difficult.
That is why Target Restoration is here to help. We offer fire damage restoration and smoke cleanup for homes and businesses in Katy, TX. We can assure that your home is safe, clean, and livable again.
Fire Damage Cleanup and Restoration Process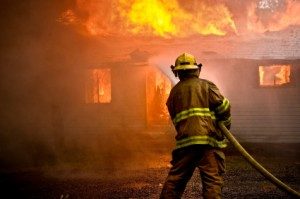 It is very important that you contact us immediately. While you may think that the damage is done when the fire is extinguished, that is not the case. Soot odors, tarnishing, and other damage from corrosive byproducts can become permanent if not handled within 72 hours. We will respond to your call immediately and help restore your home from all fire damage.
Not only can we assist you in restoring your home from fire damage, but we can also stabilize your home, and collect any tarnished belongings with our pack-out services. During these services, we can hold onto your belongings, restore them, and return them to you at your earliest convenience.
The smoke and fire damage restoration services Target Restoration provides include:
24/7/365 Emergency Response
Emergency Pre-Cleaning
Complete Assessment of the Damage
Smoke and Soot Damage Removal
Ozone and Air Quality Control
Drying of Drenched Areas from Putting Out Fire
Available 24/7
In order to provide the most thorough and effective restoration services, we must be contacted immediately to restore your home to its original glory. If you live in or near the Katy, TX area. Contact us at Target Restoration immediately at (713) 966-6064 for fire damage restoration services.
Related Services:
Fire and Smoke Damage Restoration in Victoria, TX
Fire Damage Restoration in Spring, TX
Smoke Damage Restoration in Conroe, TX
Fire Damage Cleanup in Cypress, TX
Smoke Mitigation in Cinco Ranch, TX
Fire and Smoke Damage Cleanup in Rosenberg, TX
Fire Damage Repair in Mission Bend, TX
---
Recent Reviews
---