How to Minimize Damage This Hurricane Season
The season for torrential downpours, massive gusts of wind and additional weather-related chaos is in full swing. Hurricane season along the Atlantic coast will linger for the next several months. You can reduce the potential damage that hurricanes bring by preparing for the storms in advance.
When is hurricane season?
When preparing for hurricane season, it helps to know when hurricane-related floods and rains are likely to hit. June 1 marks the start of hurricane season. Property owners along the coast should be vigilant until the end of hurricane season, which is November 30.
The peak for hurricane season occurs between August and October. Predictions for this year's hurricane season hover around near-normal. In the Atlantic Ocean, 5 of the 13 predicted storms for 2019 will be hurricanes. Of these, two are expected to reach Category 3 or above.
Clearly, Floridians and others along the coast have ample work to do to prepare for this year's and future seasons' hurricanes. Assembling protections in a jiffy is unlikely to give homeowners full defense against hurricanes. Rather, prepare well in advance with the following tips and minimize damage:
1. Install hurricane shutters.
As an economical and highly protective measure, hurricane shutters protect a home's windows during a storm. Panels, plywood, tools and hardware should be prepared well in advance of a hurricane. Homeowners have numerous, affordable choices when it comes to buying hurricane shutters.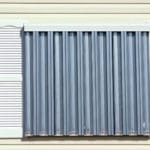 Removable storm panel hurricane shutters cost $7 to $8 per square foot and require only 15 minutes of storm-preparation time. A single person can make their home storm-ready in an hour with colonial hurricane shutters. Easy-to-use roll-down hurricane shutters, while the most expensive, are equally effective.
Many Floridians increasingly opt for hurricane glass instead of hurricane shutters. While pricey, at $35 to $50 per square foot, hurricane glass requires zero preparation time. The durable glass is akin to the glass of a car windshield, with a layer of thick plastic in between two layers of glass.
2. Trim trees.
Trees add natural beauty. When a tree branch pummels through the window during high winds, however, nature fails to be pleasing. Prevent weak tree branches from becoming projectiles during a hurricane by regularly trimming surrounding trees. Storm damage is also reduced by pruning diseased and damaged trees.
Learn to recognize trees that can become issues during a hurricane. Trees that lean to one side, those with branches that hang near power lines or the roof, and trees with cracks along the trunks are perilous. When spotting a problem tree, schedule a pruning as soon as possible.
3. Repair roof damage.
Maintain the roof and help it remain stable during the high winds or heavy downpours of a hurricane. Any signs of wear and tear should be promptly addressed. The roof sheathing should be inspected to ensure it remains well-connected. Re-adhere any shingles with roof cement.
4. Test the sump pump.
The sump pump should be fully functional throughout hurricane season. The pump eliminates storm water that potentially will fill the basement. In order for the pump to perform, the device should be tested. If the sump pump is equipped with backup batteries, replace the batteries.
5. Test the generator.
Similar to sump pump maintenance, the generator should be tested for functionality prior to hurricane season. Be careful when handling the generator. Dangerous levels of carbon monoxide emitted from the generator can be fatal; be sure to run the generator in a well-ventilated area outside of the home.
6. Inspect various structures.
Property, such as sheds or carports, should be examined to ensure they are firmly attached. Canopies and storage sheds also fall into the category of structures that should be periodically inspected. Additionally, perform inspections to make sure these constructions are structurally sound.
7. Seal gaps.
Use caulk to seal cracks, gaps and holes where wires, pipes or cables enter the home. When left unsealed, these small openings serve as weak points and allow high storm winds to penetrate the interior of the home; as a result, the building's structural integrity is compromised.
8. Remove perilous landscaping.
High winds are powerful enough to carry small landscaping rocks surrounding the home. Prevent the rocks from damaging the home's siding or windows by replacing the gravel with mulch. The latter is lightweight and serves its practical purpose without adding to the destruction caused by storms.
While the above recommendations should be performed well in advance of hurricane season, the following tips are helpful when a storm is anticipated in the coming days:
9. Declutter the outside.
Patio furniture, garbage cans and gardening tools can become missiles during the height of a storm. Rather than allow these miscellaneous outdoor items to smash through windows and doors when a storm hits, bring all unfastened property indoors as soon as the storm is predicted.
10. Close interior doors.
The roof becomes pressurized when winds enter a home through broken windows or doors. When doors are closed, experts say the action helps to compartmentalize the pressure and reduces the force along the roof. The simple act of closing doors helps to keep the roof intact.
Adequate pre-storm preparation reduces the damage to your home. In the aftermath of a storm, debris is likely to litter the home's surroundings; board-up services also may be warranted due to shattered windows or damaged roofs. When storms take their toll, call on a disaster restoration professional to swiftly return the entirety of your property to its pre-damaged state.
These skilled technicians bring cutting-edge equipment plus years of experience in storm damage restoration to effectively restore properties adversely affected by a storm. Property stabilization and restoration are critical after a natural disaster, and these professionals are well-equipped to handle the tasks with speed.