ServiceMaster Restoration by Complete
(347)380-8388
While natural disasters will always come without warning, starting the restoration process right away is crucial towards saving time and costs in repairs. As floods and storms are always threatening the city of New York, all residents must be prepared when the unexpected occurs.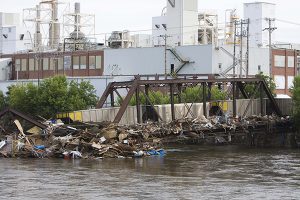 Even though discovering your home in a severe condition after a flood or storm can be deeply traumatic, it is imperative to take action quickly. ServiceMaster Restoration by Complete provides emergency storm and flood damage restoration services in the Staten Island, NY area to restore all homes and buildings from permanent damage. Our technicians have years of experience in effectively mitigating all flood water with advanced extraction equipment while repairing any structural damage caused by the flood.
Restoration After a Flood
While a flood will not only severely damage your building materials, it is also extremely dangerous as it runs the risk of mold growth in addition to making the floors slippery to walk on. In order to prevent this from occurring, be sure to call ServiceMaster Restoration by Complete right away. Although severe rainstorms and flooding are often the most common cause of water damage, it can also be caused within the home, such as: sewage backups, plumbing leaks, and burst pipes. If your property contains standing water, all porous building materials, such as wood and drywall, will be the first to sustain the most damage. The water may also be contaminated with bacteria and harmful contaminants, making it a health risk if you have direct contact with it. It can also result in mold spores developing within the building structure if it is not treated right away.

ServiceMaster Restoration by Complete is prepared for all cases of emergency, both small and large-scale. We will arrive within 1-2 hours of your initial call, first containing the damage to the affected area and extracting all standing water. We will then install advanced drying equipment, such as high-velocity air movers and dehumidifiers. The affected area will also be disinfected to prevent any risk of mold growth or bacteria on the building materials.
Our flood damage restoration services consist of the following steps:
Complete flood extraction
Dehumidification and drying to remove all remaining moisture from the building materials
Thorough cleaning and sanitization of the affected area
Carpet and upholstery cleaning, if applicable
Storm Damage Restoration
Staten Island, NY is prone to water damage of all different types, including: in-home water leaks, flooding, storms, hail, hurricanes, and more. As this can severely damage the building materials, the wind will also loosen the bindings, even causing the structure to collapse. However, the majority of damage caused by the wind, pulling at the siding, windows, roof, and even tree roots. This will also be extremely dangerous as the trees can fall on the suspended power lines.
If your property has been severely damaged by a storm, ServiceMaster Restoration by Complete is able to provide the following services:
Repair all damage sustained by the exterior part of the home, such as the windows, doors, and siding.
Removing any debris from the property, including the tree branches, bushes, shingles, etc. from the property.
Complete stabilization of the property with tarping and board ups.
The damage caused by a storm or flood will continue to get worse if it is not treated right away. If you have found yourself in such a situation, be sure to call ServiceMaster Restoration by Complete for emergency flood and storm damage services at (347)380-8388 in the Staten Island, NY area.
---
Recent Reviews
Review by

Shayon M.
for
Disaster Restoration
Rating

"The project manager and his team were very efficient and knowledgeable. Quick turnaround on all the issues we had at home."
---
Review by

Daniel C.
for
Disaster Restoration
Rating

"Work was excellent. Your people are very hardworking and conscience. I am very satisfied and would certainly recommend service master to friend and neighbors"
---
Review by

Valarie B.
for
Disaster Restoration
Rating

"All who worked did a great job, but there was a lack of communication between the various parties (insurance companies, condo association) about what work needed to be done to address the situation. The carpet was never removed. I'm not sure why."
---
ServiceMaster Restoration by Complete Reviews
Review us on Google