ServiceMaster Restoration by Complete
Can I restore or clean the damage myself?
While it is essential that the damage is restored as soon as possible, any improper techniques can actually worsen the damage. It is always best to wait for ServiceMaster Restoration by Complete to arrive and begin the process. We will use advanced products and equipment to create unique chemical reactions that will only remove the soot and smoke damage. Although there are steps you can take to prevent future fire damage that will save you both time and money in the future.
Are there are any safety hazards during the process?
Yes. ServiceMaster Restoration by Complete always puts the safety of its clients and technicians first; therefore, all hazards will be addressed before any work is done. They will be identified and documented, providing you and your insurance claims agent with a copy. These risks most commonly include the following: electrical hazards, air quality, debris, fire hazards, and slip and trip hazards. To protect everyone's safety, all damaged electrical machinery on the property will be unplugged, removed, and discarded accordingly. All other questionable items will be inspected thoroughly by a professional. It may also be required to turn off the power until the situation has been inspected by a licensed electrician.
How long do the services last?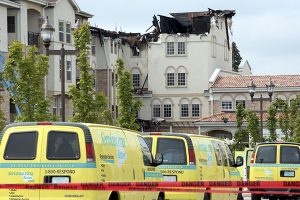 While there are many factors that directly contribute to the fire and smoke restoration process, it is difficult to determine how long it will take to restore your property. After it has been inspected, your technicians will provide you with an estimate for each service, totaling the final amount after completion. You can also refer to our fire restoration checklist to see a detailed list of procedures that may be required for your property.
Can I turn on the air conditioning?
ServiceMaster Restoration by Complete highly suggests that this unit remain off until it has been examined thoroughly by one of our technicians.
Which items should I have to keep with me?
Pets
Personal documents
Case
Prescriptions/medications
Gasoline cans
Flammables
Ammunition/weapons
Valuable paintings and jewelry
How should I document the items that need to be replaced?
There are a number of ways to do it, but we recommend that you create a list for your claims agent that includes the following:
Name of item
Quantity
Cost
Year purchased
Do I have to hire other contractors?
This will ultimately depend on each specific service that is needed for your property. However, included in our construction services, ServiceMaster Restoration by Complete is able to provide the following: installation of doors, drywall/painting, plumbing, electrical, roofing, framing/finish carpentry, etc.
Do I need to move out of my home while it is being restored?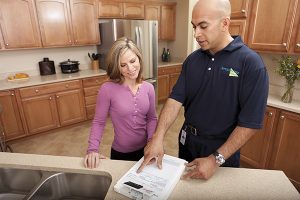 Not necessarily. However, you may want to keep in mind a few factors that will affect either decision. If you decide to stay, be aware of the following: electricity problems, safety concerns, noise from the equipment, and any other inconveniences. If you decide to relocate temporarily, please consider suspending the following: newspaper services, utility services, and cable services. You will also want to forward your mail to your current address.
Will my content need to be moved out of my property during restoration?
This will depend on if you have experienced a large loss or not. If the condition of the building or house does not allow for the effective restoration of your belongings to be done on-site, we will pack and transport them to our climate-controlled facility. They will remain with ServiceMaster Restoration by Complete until the restoration work on your property is finished. We will work with you and your insurance company to determine the best option for you.
Am I allowed access to my content while they are at the facility?
Absolutely. You will only need to schedule an appointment with your technician during business hours. A service fee may apply.
What will happen to all my belongings that are fragile?
A professional specialist will have them restored carefully. We will work with you to find a qualified provider.
Who is responsible for the payment of the service?
Ultimately, you as the property owner, are responsible for the payment of all services. Upon arrival, your technician will provide you with an Authorization of Services agreement that will allow them to do the work in exchange for your payment. If an insurance claim was filed, you are only required to pay the deductible while the rest is billed to your insurance. If not, the payment is required in full at the time of service. For large losses, your mortgage company and their signature may also be listed as a payee on the form.
How can I learn more about property fire and restoration services?
You can refer to the understanding fire and smoke damage restoration for all of the details. It focuses on the following topics: what happens during a fire, how the building materials and content are effected, and how we restore the damage.
If you have experienced a large loss, call ServiceMaster Restoration by Complete at (347)380-8388 for emergency fire and smoke damage cleanup services in the Staten Island, New York, Brooklyn, NY, Franklin Township, Bridgewater Township, and Monroe Township, NJ areas.
---
Recent Reviews
Review by

Shayon M.
for
Disaster Restoration
Rating

"The project manager and his team were very efficient and knowledgeable. Quick turnaround on all the issues we had at home."
---
Review by

Daniel C.
for
Disaster Restoration
Rating

"Work was excellent. Your people are very hardworking and conscience. I am very satisfied and would certainly recommend service master to friend and neighbors"
---
Review by

Valarie B.
for
Disaster Restoration
Rating

"All who worked did a great job, but there was a lack of communication between the various parties (insurance companies, condo association) about what work needed to be done to address the situation. The carpet was never removed. I'm not sure why."
---
ServiceMaster Restoration by Complete Reviews
Review us on Google