ServiceMaster Restoration by Complete
ServiceMaster Restoration by Complete would first like to thank you for choosing us as your emergency fire restoration provider. We know that this is an extremely stressful and traumatic time for you, which is why we are dedicated in providing the highest quality services to restore your peace of mind. While your property may be left in a severe condition, it is possible to return it to its original state within a timely manner. With years of experience and training, our technicians will work tirelessly until you can return to a safe living condition once again.
While this may be your first experience of dealing with a large loss, our technicians have been handling restoration work for over 16 years. They know how to remove all smoke and soot residue from building materials with advanced products. Our combined experience has also allowed for the improved quality of our services while advancing our products, equipment, and techniques. Finally, our technicians undergo frequent training so they always know how to use the latest equipment and restoration methods of the industry.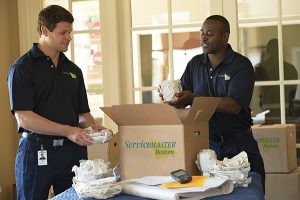 While we understand the urgency in starting the fire and smoke damage restoration process right away, ServiceMaster Restoration by Complete strongly recommends that you do not attempt any "do it yourself" methods before notifying us first. Please keep in mind that any improper cleaning methods or products will result in further damage. This is because there are complex chemical reactions that need to be created in order to properly remove all of the corrosive byproducts. Therefore, our technicians are knowledgeable in this area in which they know which product to use on each surface.
There are, however, measures you can take to prevent another large loss in the future. Visit our page on how to prevent future fire damage to learn how you can save both time and money to avoid another property fire.
Understanding the Damage Caused by the Fire and Smoke
While the smoke is a product created by the flames of the property fire, it is able to penetrate deep into the structural materials of your property, compromising its structural makeup. It will also become combined with the moisture in the air that will cause etching and tarnishing to all surfaces. Even after the flames are extinguished, the smoke and soot will be left to cover all affected materials, causing permanent damage if not treated right away.
While the fire burns, so does the smoke. This is called chemical burning, pitting, or etching. When this happens, it is imperative to call ServiceMaster Restoration by Complete right away to prevent the risk of permanent damage.
Licensed, Insured Restoration Provider
We are a licensed and insured disaster restoration provider, specializing in fire and smoke damage restoration services. With years of experience and training, our technicians are more than skilled and knowledgeable when it comes to the following: restoration systems, corrosion control, and fire mitigation. They are also consistently updated on the latest restoration and cleaning trends, products, and equipment of the industry. This is to ensure the ongoing quality of our services when life brings you the unexpected.
As it is our mission to restore as many belonging and household items as possible, some properties will take longer to restore than others. This will depend upon a variety of factors, including: the source, extent of the damage, the affected surfaces, and size of the damage. Also, please be aware that the restoration process may require several steps before it is completed. However, our restoration technicians will work with you throughout the entire process to ensure that you return to a safe living condition as quickly as possible. To get a better understanding of each service that may be required for your property, you can visit our fire restoration checklist.
If you have any questions regarding the process, feel free to refer to our fire cleanup FAQ page, where you can find the answers to all general questions. Your fire and smoke restoration technician is also available throughout the process for any questions regarding your particular situation.
If you or a loved one have recently experienced a property fire, do not hesitate to call ServiceMaster Restoration by Complete at (347)380-8388 for fire damage cleaning services in the Staten Island, Brooklyn, New York, NY, Bridgewater Township, Franklin Township, Monroe Township, and Warren, NJ areas.
---
Recent Reviews
Review by

Shayon M.
for
Disaster Restoration
Rating

"The project manager and his team were very efficient and knowledgeable. Quick turnaround on all the issues we had at home."
---
Review by

Daniel C.
for
Disaster Restoration
Rating

"Work was excellent. Your people are very hardworking and conscience. I am very satisfied and would certainly recommend service master to friend and neighbors"
---
Review by

Valarie B.
for
Disaster Restoration
Rating

"All who worked did a great job, but there was a lack of communication between the various parties (insurance companies, condo association) about what work needed to be done to address the situation. The carpet was never removed. I'm not sure why."
---
ServiceMaster Restoration by Complete Reviews
Review us on Google