ServiceMaster Restoration by Complete
While it can be deeply traumatic to encounter a biohazardous scene of a loved one, it is also extremely dangerous to be present around the byproducts. As these materials contain blood, tissue, and other bodily fluids, they can spread infections as they contain disease-causing bacteria and pathogens. This makes it essential to avoid all contact as the authorities must be called right away to gather the evidence. In addition, a certified team of cleaning professionals must be contacted immediately to prevent the bacteria from spreading further. ServiceMaster Restoration by Complete provides emergency trauma scene cleaning services in Staten Island, NY and the surrounding communities. Our technicians are trained, licensed, and experience to properly remove all biohazardous materials while taking a compassionate approach to the situation to respect the loss of a grieving family.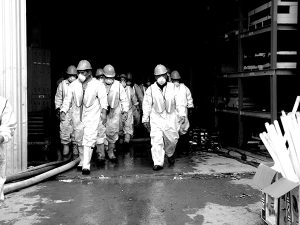 If you have encountered a biohazardous scene, it is imperative to stay away from the blood and tissue, calling the EMTs right away. As these bodily fluids will contain harmful toxins and bacteria, infections can spread quickly. This is why ServiceMaster Restoration by Complete must be called immediately for complete cleaning and restoration. Our specialists will safely remove all dangerous contaminants while disinfecting the entire area, ultimately restoring it to its original condition. For violent crimes, we will work with the authorities as to not disturb any evidence that has not been gathered for the investigation.
Our trauma scene cleaning services include the following:
Proper Disposal: All dangerous contaminants will be transported to a medical waste facility for proper disposal.
Deodorization: All foul odors will be effectively removed using power deodorizers and cleaning products.
Decontamination: The whole scene will be completely disinfected and cleaned after the biohazards have been removed.
Assistance with Insurance: We will coordinate with your insurance claims agent to allow you to focus on more personal matters.
Certified Technicians: All of our technicians are licensed and trained to properly handle biohazardous materials and restoring the scene according to state and local government regulations.
Family Assistance and Support: We will work with compassion and respect the loss of grieving families. We will also provide references to family therapists, if needed.
While it is the responsibility of the home or business owner to call the authorities and restoration company to have a biohazardous scene restored, the process can be extremely overwhelming. However, the technicians at ServiceMaster Restoration by Complete are available to help you during this emergency situation by providing professional biohazard and trauma scene cleanup services in the Staten Island, NY area. We are available 24/7 at (347)380-8388.
---
Recent Reviews
Review by

Shayon M.
for
Disaster Restoration
Rating

"The project manager and his team were very efficient and knowledgeable. Quick turnaround on all the issues we had at home."
---
Review by

Daniel C.
for
Disaster Restoration
Rating

"Work was excellent. Your people are very hardworking and conscience. I am very satisfied and would certainly recommend service master to friend and neighbors"
---
Review by

Valarie B.
for
Disaster Restoration
Rating

"All who worked did a great job, but there was a lack of communication between the various parties (insurance companies, condo association) about what work needed to be done to address the situation. The carpet was never removed. I'm not sure why."
---
ServiceMaster Restoration by Complete Reviews
Review us on Google