ServiceMaster Restoration by Complete
When discovering mold, it can be very frustrating to have it effectively removed as it will require special products and equipment. But it is not only unsightly, it will be quick to spread and cause severe structural damage to your property if it is not taken care of as soon as possible. As mold feeds off of the cellulose contained within organic materials, such as drywall and wood, it will also disperse its spores into the air to affect other surfaces. As moisture will also promote its growth, you must be quick to react as it is known to cause severe health issues, including allergic reactions and respiratory problems. ServiceMaster Restoration by Complete provides professional mold remediation services in the Staten Island, NY area to remove all cases of mold as well as restore any water damage to the affected areas. Our technicians have years of experience in using advanced products and equipment to have it completely removed at the source.
Mold Growth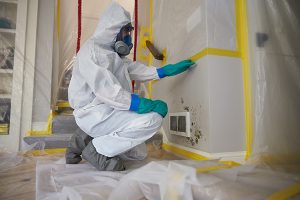 Once water damage has occurred in a specific area, mold growth is soon to follow. As cellulose is the most common food source for the mildew, it will develop and grow quickly in drywall, wood, and other building materials. If quick action is not taken, it will actually eat away at the affected surface, severely compromising the structural material. Finally, any hesitation to act will only cause the damage to become worse, not to mention posing a severe threat to your loved ones.
The specialists at ServiceMaster Restoration by Complete use special cleaning methods, such as HEPA vacuuming and using anti-microbials to remove all mold at its source from homes and buildings. We also partner with a testing agency that is recognized nationally, assisting us with the mold testing on your property to properly locate and eliminate it.
The mold remediation services we provide include the following steps:
Complete inspection and testing to identify all areas affected by mold.
Evaluation report is provided to your insurance company.
The mold is contained to prevent it from spreading.
Development of a remediation plan based on the report.
Complete remediation using specialized techniques, equipment, and products.
Once mold has occurred within a particular area, it will continue to get worse over time. This is because the mold will release its spores into the air and affect new areas. This is also where the health issues will occur as they can become inhaled, causing coughing, sneezing, and watery eyes to occur. However, ServiceMaster Restoration by Complete can provide some peace of mind with effective mold removal services in Staten Island. We are available 24/7 at (347)380-8388 in the Staten Island, NY area.
---
Recent Reviews
Review by

Shayon M.
for
Disaster Restoration
Rating

"The project manager and his team were very efficient and knowledgeable. Quick turnaround on all the issues we had at home."
---
Review by

Daniel C.
for
Disaster Restoration
Rating

"Work was excellent. Your people are very hardworking and conscience. I am very satisfied and would certainly recommend service master to friend and neighbors"
---
Review by

Valarie B.
for
Disaster Restoration
Rating

"All who worked did a great job, but there was a lack of communication between the various parties (insurance companies, condo association) about what work needed to be done to address the situation. The carpet was never removed. I'm not sure why."
---
ServiceMaster Restoration by Complete Reviews
Review us on Google