ServiceMaster Restoration by Complete
While a room wouldn't have much comfort without its furniture, you may not realize how much daily use it receives as it can accumulate a lot of dirt and debris over time. Eventually, this will lead to discoloration and fading of the fabric, ultimately detracting from the overall appearance of the room. While regular vacuuming can remove dirt and crumbs, it will not remove the dust and dirt that has settled underneath the fabric. ServiceMaster Restoration by Complete provides complete upholstery cleaning services in the Staten Island, NY area to clean all furniture in commercial and residential settings. With our services, it will not only improve the overall look and feel of the furniture, it will extend its overall lifespan.
Residential Upholstery Cleaning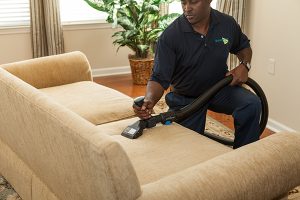 As there are different types of furniture used within a home that receive daily use, they will be quick to receive a buildup of debris in addition to the general wear and tear. This can actually accelerate the deterioration process as the direct contact will cause the dirt to become abrasive. Our technicians will ensure that this is all effectively removed from all types of fabric, using a specialized technique called the hot water extraction method. This will not only remove all dirt and debris but improve the overall look and appearance of the entire room.
Our residential upholstery cleaning services include these following steps:
Pre-treatment and vacuuming for stains
Use of the hot water extraction method for complete cleaning
Frame washing and polishing
Commercial Upholstery Cleaning
As it is imperative to maintain a clean and healthy work environment for employees to work productively, the furniture will not stay clean by itself. As they will receive daily use, dirt and debris can also build up within the fabric and affect the look of the entire office. This will actually accelerate the process of deterioration for the furniture. This will require regular professional cleaning services to ensure that your office upholstery stays clean and looks new. If not, buying new furniture will cost you more money in the future than upholstery cleaning services. ServiceMaster Restoration by Complete will provide complete cleaning services to commercial settings in Staten Island, NY. Our services will also guarantee to extend the overall life of the carpet.
Maintaining a clean look and feel of your furniture is extremely important, not only for your benefit but for all who reside and visit your home or office. Maintaining clean furniture can also complement the entire room. Our technicians at ServiceMaster Restoration by Complete provide professional upholstery cleaning services for all homes and buildings in the Staten Island, NY area. We are available at (347)380-8388 to schedule an appointment.
---
Recent Reviews
Review by

Shayon M.
for
Disaster Restoration
Rating

"The project manager and his team were very efficient and knowledgeable. Quick turnaround on all the issues we had at home."
---
Review by

Daniel C.
for
Disaster Restoration
Rating

"Work was excellent. Your people are very hardworking and conscience. I am very satisfied and would certainly recommend service master to friend and neighbors"
---
Review by

Valarie B.
for
Disaster Restoration
Rating

"All who worked did a great job, but there was a lack of communication between the various parties (insurance companies, condo association) about what work needed to be done to address the situation. The carpet was never removed. I'm not sure why."
---
ServiceMaster Restoration by Complete Reviews
Review us on Google