ServiceMaster Restoration by Complete
(347)380-8388
It is essential to keep a floor clean, not only to maintain the look and feel of a room, but for safety reasons. As it is easier to maintain a hard surface floor compared to a carpet, there are many different types that require different chemicals in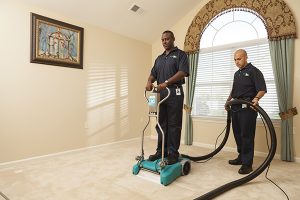 commercial and residential buildings. These not only complement the room but they are more durable in terms of sustaining additional wear and tear from daily foot traffic; therefore, they are able to handle more damage from dirt, debris, and stains. However, in order to maintain their appearance and durability, they still must be cleaned and polished on a regular basis. ServiceMaster Restoration by Complete provides hard surface floor cleaning services in the Staten Island, NY area to completely clean and sanitize all residential and commercial flooring. Our services will leave these surfaces in a clean, polished condition that will extend their overall lifespan.
Residential Floor Cleaning
The most common types of hard surface flooring found in residential buildings include the following: vinyl, hardwood, tile, and laminate. As these floors are able to sustain frequent foot traffic from residents and visitors, some will be more prone to damage than others. Because tile and vinyl flooring are more resistant to moisture than laminate and hardwood, they are used in the kitchen and bathrooms. The others will have small crevices in which the water, dirt, and debris are able to seep in and cause damage. This can lead to the overall fading, discoloration, and even separation of the flooring material at the crevices. In order to have them effectively cleaned and preserved, call ServiceMaster Restoration by Complete. Our advanced equipment is able to remove all dirt that has become embedded deep within the cracks, restoring the entire floor to its original condition.
Our hard floor cleaning services provide the following:
As there are hard surface floors found in almost all commercial buildings, they will most often contain either tile or laminate for lobbies or hardwood for offices. While it may be a big job, keeping a clean and pristine condition is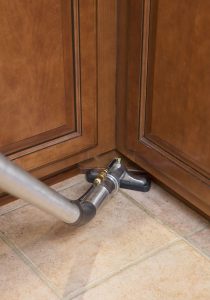 crucial towards maintaining professionalism within the business. However, there are significantly higher amounts of foot traffic within commercial buildings as opposed to residential buildings, causing them to wear down faster. While it can be time-consuming to do yourself, ServiceMaster Restoration by Complete will provide professional hard surface floor cleaning services that will be done in a timely manner. Using powerful but safe products with advanced methods, our services will accommodate hard floors made from all types of materials, including: marble, wood, quarry, tile, vinyl, and more.
While commercial flooring will need to be cleaned more often in order to maintain a clean and professional appearance, businesses will not have the time to do this on a regular basis. This is why we also offer continued floor cleaning services in which the sanitized, clean appearance is maintained all of the time.
Our hard surface floor cleaning surfaces include the following:
Extension of the floor life
Better slip resistance
Impressive appearance and shine
Frequent cleaning with environmentally friendly, effective products
A clean and polished floor can really complement a room within a residential or commercial space; however, it will need to be cleaned on a consistent basis in order to keep out the dirt and debris from becoming embedded within the crevices. ServiceMaster Restoration by Complete is available to provide commercial and residential hard surface floor cleaning services at (347)380-8388 in the Staten Island, NY area.
---
Recent Reviews
Review by

Shayon M.
for
Disaster Restoration
Rating

"The project manager and his team were very efficient and knowledgeable. Quick turnaround on all the issues we had at home."
---
Review by

Daniel C.
for
Disaster Restoration
Rating

"Work was excellent. Your people are very hardworking and conscience. I am very satisfied and would certainly recommend service master to friend and neighbors"
---
Review by

Valarie B.
for
Disaster Restoration
Rating

"All who worked did a great job, but there was a lack of communication between the various parties (insurance companies, condo association) about what work needed to be done to address the situation. The carpet was never removed. I'm not sure why."
---
ServiceMaster Restoration by Complete Reviews
Review us on Google