ServiceMaster Restoration by Complete
While a room can look disorganized as a result of improper cleaning, the carpet can also become worn and faded as the fibers will accumulate dirt and debris over time. This can also shorten the overall life of the carpet if it is not cleaned on a regular basis. While regular vacuuming can remove the debris on the top of the carpet, only a professional cleaning will be completely extracted all embedded dirt and dust. ServiceMaster Restoration by Complete provides effective carpet cleaning services in the Staten Island, NY area. With our powerful but safe cleaning products and equipment, our technicians will restore your carpet to its like new condition.
Residential Carpet Cleaning
As carpeting is considered the furnishing that receives the heaviest use in the room as a result of daily foot traffic, it will quickly accumulate dirt and debris. As those residing on the property will carry in dirt, mud, and even water, the carpet can become worn, discolored, and faded over time. If this is allowed to build up without a professional cleaning, it can lead to the overall deterioration of the fibers. This ultimately makes professional carpet cleaning a must, not only to return it to a clean and pristine condition, but to extend the overall life of the carpet.
Hot Water Extraction Method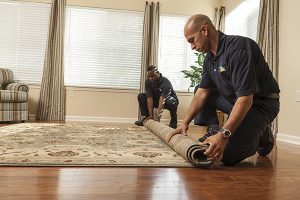 In order to have an effective, thorough cleaning, our technicians use an advanced method that has been perfected over the past few decades, called the hot water extraction method. In this procedure, a specialized cleaning wand to apply warm water and a cleaning solution deep within the carpet fibers. This will then loosen the soil and completely extract it along with the cleaning solution. The combination is then put into our truck-mounted tank. As the process only requires 24 hours to dry, the job will only take a few hours.
Our carpet cleaning services consist of these following phases:
Thorough inspection of the carpeting's condition
Pre-treatment for stains and spots
Pre-cleaning of all high traffic areas
Complete cleaning of the carpets using the hot water extraction method
Post-treatment to ensure all stains are removed
Grooming of the carpet fibers to keep them preserved
Placement of pads under furniture legs to protect the carpet
Post inspection to guarantee your satisfaction
Commercial Carpet Cleaning
While it may be harder to clean a residential carpet due to the longer fibers and additional padding, commercial carpeting receives significantly higher foot traffic than residential carpeting. Overall, this can lead to a bad impression from the employees, partners, clients, and potential clients of the business. This ultimately makes a clean carpet imperative, not only to improve its look and appearance, but contribute to a cleaner and healthier work environment. ServiceMaster Restoration by Complete provides professional commercial carpet cleaning services in Staten Island, NY. In this procedure, the hot water extraction method is also used to remove all embedded dirt and debris as well as remove the most stubborn stains. Our technicians also provide monitored carpet care for commercial buildings to maintain the brand-new look and feel of the carpeting.
The following benefits are associated with continued carpet cleaning:
Life of the carpet is extended
Maintenance of the carpet color and texture
Protection from wear and tear, staining, and matting
Overall removal of dirt and dust from the fibers
Whether you need professional carpet cleaning services for your home or business building, maintaining a clean and healthy appearance of the carpet can improve the overall look and feel of the room. Call ServiceMaster Restoration by Complete at (347)380-8388 to schedule your professional carpet cleaning appointment in the Staten Island, NY area.
---
Recent Reviews
Review by

Shayon M.
for
Disaster Restoration
Rating

"The project manager and his team were very efficient and knowledgeable. Quick turnaround on all the issues we had at home."
---
Review by

Daniel C.
for
Disaster Restoration
Rating

"Work was excellent. Your people are very hardworking and conscience. I am very satisfied and would certainly recommend service master to friend and neighbors"
---
Review by

Valarie B.
for
Disaster Restoration
Rating

"All who worked did a great job, but there was a lack of communication between the various parties (insurance companies, condo association) about what work needed to be done to address the situation. The carpet was never removed. I'm not sure why."
---
ServiceMaster Restoration by Complete Reviews
Review us on Google