ServiceMaster Restoration by Complete
Hoarding is a complex issue that affects millions of people in the U.S. and their families.  Classified as a mental disorder, hoarding involves a deep level of anxiety that makes it difficult for those affected to throw away anything that they bring into the home.  This is what leads to serious clutter that can make the home dangerous and unsanitary.  The homes of hoarders must be cleaned out for the health and safety of those within, but the situation calls for a delicate and compassionate approach.  ServiceMaster Restoration by Complete provides hoarding cleaning services to thoroughly clean and restore homes in Staten Island, NY affected by hoarding.  Our technicians take a thought-out, compassionate approach to hoarding cleaning that involves the participation of the affected individual.
Struggling with a Hoarding Disorder
The anxiety that affects hoarders not only results in dangerous levels of clutter, but also prevents them from getting help.  Those who struggle with hoarding may not realize they need help or are too embarrassed by the condition of their home to involve anyone.  A friend or family member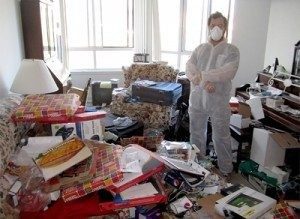 that the individual trusts must approach the individual delicately and appeal to them by helping them understand the danger of their living conditions.  Homes affected by hoarding are cluttered with anything from piles of boxes and newspapers to furniture and appliances.  This clutter increases the risk of a fire and makes moving around the home difficult and dangerous by blocking paths and exits.  Heavily cluttered homes are also vulnerable to mold or bacteria growth which can lead to several negative health effects.
Our technicians at ServiceMaster Restoration by Complete are ready for any case of hoarding.  We will help remove the hoarded items that are no longer wanted. Advanced cleaning products and disinfectants will then be used to clean and sanitize the home.
You can expect the following basic steps with our hoarding cleaning services:
Preserving valuable items and important personal belongings
Removal of unwanted items
Help throwing away, recycling, or donating removed items
Delivery of kept items to friends and family
Assistance with necessary paperwork from government agencies, trusts, and attorneys
3-Phase Hoarding Cleaning Approach
Because hoarding is a mental disorder, the situation must be approached delicately with the affected individual's best interests in mind.  The individual must know that those trying to help are coming from a place of respect and compassion.  We understand how important this is and we make it a point to build a level of trust and respect with the affected individual and keep them actively involved throughout the entire process.  Our hoarding cleaning approach consists of the following three phases:
Phase 1: Building Trust
We learn about the situation before entering the home.
Our technicians establish a sense of trust and respect with the individual and discuss cleaning the home with the individual and their family. At this stage, we can enlist the help of a counseling professional if necessary.
The individual must agree to go to the next step.
Phase 2: Forming and Implementing a Cleaning Plan
The individual and their family help us create a plan to clean the home and make the conditions safer.
We help remove unwanted items and rearrange the home with the items that are kept.
The affected individual makes the decision of what to do with each object in the home.
Phase 3: Follow Up
We leave the individual and their family with a maintenance plan to preserve clean and sanitary living conditions.
We call the individual to see if they are keeping their home maintained. Our technicians will be sent back to the home if it has become cluttered again.
The dangerous conditions created by hoarding behaviors put the health and safety of the individual and their family at risk.  If you know someone who struggles with hoarding issues, you must help them understand the danger of the living conditions they have created so they can get help.  ServiceMaster Restoration by Complete is ready to help hoarders in Staten Island, NY with our hoarding cleaning services.  You can reach us any time at (347)380-8388 to learn more about how we can help.
---
Recent Reviews
Review by

Shayon M.
for
Disaster Restoration
Rating

"The project manager and his team were very efficient and knowledgeable. Quick turnaround on all the issues we had at home."
---
Review by

Daniel C.
for
Disaster Restoration
Rating

"Work was excellent. Your people are very hardworking and conscience. I am very satisfied and would certainly recommend service master to friend and neighbors"
---
Review by

Valarie B.
for
Disaster Restoration
Rating

"All who worked did a great job, but there was a lack of communication between the various parties (insurance companies, condo association) about what work needed to be done to address the situation. The carpet was never removed. I'm not sure why."
---
ServiceMaster Restoration by Complete Reviews
Review us on Google