ServiceMaster Restoration by Complete
Natural disasters can cause severe destruction to a home or building, even damage your property to the point of leaving it in an unstable condition. Any hesitation towards addressing the damage caused by a major storm, fire, or flood can lead to numerous costs and time in repairs down the road. Ultimately, it is crucial to call emergency construction services right away.
As this matter must be considered an emergency, any delays can result in further damage and the building can even collapse. If your home or building has been severely damaged, call ServiceMaster Restoration by Complete for emergency construction services in the Staten Island, NY area. Our technicians will arrive immediately, preventing any secondary or permanent damage caused to the property.
While you will want to consider an alternative living option for your family, our technicians can assist with the insurance claims process so you can focus on personal matters. For businesses, we understand that the suspension of all activities is a stressful situation for the company owners. This is why we will work quickly and efficiently to ensure you are back in business as soon as possible.
Emergency Reconstruction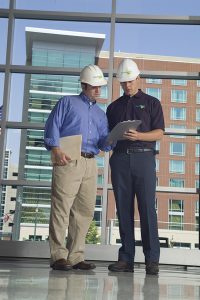 As ServiceMaster Restoration by Complete provides emergency construction services to quickly rebuild residential and commercial properties, our specialists will arrive quickly to stabilize the building. They will then assess the damage in order to develop an effective plan that will repair your building to its original condition as quickly as possible. Our technicians have years of experience and use advanced equipment and products, ultimately creating the most effective solution for efficiently repairing your property. They will be on-site everyday throughout the process, ensuring that all scheduling is followed. A project manager will also be assigned to oversee its progress while providing open and clear communication to you every step of the way.
Our staff consists of experienced subcontractors, carpenters, and handymen that have been chosen because of their level of expertise in the field. As they work strategically as a result of the high standards set by the company, our solutions provide a range of services:
General contracting
Acquiring all licenses and permits
Carpeting and flooring installations
Painting and staining
Smoke sealing
Custom-designed window treatments
Woodwork, framing, and carpentry work
Full-scale remodeling
Roofing replacement and repairs
Plumbing and electrical installation
Wallpapering
Architectural blueprints and reporting
As a property can sustain significant damage after a natural disaster, this type of damage should never be overlooked or underestimated. It is crucial to have a building's structure repaired in order to save as much money and time as possible in the repair process. ServiceMaster Restoration by Complete understands that these emergencies will come without warning, causing significant damage to your home and property.
We are available 24/7 to provide emergency construction services for all the homes and buildings in the Staten Island, NY are at (347)380-8388.
---
Recent Reviews
Review by

Shayon M.
for
Disaster Restoration
Rating

"The project manager and his team were very efficient and knowledgeable. Quick turnaround on all the issues we had at home."
---
Review by

Daniel C.
for
Disaster Restoration
Rating

"Work was excellent. Your people are very hardworking and conscience. I am very satisfied and would certainly recommend service master to friend and neighbors"
---
Review by

Valarie B.
for
Disaster Restoration
Rating

"All who worked did a great job, but there was a lack of communication between the various parties (insurance companies, condo association) about what work needed to be done to address the situation. The carpet was never removed. I'm not sure why."
---
ServiceMaster Restoration by Complete Reviews
Review us on Google