ServiceMaster Restoration by Complete
While each situation of property fire and smoke damage is unique, this checklist of services includes the common procedures that are performed during the fire cleanup service. For further detail in regards to your property, you can ask your technician about any concerns you may have after the initial inspection. With years of experience, ServiceMaster Restoration by Complete understands that you deserve clear and open communication at all times. This is to ensure that there is no confusion during any phase of the restoration service. In addition, a full report of the services will be sent to your insurance company if a claim was filed. We will also provide photo documentation. Finally, you can refer to our guide on understanding fire and smoke damage for more information about our services and what happens during a property fire.
Restoration vs. Replacement
Ultimately, it is our goal to restore all building materials and content to their original condition; however, some materials may have been permanently damaged in which it is more cost-effective to have them replaced. If this is necessary, your technician will inform you of each item that needs replacing and will work with your insurance claims agent throughout the process.
Fire Damage Restoration Checklist
In addition to providing a checklist of procedures that may or may not be required for the restoration of your property, ServiceMaster Restoration by Complete has also provided a brief explanation of each service. This will allow a better understanding of how the service is performed and why it is needed.
As soon as your fire cleanup technician arrives, they will examine the property thoroughly and check all services that will be needed. Feel free to ask your technician at any time if you have any questions. You can also refer to our fire restoration FAQ page for any general questions you may have throughout the process.
Upon arrival, the initial examination of your property will include the following:
Identifying the type of fire and smoke damage that has occurred and how far it has spread.
Additional detailed inspection of the affected areas. Photo documentation will be provided and given to you and your insurance claims agent.
Creating a unique plan that will restore your property efficiently and effectively.
Please keep in mind that all affected areas will be preserved until your insurance provider has granted approval for us to begin the restoration work; they will need to inspect the damage thoroughly.
As there are different types of fires, the extent of the damage has been caused by one or more of the following:
✔Broken Furnace. Any electrical machinery that produces heat, including wood-burning stoves, furnaces, or even toasters, have caused smoke to penetrate through the walls and affect the property.
✔Complex Fire. The building materials contain smoke and soot residue; both synthetic and natural contents have been burned; emergency corrosion mitigation is essential to prevent at-risk surfaces from incurring permanent damage.
✔Natural Fire. The fire was started either outside or inside, either by the trees, shrubs, grass, or other plants. The damage penetrated through the building materials, causing smoke and soot residues to cover the property.
✔Protein Fire. Food from the oven, stove, or microwave, was burned; there is a strong, burnt food odor lingering throughout the property; all affected materials contain smoke residue.
Emergency Smoke and Soot Cleanup
Immediately turn off all power to the property.
✔Inspect the air conditioning unit and furnace for fire and water damage; change the air duct filter; place double layers of cheesecloth over the supply and return air registers.
✔Remove all debris that create hazards for you, the technicians, and equipment.
✔Cover any damaged upholstery with bedsheets to prevent the soot from settling within the materials.
✔Turn on any power required to use the restoration equipment.
Conduct Emergency Corrosion Extraction
Because the building structure can sustain permanent damage if the smoke and soot residue is not removed immediately, a corrosion inhibitor will be used to remove all byproducts. The following materials will be cleaned: fixtures, appliances, stone, grout, aluminum, appliances, etc.
✔Take out any food from the freezer, refrigerator, cabinets, pantry, etc. But remember to create a detailed inventory of each item and provide a copy for your insurance claims agent.
✔Start the deodorization process. Allow air flow throughout the property; change all filters, apply odor control, and open interior windows and doors.
✔Deliver any damaged clothes that are needed for immediate use to a restoration dry cleaners. ServiceMaster Restoration by Complete will restore the rest of the clothing with content cleaning services.
✔Other.
Deodorization Service
Even after the flames have been extinguished, the smoke and soot are left to cover the remaining surfaces, settling deep within the material. These odors are extremely dangerous, which is why our technicians use a combination of equipment, chemicals, and systems in the deodorization process. Multiple applications may be needed, depending on the intensity of the odor.
✔Air Scrubbers. Our air scrubbers are designed to completely remove soot particles, clean, and purify the air, using High Efficiency Particulate Air (HEPA filtration). But please do not turn off this equipment during the process.
✔Thermal Fogging. We will effectively eliminate the strong smell with chemicals that will penetrate deep into the affected surfaces and remove the residue. Please relocate any plants, children, or pets during this process.
✔Ozone. This is an advanced product that is especially designed to clean and purify the air within the house or building. Please relocate any children, plants, or pets during this process.
✔OdorKlenz Technology. One of our newest additions, this technology uses air cartridges to eliminate all odors caused by the smoke. This "green" process is also safe for plants, children, and pets.
Disaster Restoration Service
✔Restoration/dry cleaning of affected clothing. All clothing material will be cleaned by a qualified dry cleaner as it requires a unique process. We will create an inventory and document all of the following materials: clothing, pillows, rugs, bedding, window coverings, etc.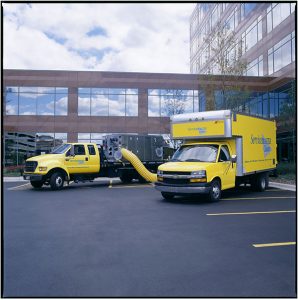 ✔Carpet, furniture, and upholstery cleaning. These procedures will provide the following:
Examination
Inspection
Deodorization
Complete cleaning
Speed drying
Protection (to prevent additional damage)
Secondary application of stain protection (if needed)
✔Cabinets, attics, closets, and drawers. Due to the fact that they are usually enclosed spaces, they will trap smoke odors and residue. These areas will need to be inspected, ventilated, cleaned, and deodorized accordingly.
✔Building Structure Restoration. In this service, the walls and ceilings will be washed. ServiceMaster Restoration by Complete will also provide the following: sanitizing, deodorizing, and polishing the woodwork.
✔Separation of damaged content. Your technician will work with you and your insurance claims agent in deciding which items are and are not salvageable.
✔Hard Surface Floor Cleaning. Any floor materials made of the following will be examined and cleaned thoroughly: marble, stone, tile, laminate, wood, and more. We will also cover them for protection during the restoration process.
Hard and Soft Item Cleaning and Restoration
Our technicians have years of experience in using advanced products and equipment to effectively clean all items, including: furniture, knick-knacks, furniture, upholstery, antiques, and other personal items.
✔Hand washing. All fragile items, including: antiques, artwork, knick-knacks, etc. will be handled with care, cleaned, and dried by hand.
✔Cleaning and restoration of furniture and upholstery. Advanced products and equipment will be operated by licensed and experienced restoration technicians.

Pack out services will be performed by:
✔ServiceMaster Restoration by Complete
✔A professional moving contractor
Content cleaning services will be performed by:
✔At our facility
✔On-site
Other.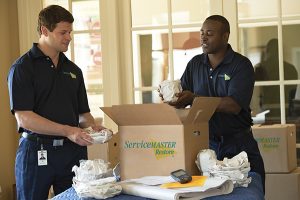 While we are able to restore a number of items, a secondary contractor may be needed to restore and clean the following:
Appliances
Pipes
Textiles
Circuit breakers
Antiques
ServiceMaster Restoration by Complete will work with you and your insurance claims agent to find a licensed, qualified restorer if one or more of the above items needs cleaning.
If you have any questions in regards to our fire and smoke damage restoration services, you can always ask your technician as they are experienced in this area.
Did you also know that there steps that can be taken to significantly reduce the chances of a fire occurring again? Check out our page on how to prevent future fire damage to save you from dealing with a large loss down the road.
For emergency fire and smoke damage restoration services, call ServiceMaster Restoration by Complete at (347)380-8388 in the Staten Island, Brooklyn, New York, NY, Bridgewater Township, Franklin Township, Monroe Township, and Warren, NJ areas.
---
Recent Reviews
Review by

Shayon M.
for
Disaster Restoration
Rating

"The project manager and his team were very efficient and knowledgeable. Quick turnaround on all the issues we had at home."
---
Review by

Daniel C.
for
Disaster Restoration
Rating

"Work was excellent. Your people are very hardworking and conscience. I am very satisfied and would certainly recommend service master to friend and neighbors"
---
Review by

Valarie B.
for
Disaster Restoration
Rating

"All who worked did a great job, but there was a lack of communication between the various parties (insurance companies, condo association) about what work needed to be done to address the situation. The carpet was never removed. I'm not sure why."
---
ServiceMaster Restoration by Complete Reviews
Review us on Google