How Mold Can Affect Property Value
It can be exciting to finally find a buyer for your home or building, but as soon as they discover that there is hidden mold in the basement or crawlspace, it can be deterring. As the mold has the potential to start small and grow quickly, it can severely reduce the value of one's property. The smell of mold can also cause visitors to turn around and walk out before viewing the rest of the home or building. Ultimately, this must be taken care of by a mold remediation specialist right away. Just be sure to keep in mind the following when removing mold before selling your home:
Call a Mold Remediation Company Right Away

It is always best to ensure that your home or building provides a clean and sanitary environment before putting it up for sale. By hiring a mold removal service, you can significantly increase the value of your property beyond the value of having it removed. This way you can sell your home at a significantly higher price than its current value. You can locate your nearest ServiceMaster provider, as they provide effective mold remediation services to remove all cases and prevent it from returning in the future. Their services include all of the following:
Water damage restoration
Mold inspection
Removing the source of the mold
Complete mold remediation
Mold prevention
Increase air circulation
Crawlspaces and Attics
Two of the most common hiding places for mold is in the crawlspaces and attics. This is because it is dark, damp and without much activity. However, these areas will be examined thoroughly by an appraiser on inspector. If they do find mold, they may not even allow the home or building to be on the market until this is handled properly.
Health Problems Associated with Mold
Especially with an infestation, mold can be a huge safety risk for those who are sensitive to the spores. As numerous types of mold prove to be extremely dangerous, such as black mold, they can cause itching, coughing, watery eyes, rashes, and more. This is why immediate treatment is crucial, not only to prevent it from spreading, but to protect your family or staff. If you or anyone else are present around the mold, be sure to always use protection equipment, such as gloves, eye wear, and a mask. As mold has the ability to spread by dispersing its spores, you can avoid inhaling or having them get into your eyes.
Mold Disclosure
As state laws will differ throughout the country, there will be specific regulations regarding cases of mold. You will want to refer to a real estate lawyer or realtor to avoid hefty legal fees in the future. Even after the mold has been removed, it will be inspected again to ensure that it is in accordance with state and federal regulations.
Eliminating the Source

As all cases of mold have a source, the majority will most often include some form of water damage. As mold thrives off of moisture and porous materials, including: wood, paint, fabric, drywall, and more, it will not be long before the spores will develop within the affected area. While it is not recommended to clean the mold yourself as it can spread further and trigger allergies, eliminating the source of the problem is crucial. This can include repairing a broken pipe, restoring water damage, allowing for proper air circulation, hanging up items to dry, and repairing roof damage. No matter the source of the problem, it will only be a matter of time before bacteria will accumulate and mold will develop on the building materials.
Choosing a Professional Company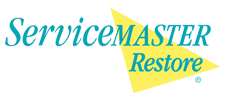 While you may be excited to move out of your home or building, there are several precautions to take before putting it on the market. One of these is maintaining a mold-free property. As inspectors will be thorough when searching for mold, you will want to be sure that there are not any areas that are at risk for future growth. To do this, you will need a professional, licensed mold removal company. ServiceMaster is a highly reputable mold remediation provider that will complete inspect, secure the area, remove the mold, and identify other areas that are at risk. They also understand your urgency to move, which is why they arrive quickly to get the process started right way. Be sure to contact your local provider today have all cases of mold removed from your property.